Why Dead Whale Wally Washed Ashore On Encinitas Beach In California: Facts About Humpback's Strange Migration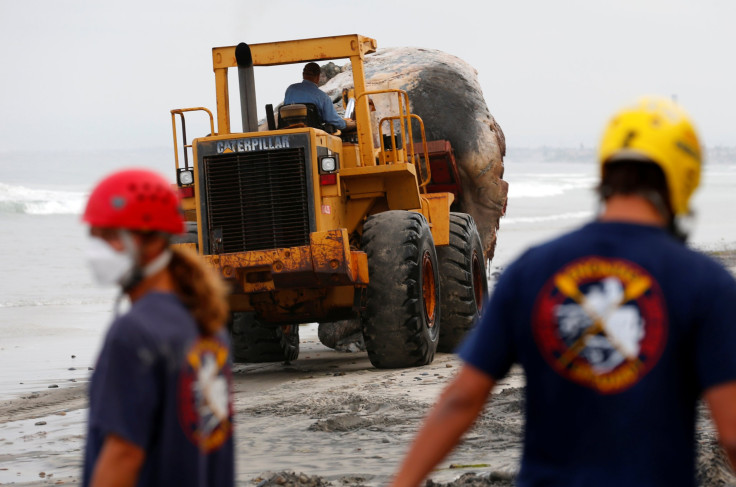 A dead female whale keeps washing ashore in southern California. It has happened so often that folks there have given it a nickname: Wally.
Wally washed ashore again over the weekend, this time in Encinitas, California, some 25 miles north of San Diego. A lifeguard told KNBC the humpback whale washed ashore on Grandview Beach Saturday. The mammoth mammal was estimated to be 10 to 20 years old and was some 40-feet long.
In life, Wally was the subject of a viral video in which she shot water out her blowhole that made an immediate rainbow in the sunlight.
But after dying, Wally has spent the last few weeks drifting ashore in different spots along the California coast. The whale's carcass first appeared in Los Angeles County's Dockweiler Beach ahead of the July 4 weekend. After complaints of an awful smell, officials towed the massive animal back out to sea. But the carcass kept reappearing in areas further and further south, over and over, at five separate beaches.
Wally keeps returning to shore for a few simple reasons, local news source The Daily Breeze pointed out. First, when Wally first surfaced officials weren't able to allow the creature to simply decompose on the beach as they normally would due to its close proximity to people. Second, the National Oceanic and Atmospheric Administration put together a model that suggested they would have to deposit the whale's massive carcass some 30 miles offshore to assure it wouldn't float back with the currents – but local lifeguard vessels weren't large enough to perform the task. If the boats towed the whale any further than 15 miles, they'd run out of fuel before making back to shore. And lastly, the carcass over time built up gasses inside the body, making it far easier for currents and winds to push it ashore.
The whale's carcass was set to be removed from the Encinitas beach Monday. Crews had received the go-ahead from local wildlife officials to take the body in pieces to a landfill, KSWB in San Diego reported.
© Copyright IBTimes 2023. All rights reserved.