Why Did 3 Journalists Resign From CNN? Donald Trump's Gleeful Twitter Reaction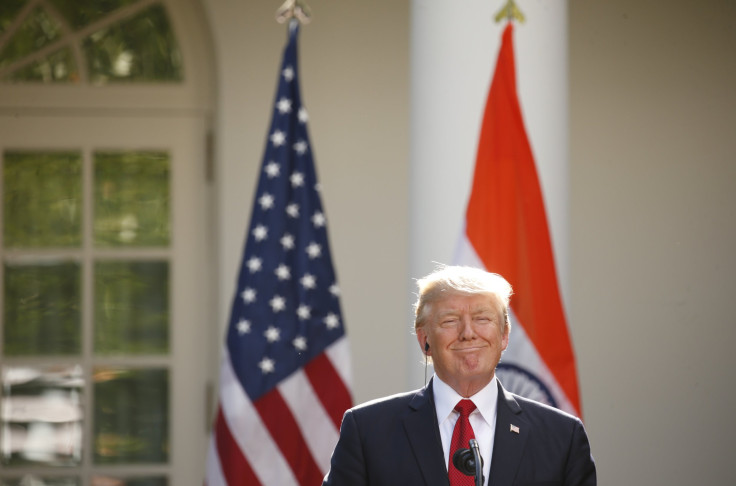 Three journalists at CNN resigned Monday after publishing a story that had to be retracted for not meeting the network's editorial standards. The move prompted President Donald Trump to take to Twitter the following day and use the incident as a victory.
"Wow, CNN had to retract big story on 'Russia,' with 3 employees forced to resign. What about all the other phony stories they do? FAKE NEWS!" Trump tweeted, he also retweeted a photoshop of CNN's logo where the "C" is replaced with an "F" and reads "Fake New Network."
READ: Anthony Scaramucci Net Worth, Donald Trump Ally Who Caused 3 CNN Reporters To Resign
CNN addressed the resignations Monday night.
"In the aftermath of the retraction of a story published on CNN.com, CNN has accepted the resignations of the employees involved in the story's publication," CNN said in a statement Monday to its own media reporter Brian Stelter.
The story that was retracted was an exclusive article CNN published about ties between Trump officials and Russia. It was taken down Friday night. The story alleged that the Senate Intelligence Committee was investigating Trump transition team official, Anthony Scaramucci, about meeting with the chief executive of a Russian investment fund allegedly sanctioned by the U.S.
The story was replaced with an editor's note that read:
"On June 22, 2017, CNN.com published a story connecting Anthony Scaramucci with investigations into the Russian Direct Investment Fund. That story did not meet CNN's editorial standards and has been retracted. Links to the story have been disabled. CNN apologizes to Mr. Scaramucci."
Scaramucci accepted CNN's apology on Saturday.
"CNN did the right thing. Classy move. Apology accepted," Scaramucci tweeted. "Everyone makes mistakes. Moving on."
The original story was published by CNN Investigates, an investigative journalism unit at the network. The three journalists to resign were reporter Thomas Frank who wrote the story, Eric Lichtblau who was an editor in the unit and the head of the unit Lex Haris. Lichtblau was a recent hire from the New York Times and a Pulitzer Prize winner.
The story hung on a single anonymous source and appeared to have some inaccuracies. Bloomberg reported in January that a meeting did happen between Scaramucci and the Russia Direct Investment Fund (RDIF), but BuzzFeed News reported Tuesday that one inaccuracy appeared to stem from whether RDIF was attached to a sanctioned financial entity Vnesheconombank. RDIF released a statement Friday via Russian government-sponsored news site Sputnik.
"CNN's report contains factual inaccuracies which we have pointed out to the journalists concerned and expect to be corrected, but no amendments have been made so far," the statement read. "The Russian Direct Investment Fund (RDIF) became an independent sovereign fund in 2016, following the adoption of a special federal law. Consequently, RDIF is not a part of Vnesheconombank and its operations are wholly independent of the bank. RDIF always operates in full compliance with relevant regulations and legislation and its operations do not violate sanctions."
READ: CNN Ousted 'Believer' Host Reza Aslan For Calling Trump 'A Piece Of S--T' In A Tweet
The mistake and subsequent resignations give plenty of ammo to Trump who has tussled with the news throughout his campaign and presidency, CNN in particular. Trump has repeatedly called CNN fake news and had criticized them for their coverage.
Trump tweeted later in the morning Tuesday, striking out at the news in general.
© Copyright IBTimes 2023. All rights reserved.