Why Is Donald Trump So Popular? 18 Reasons Why Trump Could Win In November, According To The Media And His Supporters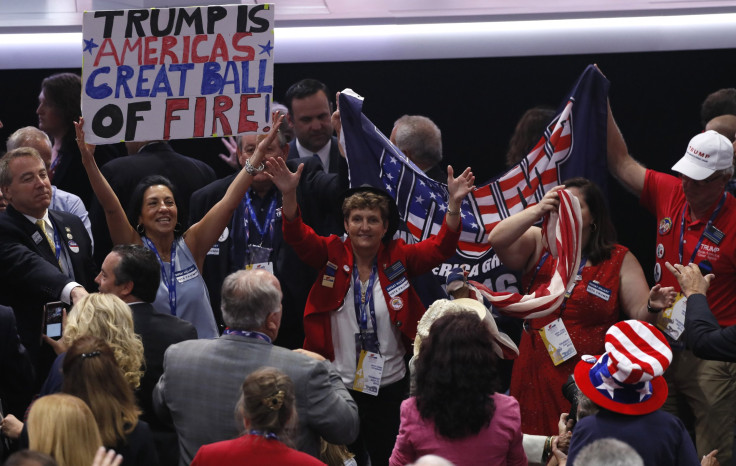 It's been a disastrous week for Republicans amid allegations of plagiarism, infighting between GOP leaders and a slew of anti-immigrant rhetoric that could hurt the party's chances of winning over young and Hispanic voters, crucial voting blocs in any national election. Yet even under these unusual circumstances, Republican presidential nominee Donald Trump could still win the November general election.
Below are 18 reasons why Trump is so popular, according to media reports and the people who support him.
1. Hillary Clinton is nearly as unpopular as Donald Trump, and she has yet to convince voters she is trustworthy. A recent ABC/Washington Post survey found a majority of voters think Clinton should have been charged with a crime after she used a private email server while serving as U.S. secretary of state.
2. Trump is confident, and Americans love confidence, even if it isn't backed up with substance. "They're responding to dynamism, to force, to movement, to smiling, to facial expressions that convey authority," Stanford psychologist Jeffrey Pfeffer told the Washington Post. Trump "does it with more force. He does it with more energy. Energy is contagious."
Sabato's Crystal Ball Electoral College Ratings | InsideGov
3. He is a former reality TV star who knows how to talk to the American public. One supporter told a focus group session: "When Trump talks, it may not be presented in a pristine, PC way, but we've been having that crap pushed to us for the past 40 years! He's saying what needs to be said."
4. He has been famous for a very long time. TV analyst Katie Cartwright summed it up: "Name recognition is key for Trump. The more people that know who you are, the more supporters you're going to have."
5. Polls show people don't like politicians, and Trump, as a first-time candidate, isn't a standard politician. Political commentator Brian Filcher said: "Trump has positioned himself as the anti-elite candidate, which has made him more or less immune to criticism from the parties and the media."
6. He isn't hitting people up for money all the time because he can self-fund his campaign, unlike most politicians. Bradley Crate, who worked as chief financial officer for the Mitt Romney campaign in 2012, put it this way: "The Trump campaign has changed the traditional campaign model."
7. His anti-illegal immigration platform is really popular with Republicans, who also tend to dislike illegal immigration, according to many polls. During the Republican National Convention Thursday night, people chanted, "Build the wall! Build the wall."
8. With wages stagnant, people are worried about their economic prospects, and Trump, a successful businessman, has promised to help. Tom Lewandowski, president of the Northeast Indiana Central Labor Council in Fort Wayne, told the Guardian: "These people aren't racist, not any more than anybody else is. When Trump talks about trade, we think about the Clinton administration, first with Nafta and then with [Permanent Normal Trade Relations] China, and here in Northeast Indiana, we hemorrhaged jobs."
7. Many Republicans support his proposal to block all Muslims from entering the U.S.
8. Trump's business success makes some voters feel confident about the future. "He will expect greatness from us, he will tell us how to get to great, he will inspire people to be better than they are and have the hope that their efforts will not be thwarted by bigger government," one supporter told the Atlantic.
9. Some Americans are unhappy that the nation is increasingly becoming less white. Paul Weber of Appleton, Iowa, told CNN last year he was tired of "new Americans" flooding the country. "The people that are coming in here from China, Indonesia and all of them countries, they're getting pregnant and coming here and having babies," Weber said. "They get everything and the people that were born here can't get everything."
10. Some Americans still refuse to believe President Barack Obama is a Christian and a U.S. citizen, and Trump has also challenged those facts. Robin Reif, 54, told CNN Obama was "too much of a Muslim" and an "Islamist sympathizer." "In our Constitution, it says that the president has to be an American citizen," Reif said. "I'm still wondering where is he really from. What is this man's background?"
11. Trump speaks at a 4th Grade level, which makes it easy to understand his message, the Independent wrote.
12. With terror attacks making headlines across the world, Americans feel uneasy and want to trust someone. "Perhaps Mr. Trump's seeming narcissism provides people with the feeling that if he were in charge, someone would know what they're doing — and reduce anxiety," Pschycology Today wrote.
13. Some people still don't take the idea of a Trump White House seriously, which means they might not vote in November while his supporters will. That's sort of what happened recently in the United Kingdom, which stunned the world when 52 percent of 33 million voters voted to leave the European Union in a referendum that many saw as a longshot.
"I'm sorry to have to be the buzzkill here so early on, but I think Trump is going to win. I'm sorry," filmmaker Michael Moore, 62 said this week. "Boo if you want."
14. Trump goes off script and voters like politicians who seem "real." "Trump is an exciting political presence, responsible for drawing new people into the political process. The American people today are frustrated. They feel our whole political process is unresponsive. They continually vote for political reform, sending people to Washington hoping they will do something, and are then betrayed as the newly elected representatives become a saccharine travesty of the reform they clamored for," Lou Murray, a delegate to the Republican National Convention, wrote in the Boston Globe.
15. He tells people what they want to hear and doesn't expect that voters will hold him accountable. "I can't help but think of how Donald Trump reminds me of a fifth-grader running for president of his class, promising to put Coca-Cola in the water fountains. It may get attention, but it's never going to materialize," said Sam Stovall, chief equity strategist at S&P Global Market Intelligence told CNBC.
16. His anti-trade remarks are popular in swing states like Michigan, Ohio, Pennsylvania and Wisconsin. Politico concluded: "Trump, or any Republican for that matter, can't win the election unless they turn some Obama blue states red... A telling sign of Trump's prospects for electoral success is if he shows he understands that, spending the bulk of his time campaigning in places like Pittsburgh or Toledo, or even Flint. Perhaps he can even chip in to replace lead-infested water pipes there."
RCP Net Favorability - Clinton vs. Trump | InsideGov
17. The electoral college could work in Trump's favor, Five Thirty Eight wrote. "If the middling economy is one silver lining for Trump, another is his swing state polls, which don't seem to be as bad for him as his national polls. They aren't good by any means, either, but whereas Trump trails Clinton by 6.7 percentage points in our average of national polls, according to our polls-only model, he's down 4.8 points in our adjusted polling average of Ohio, 5.7 points in Florida, 3.9 points in Iowa, and 2.0 points in Colorado, for instance," the site said in June.
18. Trump could win over independents who don't like Clinton. With only 43 percent of voters saying they will back Clinton, Trump can win with undecided voters without having to take any of her votes, polls show.
FOR FREE to continue reading
✔️ Unlock the full content of International Business Times UK for free
offer available for a limited time only
✔️ Easily manage your Newsletters subscriptions and save your favourite articles
✔️ No payment method required
Already have an account?
Log in
© Copyright IBTimes 2023. All rights reserved.