Why Isn't 'The Tonight Show' On This Week? Jimmy Fallon Suffers Loss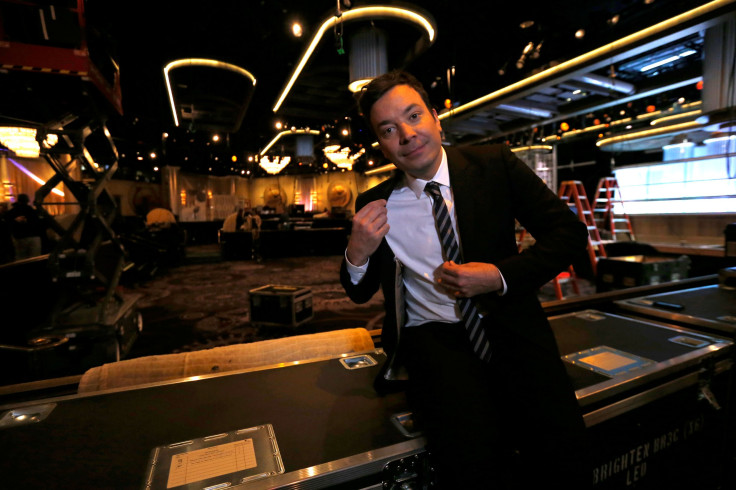 There won't be any news episodes of "The Tonight Show" this week, Fallon fans.
The host of the NBC talk show, Jimmy Fallon, is taking a brief break following the death of his mother, Gloria Fallon. The week-long hiatus comes after Fallon cancelled his show on Friday, Nov. 3, due to a "private family matter."
While NBC's schedule still lists a new episode of "The Tonight Show" is airing on Monday featuring Adam Levine, Sam Rockwell and J Balvin, the network has confirmed the show will not air a new episode until after Nov. 10. NBC, CNN reports, will be airing reruns until Fallon's return.
"Today I lost my biggest fan," Fallon said to Us Weekly following the death of his mother on Saturday.
"On behalf of everyone at NBC, we extend our deepest condolences to Jimmy and all his family at this time of enormous loss," the network also said in a statement. "Our hearts go out to Jimmy and everyone else whose lives were so touched by Gloria Fallon's love, kindness and support."
Fallon's mother died "peacefully" at the age of 68 at NYU Langone Medical Center in New York City. A spokesperson for the actor told People Magazine that Fallon and other family members were with Gloria when she died. Prior to her passing, a source told the magazine that Gloria was ill.
Questlove, who performs with The Roots as part of Fallon's "Tonight Show" house band, has since spoken out about the 43-year-old host's loss. "When you lose someone it's always sad," Quest told TMZ on Saturday. At the time he said he didn't know when the show would return.
Other celebrities such as Miley Cyrus, Stephen Colbert, Andy Cohen and more have also since spoken out and expressed their condolences to Fallon and his family.
For viewers looking to get their "Tonight Show" fix this week, the most current episode is currently available to steam in full on NBC.com. The episode, taped on Nov. 2, features Alec Baldwin, several cast members from Netflix's "Stranger Things" and musical guest Elbow.
© Copyright IBTimes 2023. All rights reserved.