Why Kate Moss Felt Obligated To Testify At Johnny Depp - Amber Heard Trial
Several famous faces testified during Johnny Depp and Amber Heard's defamation trial, and almost two months after the verdict, Kate Moss opened up about her decision to take the stand.
On Sunday, the supermodel was featured on an episode of the BBC Radio 4 program "Desert Island Discs." Moss revealed that testifying on her ex-boyfriend's behalf was the right thing to do.
"I believe in the truth, and I believe in fairness and justice," Moss said. "I know the truth about Johnny. I know he never kicked me down the stairs. I had to say that truth."
Moss, who dated Depp from 1994 to 1998, testified on his behalf in May after Heard's testimony suggested the actor pushed Moss down a flight of stairs.
Moss was referenced during Heard's testimony about an incident in which Heard said she punched Depp to protect her sister.
"I just see my little sister with her back to the staircase, and Johnny swings at her," Heard testified. "I don't hesitate or wait. I just instantly think of Kate Moss and the stairs, and I swung at him.
During a virtual court appearance, Moss later testified that she actually fell down the stairs during the couple's vacation in Jamaica and Depp helped her.
"We were leaving the room, and Johnny left the room before I did. There had been a rainstorm. As I left the room, I slid down the stairs, and I hurt my back," Moss explained.
"I screamed because I didn't know what happened to me and I was in pain. He came running back to help me and carried me to my room and got me medical attention. He never pushed me, kicked me, or threw me down any stairs."
Moss' decision to explain why she testified against abuse allegations comes after a jury reached a verdict on June 1 in Depp and Heard's trial.
Depp filed a $50 million defamation lawsuit against Heard over her 2018 op-ed in the Washington Post in which she referred to herself as "a public figure representing domestic abuse."
Heard countersued for $100 million.
The jury awarded Depp $10.4 million in damages and awarded Heard $2 million in her countersuit.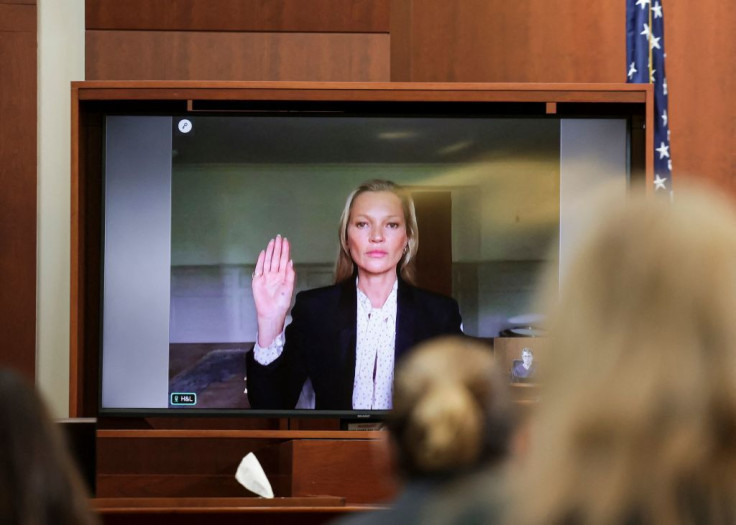 © Copyright IBTimes 2023. All rights reserved.