Why Marco Rubio Doesn't Need To Win Iowa Caucus To Secure 2016 Republican Presidential Nomination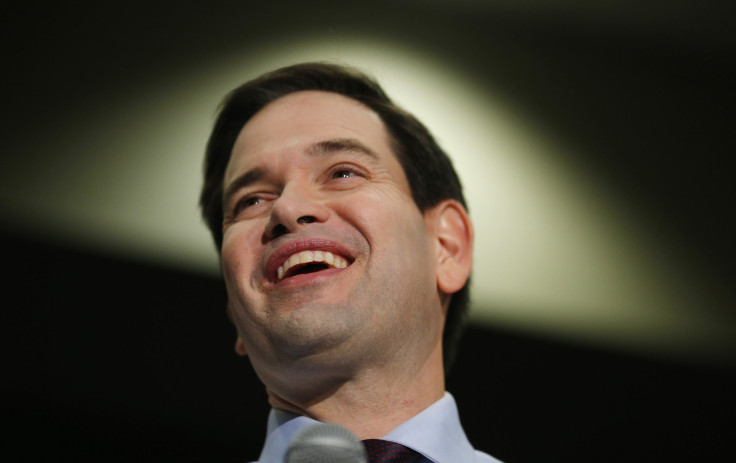 For most of the campaign season, Florida Sen. Marco Rubio has been knocked for floating in the middle of the polls as he pursues the Republican presidential nomination, but as he heads into the Iowa caucus Monday night, remaining the underdog might not hurt him in the long run. Rubio does not need to win it, but he does need to exceed expectations at the caucuses, according to his campaign and political analysts.
"We are mindful of the fact that we are competing with the greatest showman on earth on one side and the greatest ground game in Iowa political history on the other," Todd Harris, Rubio's senior adviser, told CNN. "Success for us is going to be to exceed expectations. We think that means a strong third-place finish."
Rubio trails behind businessman Donald Trump and Texas Sen. Ted Cruz, respectively. In the Des Moines Register-Bloomberg poll published Saturday, Rubio grabbed 15 percent of support from likely Republican Iowa caucus-goers, while Trump received 28 percent and Cruz won 23 percent of support. However, the poll indicated that Rubio may have benefited from what pundits said was a strong performance at Thursday's GOP debate in Des Moines. The previous Des Moines Register-Bloomberg poll showed Rubio with 9 percent of the vote.
In the last two presidential elections, neither John McCain nor Mitt Romney were able to win Iowa. Pennsylvania Sen. Rick Santorum ranked first at the 2012 Iowa caucus and did not go on to receive the Republican nomination.
"What is the difference between first place and third place in Iowa going to be? 4,000 votes?" asked Stuart Stevens, who was the chief strategist for Romney in 2012. "It's like a student-body election."
Marco Rubio Presidential Candidate Profile | InsideGov
Rubio made some of his final appeals to voters this weekend before Republican Iowans head to precincts across the state.
"Voters have a lot of choices," Rubio said Sunday on "Meet the Press" about Monday's caucuses. "I think once the race narrows, I feel very good about our prospects. But we're going to have a good night. We're going to have a lot of support. And I'm very excited about it."
After Iowa, Rubio has the New Hampshire primaries to look forward to, where his campaign is expecting the Iowa results will leverage his chances in the Granite State. Rubio holds 11 percent of support among New Hampshire primary voters, ranking third, in the latest CNN poll.
"A large margin going into the New Hampshire primary a week later would give him a lift there," wrote the New York Times' Jeremy W. Peters last week. "With Iowa out of reach, New Hampshire is the state where Mr. Rubio hopes to be able to perform strongly enough to begin consolidating support from the more moderate, establishment-aligned wing of the Republican Party."
© Copyright IBTimes 2023. All rights reserved.