Why Meghan Markle Wore 'Neutral' Givenchy Dress To Cheshire Visit With Queen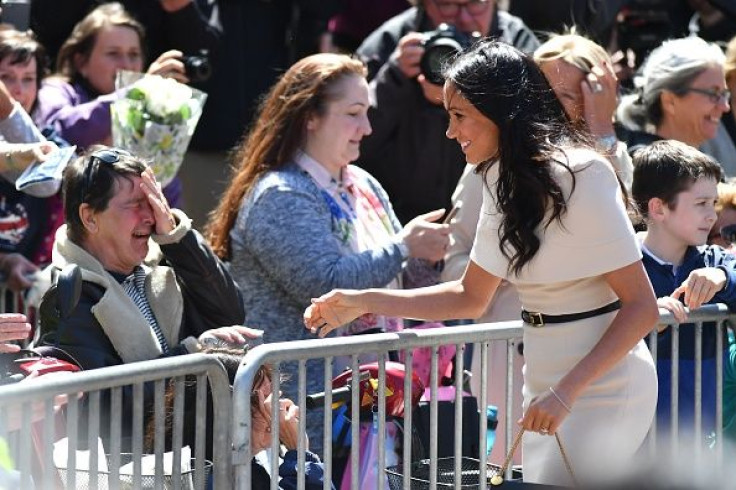 Meghan Markle opted to wear a "neutral" Givenchy dress during her Cheshire trip to show respect to Queen Elizabeth II.
Lucas Armitage, a celebrity designer and stylist, told the Daily Mail, "Meghan has opted for a neutral color once again. I feel this is a clever styling tactic as it will always work with the Queen's look; she is known and applauded for her use of bright fun colors."
Markle's attire in Cheshire has also deemed a more conservative choice compared to what she wore at last weekend's Trooping the Colour. At that time, Markle donned an off-shoulder Carolina Herrera dress that was dubbed by some royal fans as inappropriate.
On Thursday, the Queen was photographed in her pistachio colored coat designed by Stewart Parvin and a hat of the same color that was designed by Rachel Trevor-Morgan. The 92-year-old monarch accentuated her look with her white gloves.
Armitage commented on the Queen and Markle's chosen outfits and said, "Train travel, for most of us, is a commute where we are in far too close proximity to other people; for the Queen and Meghan it's a much more regal affair. The use of neutral color on Meghan's part is also a show of respect to the Queen so she never looks like she is trying to outshine her."
"I would be shocked if Meghan ever opted for a bold color, although it's interesting to note in her previous life she was a fan of bright hues. I think the Queen and Meghan's relationship at this point is one built on respect, and Meghan has shifted her own personal style to adopt a more demure regal look – something I think the Queen will be thankful for," he added.
Armitage also noted that Markle seems to be respecting royal protocol as much as she can even though she was expected to break them even before her wedding to Prince Harry.
© Copyright IBTimes 2023. All rights reserved.