Why More Nurses Are Being Hospitalized For COVID-19 Than Other Healthcare Workers
A new report from the Centers for Disease Control and Prevention (CDC) found that 6% of all patients hospitalized with COVID-19 were healthcare workers, and 36.6% of those patients were nurses that all shared an underlying health condition – obesity.
The study suggested that of the nearly 90% of healthcare workers hospitalized with COVID-19, 73% of them were obese. Of the hospitalized healthcare workers, 27.8% were nurses, and 8.5% were certified nursing assistants, the report said.
The CDC attributed the high rate of exposure for nurses to their role as frontline workers, and their frequent and close patient contract, which the agency said could lead to "extended cumulative exposure times."
In addition, the CDC said that registered nurses accounted for one-third of healthcare practitioners in the U.S. in 2019. As frontline workers responding to increases in COVID-19 cases in a community, it could cause additional implications for the healthcare system, the CDC said.
The agency does recommend that healthcare workers use face masks at all times while they are in a healthcare facility as well as eye protection for all patient care encounters, however, the lack of personal protective equipment (PPE) at the beginning of the coronavirus pandemic may have put some nurses at risk of contracting the virus.
Compounded by the nature of their job, nurses were faced with PPE shortages and COVID-19 testing delays that allowed the virus to spread undetected across the U.S., The Washington Post reported.
In another study by the American Nurses Association (ANA), it found that PPE shortages continue for many nurses today, requiring them to reuse the protective gear despite safety concerns.
In a survey of 21,000 nurses across the U.S., ANA said that 42% of nurses say that PPE shortages persist while over half say they are using PPE for five or more days, with 68% of respondents saying they are required to reuse PPE by their facility's policy.
"Re-use and decontamination of single-use PPE as the "new normal" is unacceptable," explained ANA President Ernest Grant, "given the lack of standards and evidence of safety.
"These practices contribute to nurses' burden of mental and emotional stress. I am deeply distressed that nurses feel unsafe when they are working around the clock to care for patients, educate the public, and protect themselves and their families. We must and we can do better," Grant added.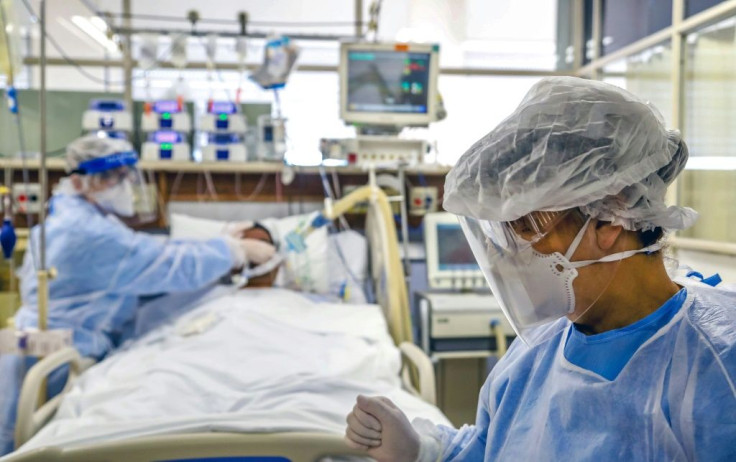 © Copyright IBTimes 2023. All rights reserved.
FOLLOW MORE IBT NEWS ON THE BELOW CHANNELS