Why Prince William, Kate's And Prince Harry, Meghan's Children Have Different Surnames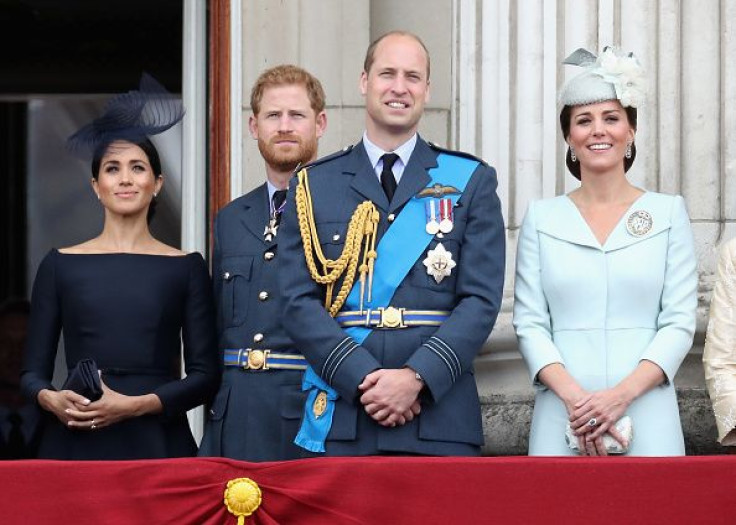 Prince William and Kate Middleton's children have different surnames from Prince Harry and Meghan Markle's future kids.
Prince George, Princess Charlotte, and Prince Louis carry the surname Cambridge because their parents' official titles are Duke and Duchess of Cambridge. Prince Harry and Markle are called Duke and Duchess of Sussex, so their kids' surname will be Sussex.
When Princess Diana gave birth to Prince William and Prince Harry years ago, the siblings carried the surname Wales. This is because Prince Charles and Princess Diana's official titles are Prince and Princess of Wales. Prince William was also known as Lieutenant Wales, and Prince Harry was called Captain Wales while they were in school.
Prince Andrew and Sarah Ferguson's children also use the surname York because this is the prince's official title. But when Princess Eugenie weds Jack Brooksbank on Oct. 12, their future children's surname may change. Brooksbank is not a member of the royal family, and he is classified as a commoner.
But Ainhoa Barcelona, a journalist, said that it is not common for members of the royal family to use their surnames, especially as adults. They are simply known by their first name and are called His or Her Royal Highness. But as descendants of Queen Elizabeth II, her relatives can all use the Mountbatten-Windsor surname.
In 1960, the Queen and Prince Philip decided that their family members that will be born after them would carry Mountbatten-Windsor instead of just Windsor. This way, both of the royal couple's surnames can differentiate them from the other members of the British clan.
In related news, it was reported that Prince Harry and Markle's children won't have royal titles due to a decree that was issued by King George V in 1917.
"The grandchildren of the sons of any such Sovereign in the direct male line (save only the eldest living son of the eldest son of the Prince of Wales) shall have and enjoy in all occasions the style and title enjoyed by the children of Dukes of these Our Realms," the decree read.
© Copyright IBTimes 2023. All rights reserved.