Why Was Harrison Ford's Nose Crooked At The Oscars? Twitter Reacts To Actor At 86th Academy Awards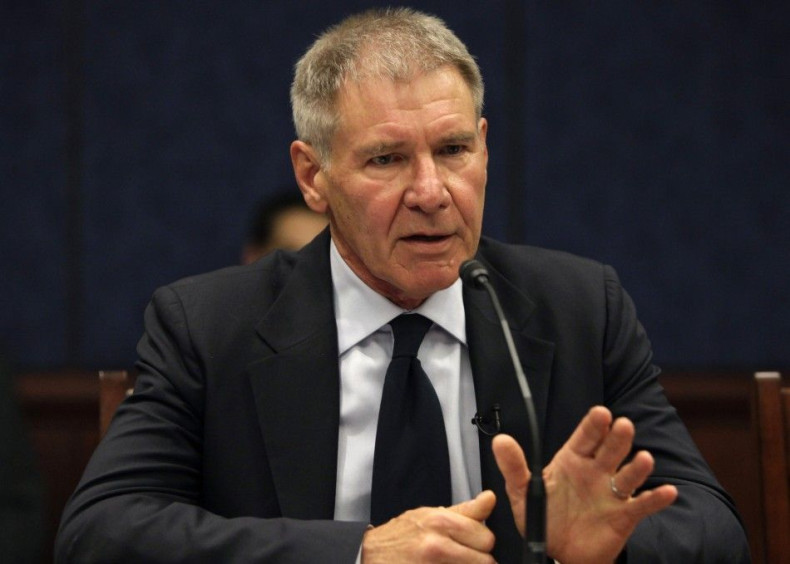 What happened to Harrison Ford's nose at the Academy Awards? That's what many people on Twitter were wondering while watching the Oscars Sunday night. The "Indiana Jones" phenomenon presented an award, but instead of people focusing on his speech, many viewers couldn't stop staring at the 71-year-old actor's nose.
Ford's nose had always apparently looked like that, but it just stood out to more people during the famous awards ceremony. Reportedly, he's had a somewhat deformed–looking nose since he got into a car wreck back in the 1960s, Wegotthiscovered.com reported. The site doesn't directly address the fact that on Sunday night, his nose looked like it was leaning to one side, but instead that the A-lister had a scar.
According to Wegotthiscovered.com: "Ford was granted his actual scar as the result of a car accident in 1964, achieved as he was fumbling to put his seatbelt on."
Things didn't end well for the star that day. After getting into an accident, the site explains, he couldn't find anyone to help him for hours: "After crashing into a telephone pole, he stood by the side of the road for hours, bleeding, until somebody drove by and took him to the hospital."
Apparently, Ford had a very young doctor, as described by the site: "There he was treated by somebody who appeared to be 11-years-old. "While he was on David Letterman, he reportedly had a more succinct way to describe the accident: 'A fast car crash, a real mundane way of earning it.'"
But not everyone on Sunday night was aware of his 1960s car accident. Some people, instead, assumed his might have had a bad nose job. Check out what Twitterati had to say about Harrison Ford's nose:
Follow me on Twitter @mariamzzarella