Wildfire Map 2017: 76 Fires Engulf Oregon, Other Western States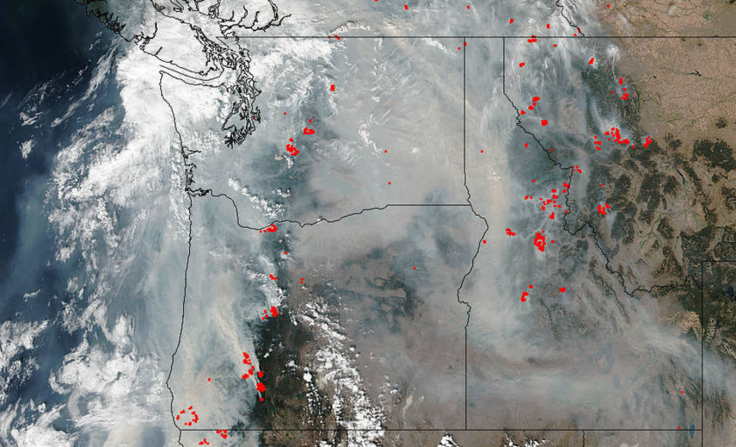 There are 76 forest fires burning across nine U.S. states with smoke so pronounced that it can be viewed from space. Smoke has traveled about 1,200 miles through western states, with approximately 1.4 million acres of land are on fire, prompting renewed concerns that climate change could soon extend future fire seasons.
"It's not the most severe fire season we've had, but it's above normal," Jessica Gardetto, a spokesperson for the National Interagency Fire Center (NIFC) told International Business Times in a phone interview. "There were 10.1 million acres burned in 2015, this year is not even at 8 million."
Up through August, 7.1 million acres have been burned by wildfires, according to the NIFC. From 2000-2016 the average was 6.6 million acres. Historically, however, Gardetto said things are getting worse.
"In the last 20 years they've become more severe," said Gardetto. Between 1960 and 2000, an average of 3.6 million acres burned.
Gardetto said one of the reasons this year's fires can appear more aggressive than previous years is because they are taking place closer to homes and are destroying national parks.
Last week, fires around Los Angeles caused several evacuations in the suburbs of Glendale and Burbank. The fires were visible in large swaths of the city.
Mayor Eric Garcetti confirmed on Twitter Saturday that it is "the largest fire by acreage" in Los Angeles' history.
In Oregon, the Eagle Creek Fire, which police say was started by a 15-year-old with fireworks, has threatened and damaged popular outdoors destinations. The Eagle Creek Fire merged with the Indian Creek fire and had engulfed over 30,000 acres on the Washington-Oregon border and along the Columbia River.
Portland, Oregon's largest city, received advisories this week for air quality due to smoke from the Eagle Creek Fire. The air quality index ranged from "hazardous" to "unhealthy" throughout the state. In Medford, Oregon, the air quality on Wednesday was considered "hazardous" because of the Chetco Bar Fire that had burned over 176,000 acres since July.
A viral photo shows golfers Monday hitting the links at Beacon Rock Golf Course in North Bonneville, Washington, as wildfires blaze behind them.
In Oregon, there are 18 fires currently blazing that are 100 acres or larger. Montana has 21 and California has 15, while Washington has eight and Idaho has six.
"Early part of June is when we start to ramp up," said John Saltenberger, Fire Weather Program Manager at the Northwest Interagency Coordination Center, about getting ready for fire season in an interview with IBT.
Saltenberger said fire season typically lasts from July until September or October. The end of fire season often depends on rainfall.
As this year's fire season begins to come to a close, some scientists worry that climate change will cause future fire seasons to last longer.
"I don't ever envision the fire season ever shutting down again. In areas like southern California, the deployment of staff and resources to deal with wildfire is going to become a permanent feature rather than a seasonal one," Dr. Keith Gilles, Dean of the University of California Berkeley's College of Natural Resources, told the Guardian in June 2016.
The Union of Concerned Scientists claims that dry areas are becoming drier, "increasing the likelihood of drought and a longer wildfire season, particularly in the western United States," and that when wildfires are started, "they will be more intense and long-burning."
© Copyright IBTimes 2023. All rights reserved.