Will Eric Greitens Step Down? Republicans, Democrats Demand Indicted Missouri Governor's Resignation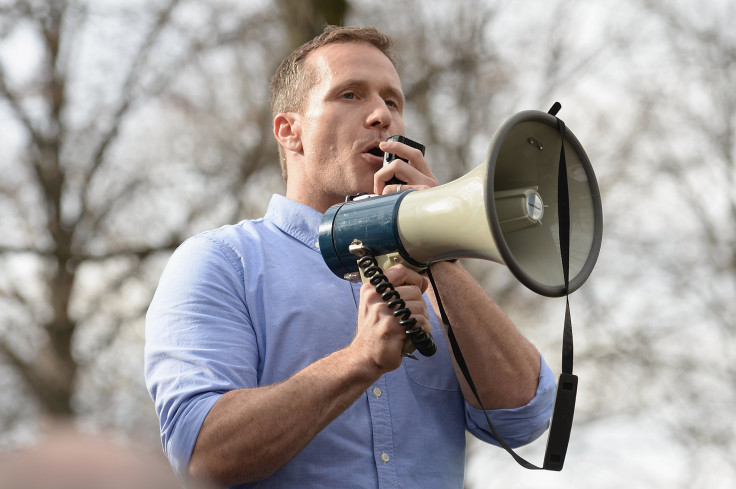 Several lawmakers on both sides of the political aisle have called for Missouri Gov. Eric Greitens' resignation from his post after he was briefly taken into custody Thursday, following indictment on a felony invasion of privacy charge.
Last month, Greitens revealed he had an extramarital affair with his hair dresser. The woman in question, identified as K.S., alleged that Greitens had tied her up and taken a "full or partially" nude photograph of her, threatening to release it if she told anyone about the affair.
Since the picture was taken without the woman's consent or knowledge and transmitted "in a manner that allowed access to that image via a computer," critics have said Greitens' action qualified as "revenge porn."
As soon as reports of his indictment emerged, both Republican as well as Democratic lawmakers called for Greitens' immediate resignation.
Missouri House Minority Leader Gail McCann Beatty said it "will be extremely difficult for him to effectively do his job with a felony indictment hanging over his head." She added "the governor needs to consider whether remaining in office under these circumstances is the right thing to do for not only himself and his family but for the people of Missouri."
Democratic Sen. Jamilah Nasheed called on Missouri House Speaker Todd Richardson to begin impeachment proceedings against Greitens, CBS affiliated KMOV reported.
"We will carefully examine the facts contained in the indictment and answer the question as to whether or not the governor can lead our state while a felony case moves forward," Richardson and Rep. Elijah Haahr and Missouri House Majority Leader Rob Vescovo said in a joint statement, St. Louis Post-Dispatch reported. "The people of Missouri deserve no less. We will begin the process of tasking a group of legislators to investigate these serious charges."
Democratic Rep. Deb Lavender said she found out about Greitens' indictment when she was in a meeting and multiple phones started ringing at once. Although she did not have much time to find out the details of the charges brought on against the governor, Lavender said he should consider stepping down from his post.
"I certainly think it's a reasonable consideration for him to make at this time so Missouri can move forward," she said.
Lavender's views were shared by Republican Rep. Kathie Conway, who said: "I find no joy or vindication in this. My heart breaks for the governor's family, the state and the voters that put their trust and faith in him. No one is above the law."
Missouri Senate Minority Leader Gina Walsh also made it clear that she would never stand with a man who was accused of violating a woman's privacy.
"Right now, my thoughts are with the women and families whose lives are forever changed because of Eric Greitens' behavior and actions," she said. "Too often, women in our state and nation are subject to intimidation, threats and even violence at the hands of those in power. No more. It's time our state takes a stand and ensures that women everywhere are able to seek the justice and equality they rightfully deserve."
Executive director of the Democratic Governors Association Elisabeth Pearson also demanded the resignation of Greitens. According to her, the governor had proven "he is unfit to hold public office. Following today's indictment, Governor Greitens should step down immediately. The people of Missouri deserve a governor who can focus full-time on the issues affecting the state."
Greitens, on the other hand, denied the allegations brought against him.
"As I have said before, I made a personal mistake before I was governor. I did not commit a crime," Greitens said in a statement, Reuters reported. "I look forward to the legal remedies to reverse this action."
His lawyer, Edward Dowd, also released a statement soon after, saying that his client was innocent.
"In forty years of public and private practice, I have never seen anything like this," Dowd said, BBC reported. "The charges against my client are baseless and unfounded. My client is absolutely innocent. We will be filing a motion to dismiss."
Greitens could get four years in prison and/or $5000 fine if convicted.
© Copyright IBTimes 2023. All rights reserved.