Will Fox News Fire Bill O'Reilly? List Of Sponsors To Pull Ads From Anchor's Show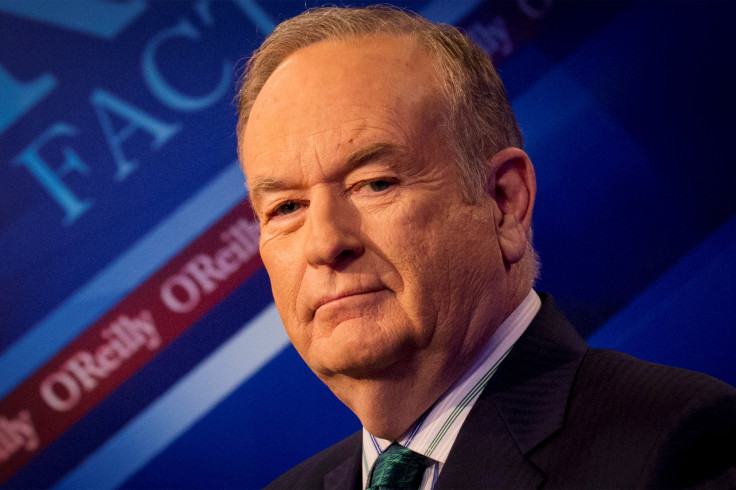 UPDATE: Wednesday, 2:32 p.m. EDT – The list of companies who have asked Fox News to remove their commercials from "The O'Reilly Factor" grew to as many as 26 Wednesday as the cable news network dealt with fallout from revelations it and host Bill O'Reilly had paid about $13 million in settlements to women who accused him of sexual harassment or improper behavior at the workplace.
Eye care and glasses outlet Visionworks and weight loss company Jenny Craig joined two dozen other advertisers to request their spots be removed from Fox News' flagship primetime program.
Following The New York Times report on the settlements, sponsors began pulling spots from the show Monday and the list has included major automakers BMW, Hyundai, Mitsubishi and Lexus, as well as pharmaceutical titans GlaxoSmithKline, Bayer and Sanofi and financial firm T. Rowe Price, among many others, according to media reports.
Original story:
As many as five major advertisers had pulled their commercials from "The O'Reilly Factor" in the wake of a damning report that showed Fox News had paid out roughly $13 million in settlements to women who accused long-time host Bill O'Reilly of sexual harassment or inappropriate behavior.
As of Tuesday morning, the companies included automakers BMW of North America, Mercedes-Benz and Hyundai, along with Constant Contact and Ainsworth Pet Nutrition, the New York Times reported.
Over the years, O'Reilly's conservative-leaning show had made millions for Fox News and gobbled up viewers ever since he joined the network in 1996. Just from 2014 to last year, the show had taken down more than $446 million in ad revenue.
Read: Conservatives Are Hotter Than Liberals, Study Says
However, with sponsors pulling out, and Fox News and its parent company 21st Century Fox now losing sponsors over heavy accusations leveled against O'Reilly, it's possible the 67-year-old anchor's time with the network could be jeopardy.
Removing O'Reilly could prove difficult and costly, though. The same day the settlement revelations were made, the Wall Street Journal reported Fox News had already set up a new contract with its biggest star and that O'Reilly had personally paid $10 million of the settlements.
A Times investigation published Saturday, which was based on dozens of interviews, found five women had accused O'Reilly and later received payouts totaling roughly $13 million in order to avoid litigation. The settlements dated back to 2002, and two occurred last year, with several of the accusers claiming O'Reilly attempted to leverage his power at the network to offer them gigs but when his alleged advances were turned down he later reneged on the offers.
O'Reilly responded in a statement to the Times, saying because of his fame and success he had become a target and noted he had never been reported to Fox News' human resources department.
"Just like other prominent and controversial people, I'm vulnerable to lawsuits from individuals who want me to pay them to avoid negative publicity," O'Reilly's statement read. "In my more than 20 years at Fox News Channel, no one has ever filed a complaint about me with the Human Resources Department, even on the anonymous hotline.
"But most importantly, I'm a father who cares deeply for my children and who would do anything to avoid hurting them in any way. And so I have put to rest any controversies to spare my children.
Read: Americans Would Help Ally Against China
"The worst part of my job is being a target for those who would harm me and my employer, the Fox News Channel. Those of us in the arena are constantly at risk, as are our families and children. My primary efforts will continue to be to put forth an honest TV program and to protect those close to me."
The allegations against O'Relly and subsequent payments came after Fox News was already dealing with scandals following the departure of former president Roger Ailes. He, too, was accused of harassing women at Fox News and the company later settled with former host Gretchen Carlson for $20 million, but on Monday another lawsuit was filed by contributor Julie Roginsky against Fox News, Ailes and current president Bill Shine because of Ailes' alleged actions.
Ailes left the company last year and received a $40 million settlement.
Fox News said in a statement Tuesday that it was working on sponsors' "concerns" over their spots on "The O'Reilly Factor."
"We value our partners and are working with them to address their current concerns about the O'Reilly Factor. At this time, the ad buys of those clients have been re-expressed into other FNC programs," Fox News executive vice president of advertising sales Paul Rittenberg said.
Editor's Note: This story was updated to include a statement from Fox News.
© Copyright IBTimes 2023. All rights reserved.