Will Kate Middleton Have A Third Baby? Prince William Hints At More Royal Children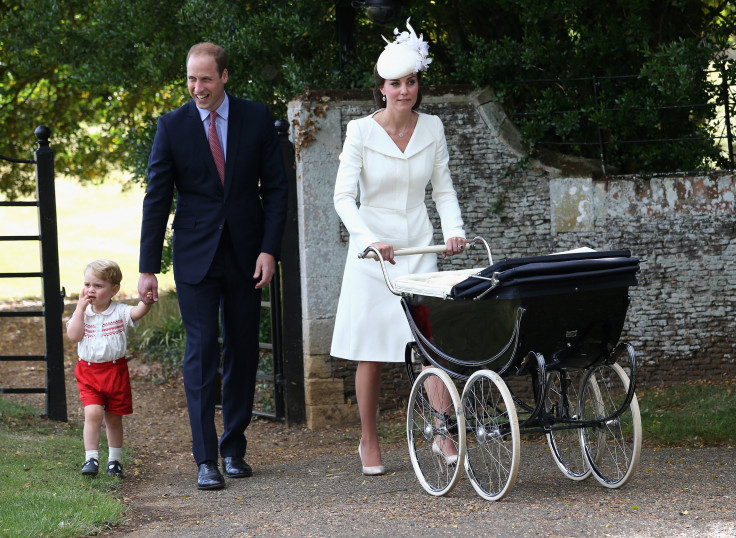 Prince William and Kate Middleton might add another bundle of joy to their growing royal family. In a pool report interview, the Duke of Cambridge hinted Monday that he and the Duchess may have a third baby, not long after the birth of their daughter Princess Charlotte.
Prince William, 33, praised his wife Kate's "amazing" mothering skills and described their two month-old daughter Princess Charlotte Elizabeth Diana of Cambridge as "a little joy from heaven." But he also admitted that life with two young children is challenging. Prince William said their first-born child, Prince George, who will turn two later this month, is "a little monkey." Still, the royal couple might want more children.
"We've only just had the second one. You never know what is going to happen in the future," Prince William said during the interview Monday, when asked whether he and Kate would expand their family, according to NBC'S TODAY. The Duke of Cambridge also spoke about starting his new job as an air ambulance pilot with the East Anglian Air Ambulance. The prince said he will donate his salary to charity.
Kate, 33, has reportedly told friends she wants to have a third baby before she turns 35, which might be why Prince George and Prince Charlotte were born less than two years apart. The Duchess of Cambridge has two siblings and she apparently told friends she wants "at least" three children to give Prince George and Princess Charlotte the same type of family environment, London newspaper the Daily Telegraph reported.
Kate, born Catherine, is 20 months older than her sister Pippa and less than five years older than her brother James. The three Middleton siblings are verfy close, according to the Daily Telegraph. People are already taking bets for when Buckingham Palace will announce a third pregnancy.
"Royal baby betting went through the roof in the lead up to Princess Charlotte's birth and the odds suggest that we won't have to wait much longer before Will and Kate announce baby number three," Nicola McGeady, a spokesperson with British bookmaking brand Coral, told entertainment news site Starpulse on Saturday.
© Copyright IBTimes 2023. All rights reserved.