Will Michael Bloomberg Run For President? Former New York City Mayor's Time Is Running Out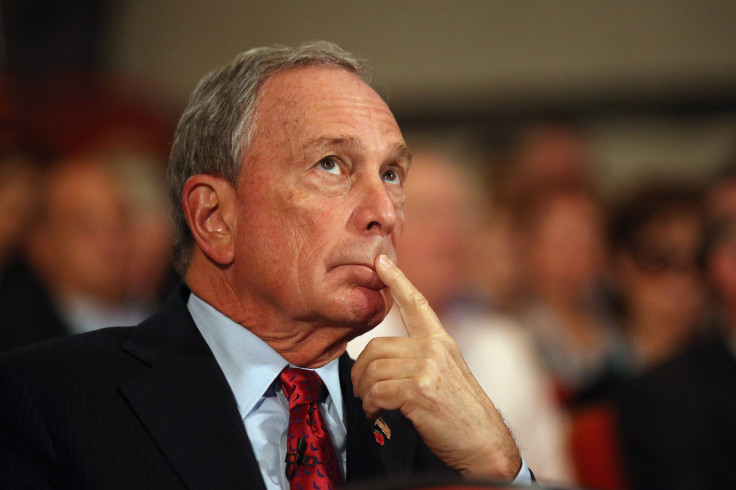 UPDATE: 12:37 p.m. EST — Former New York City Mayor Michael R. Bloomberg, who has been rumored to be mulling his own presidential bid for the 2016 election, will more than likely not declare his candidacy for the White House, according to a new report from ABC News Chief White house correspondent Jonathan Karl. A source close to Bloomberg reportedly told Karl that the chances of the former mayor running for president are "Almost zero."
Original story:
As Super Tuesday voting gets underway, presidential candidates Hillary Clinton and Donald Trump look to distinguish themselves as the clear favorites in the Democratic and Republican parties, respectively. But a formidable opponent may be lurking on the margins, mulling a late, third-party entry in the presidential race: former New York City Mayor Michael Bloomberg.
The billionaire media mogul — whose fortune dwarfs that of the "really rich" Trump — has made it clear he's open to jumping into the fray. Following a report that the former mayor, who served three terms from 2002-2013, had told advisors to draft a plan to run and that he was willing to spend $1 billion on the race, Bloomberg made it known he was considering a campaign as an independent in an early February interview with the Financial Times.
He told the paper he was "looking at all the options." Bloomberg, 74, said he found "the level of discourse and discussion distressingly banal and an outrage and an insult to the voters," adding that the public deserved better. If anything, the level of discourse has dropped even lower since that February interview, as the GOP candidates have angled to counter the bombastic Trump as he threatens to run away with the nomination. Meanwhile, Clinton and Vermont Sen. Bernie Sanders have ramped up the rhetoric against each other in their one-on-one race for the Democratic nomination.
About a week after the FT interview, Bloomberg doubled down on his criticisms of the presidential race at a private New York party, CNN reported. He lamented a "corrupt, gridlocked and broken two-party system" and accused the field of leaning on the crutches of "pointing fingers" and "making pie-in-the-sky promises." It's this political atmosphere that has Bloomberg hinting at a third-party run.
Bloomberg would make an interesting candidate — he has liberal social views (abortion rights, gun control) but has close ties with Wall Street and first ran for office as a Republican (after being a Democrat) before switching to become an independent. But for those same reasons, Blooomberg could turn away a lot of voters from both sides of the aisle. It's a steep climb for an independent to win the presidential nomination, considering nobody has ever done it.
He's done decently in polls thus far, considering he hasn't entered the race, run a single ad or made any official speeches. Two mid-February polls found Bloomberg polling at about 16 percent, should he go up against Trump and Sanders in a presidential race. A Sanders-Trump race is considered by most to be the contest most conducive to Bloomberg success, because he would represent a centrist point of view against two outsider candidates proposing sweeping changes.
But those polls were generally perceived as bad news for Bloomberg. He'd be considered a long shot should he enter the race. And he has the left worried, since most pundits have theorized that Bloomberg would steal moderate Democratic votes, opening the door to the presidency further for the eventual Republican candidate. Bloomberg's run would have to galvanize a growing number of voters -- 42 percent, according to Gallup -- who identify as independent.
But time is running out. Logistically, he has to get the required amount of signatures — anywhere from 1,000 to 89,000 — in each of the 50 states before each state's cutoff date. And while he may be a household name in New York, more than half of the country has never heard of Bloomberg, according to a Quinnipiac poll.
Bloomberg told the Financial Times he was giving himself until early March to make a decision, since he'd have to start getting his name on ballots. With Super Tuesday's arrival, that deadline is creeping ever closer for the possible third-party candidate.
© Copyright IBTimes 2022. All rights reserved.
FOLLOW MORE IBT NEWS ON THE BELOW CHANNELS