Will Trump Resign? Most Americans Want POTUS To Step Down, Poll Finds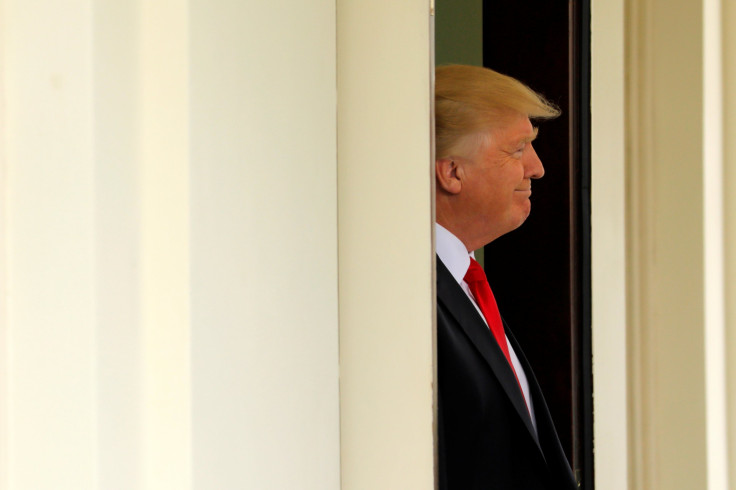 By the end of March — after President Donald Trump saw the collapse in Congress of a Republican-sponsored health care bill meant to overhaul the Affordable Over Act, and after former national security advisor Michael Flynn asked for immunity in order to testify on alleged connections between the president's campaign with Russia — over half of Americans, or 53 percent, believed the commander in chief should resign.
The same poll, released last Thursday by Public Policy Polling, found that his approval rating dropped to 40 percent. Fifty-three percent disapproved of how Trump was handling his job, and only 39 percent thought he should continue to serve as president.
Read: Trump Vs. Media: Mainstream News Outlets More Trusted Than POTUS, Poll Finds
An even higher number of Americans — 62 percent — wanted to see an independent investigation into whether high-ranking officials in Trump's campaign colluded with Russia to hack into the Democratic National Committee's emails to sabotage rival Hillary Clinton's chances at the presidency. Twenty-eight percent were opposed to such an investigation.
Read: Jobs Moving To Mexico Under Trump Despite POTUS' 'American First' Push
Trump first began calling the news of possible involvement of his campaign officials with Russians "fake news" in January, a claim that he's kept up throughout his presidency. He most recently tweeted about it Saturday.
Fewer than half of Americans — 39 percent — considered the Russia story as "fake news." Nearly half, or 48 percent, said the Russia story was legitimate.
About 44 percent of voters supported impeaching Trump over the possible Russia connections; 45 percent were opposed to impeachment. According to the PPP report, "these numbers suggest that more Russia revelations could very well lead to majority support for impeachment."
Despite Trump's claims of "fake news," more Americans support mainstream news outlets than they do the president himself:
54 percent of voters believed NBC to be more credible than Trump, and 39 percent said the opposite.
53 percent said ABC was more trustworthy than Trump; 38 percent believed the opposite.
53 percent trusted CNN as a better source of information than Trump; 39 percent said the opposite.
The poll was conducted from March 27 and last Tuesday, and it surveyed 677 voters. The margin of error was plus or minus 3.8 percent.
© Copyright IBTimes 2023. All rights reserved.
FOLLOW MORE IBT NEWS ON THE BELOW CHANNELS