Windows 10 Preview Problems: Top 9 User Issues With Microsoft's Technical Preview Are Largely Visual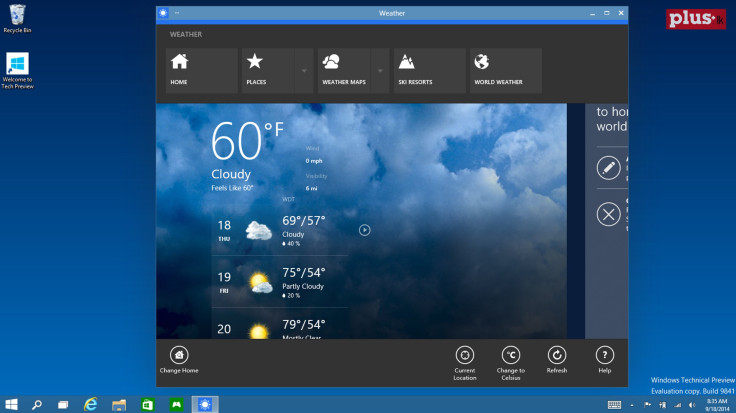 The early reviews of Microsoft's soon-to-be-released Windows 10 operating system are positive, though many testers say the interface could be more attractive.
Microsoft Corp. has been working to bring back PC power users and solicit their feedback with a free technical preview of Windows 10. The beta version of the operating system is not yet fully functional, but users are already able to submit requests for fixes and new features.
Software developer Matt Goldstein compiled the most popular requests in Microsoft's Windows 10 technical preview feedback app. Many of the most common requests from early Windows 10 users were changes to how the system looks, rather than how it works.
1. A better animation or transition after clicking on the Start menu was the most popular request from testers (453 testers asked for it). More of a visual improvement than a feature, it probably will incorporate several new graphical features, like transitions, before Windows 10 hits PCs next year.
2. Add the ability to move or disable, or both, the new search and task bar buttons, which sit next to the reincarnated Start button (415 testers). Another 286 voted for the ability to remove them completely.
3. Make it easier to sign in to a local account. Testers felt that the option is difficult to find on the operating system's sign-in screen (329 testers).
4. Incorporate tabs into Windows 10's File Explorer, like those found in a modern Web browser (325 testers). The idea is to minimize the app's appearance on the task bar.
5. A number of users said they had trouble accessing Charms, the simplified quick-hit toolbar from Windows 8 (315 testers). For now, only a keyboard shortcut (pressing the Windows Key at the same time as the letter C) brings up Charms, but testers hope Microsoft will fix this in a later version of the preview.
6. A more "beautiful boot screen." Users of Windows 10's technical preview seem very focused on visuals (293 testers), with one asking for a pretty startup animation.
7. Finish updating the icons for Windows 10. Testers noted that many date back to earlier versions of the OS (271 testers).
8. Complete the transition from Control Panel to PC Settings. Making it easier to change the way their PCs were set up does not mean users want duplicate efforts – since searching through both the legacy control panel and new settings menu makes it take longer to complete even the simplest of tasks (268 testers). More than 200 users also complained that they were not able to select multiple tiles by holding down the Control key.
9. Allow the use of different background images (and folders) on virtual desktops. One user said having different images could make it easier to distinguish which desktops were for work, play and other tasks (266 testers).
Goldstein said he most wanted to see "dockable" Modern (formerly Metro) apps "like the old Windows 7 gadgets, where they could support transparent regions," without Windows title bars and buttons. Be sure to check out his game Blackjack Assassin for Windows and Windows Phone.
A number of users also expressed a desire to see Cortana – the voice-activated digital assistant from Windows Phone – in Windows 10. Bits of code have already revealed that the Siri and Google Now competitor will come to Windows 10. As an Xbox One owner, I sincerely hope that the feature will allow users to turn on Windows PCs with voice, much as I shout at my console, "Xbox On."
It would also be interesting to be able to change the hotword used to detect what was necessary, like owners of the Moto X (2014) can.
Have any hopes, dreams, thoughts for Windows 10? Let us know in the comments below.
© Copyright IBTimes 2022. All rights reserved.
FOLLOW MORE IBT NEWS ON THE BELOW CHANNELS