Winter Storm Update: Texas Bracing For More Arctic Weather
More than 3 million remain without power in Texas and more arctic weather is in store. Forecasts call for single-digit temperatures to stay Wednesday across a wide part of Texas, Arkansas and parts of the Lower Mississippi Valley.
Nearly a third of the nation's population lives under some sort of winter weather warning, watch, or advisory, according to the National Weather Service.
Besides the rolling blackouts in Texas, there are more than 200,000 without power in the Appalachian states. Almost 200,000 are waiting for the restoration of power in the Pacific Northwest.
The extreme weather has killed more than two dozen people. Weather scientists blame the polar vortex creeping south for the brutally cold conditions. The weather pattern is usually confined to the Arctic but has made incursions further south and remained there longer. Climate change caused by humans is at least partly responsible.
That hasn't stopped Republican lawmakers in Texas from blaming everything from California liberals to non-existent government policies for a power problem that is uniquely Texan.
Texas is the only state in the U.S. operating its own power grid. The state has fought hard to keep it the only such grid without federal jurisdiction, according to the Wall Street Journal.
In the wee hours Monday morning, electricity demand overwhelmed the grid as temperatures plummeted. The Electric Reliability Council of Texas ( ERCOT ) shut off certain parts of the grid as demand exceeded the available supply of power. Restarting power plants to meet the extraordinary demand proved difficult in frigid conditions.
ERCOT asked for patience.
But the blackouts aren't limited to Texas. Entergy started rolling blackouts Tuesday night in Arkansas, Louisiana, Mississippi and southeast Texas under instructions from its grid manager. Oklahoma Gas & Electric reported no outages Wednesday. The company used rolling blackouts Tuesday in and around Oklahoma City despite below-zero temperatures.
The effect is not limited to the U.S. Mexico instituted rolling blackouts over more than a third of the country Tuesday. The conditions in Texas limited Mexico's supply of imported natural gas.
The weather has also put a crimp on the national COVID-19 vaccination drive. Delays in vaccine shipments and deliveries are already happening.
Forecasts call for the weather system to move into the Northeast Thursday. Temperatures in Texas should rise above freezing by this weekend.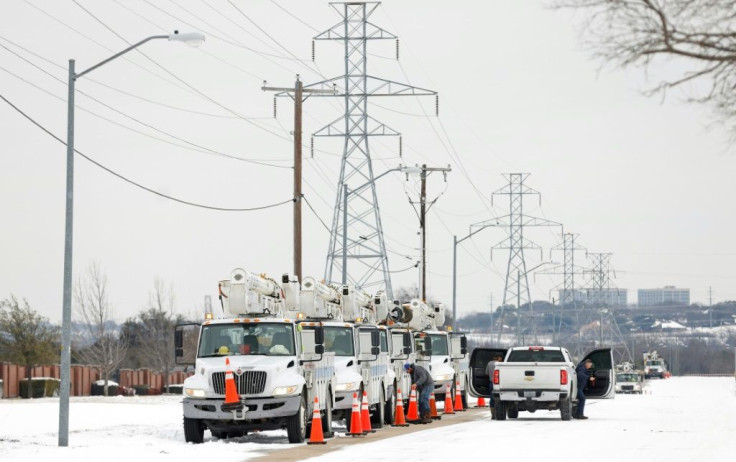 © Copyright IBTimes 2023. All rights reserved.