Texas Snowstorm 2021: After Deadly Pile Up, South Prepares For More Winter Weather
At least six people are dead after icy conditions in Fort Worth caused a chain-reaction crash that involved more than 100 vehicles. The region isn't out of the woods yet. The major bout of winter weather is expected to last at least through the weekend.
Highs for Friday are not expected to move much above freezing and the National Weather Service has issued a winter weather advisory from Saturday night to Monday.
"Total snow accumulations of 4 to 6 inches [are] possible," the advisory read. Bitterly cold temperatures and near-blizzard conditions are expected from the storm.
Forecasters at The Weather Channel noted this will be the first time the Dallas-Fort Worth area will see at least an inch of snow in more than five years.
Frigid temperatures seeped deep into southern states during the week. Travel was treacherous Thursday morning with freezing rain creating black-ice conditions on area roadways. A pileup that began around 6 a.m. local time Thursday stretched a half-mile long, involved 133 vehicles and led to at least six fatalities.
At least 65 people were injured and many remained hospitalized as of Friday, the CBS affiliate in the Dallas-Fort Worth area reported.
The temperature for this time of year in northern Texas is usually around 55 degrees Fahrenheit. The weather service predicts a low for Monday of 5 degrees.
Most of the country west of the Mississippi is under some form of weather advisory. Bitterly cold conditions are expected across much of the upper Midwest and Northern Plains states, where a polar vortex will push wind chills to as low as 40 below zero.
Further west and another winter blast is sweeping into the Pacific Northwest. As much as six inches of snow is expected through the weekend for Seattle. Models from the National Weather Service show that system gaining strength early next week, with snow expected from Seattle to parts of the Texas Panhandle.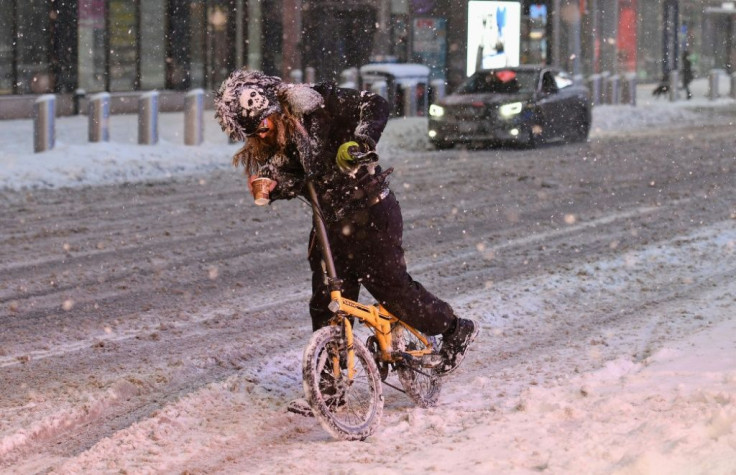 © Copyright IBTimes 2023. All rights reserved.