Winter Storm Virgil Causes Hundreds Of Flight Cancellations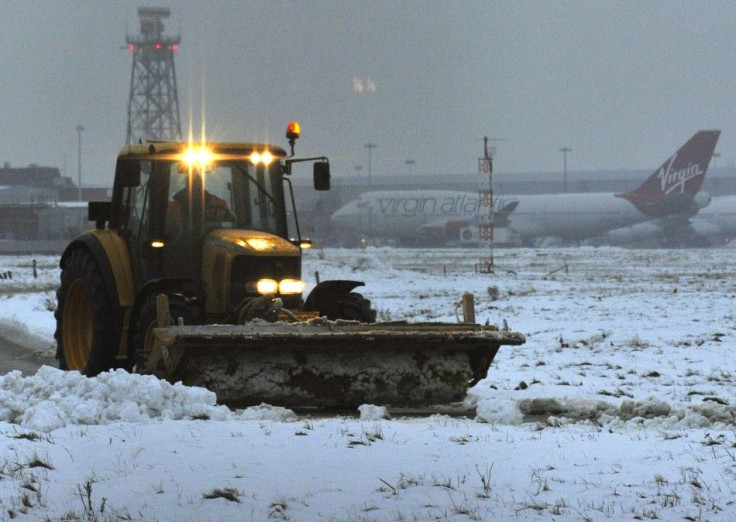 Spring was but a daydream for many Americans Monday as yet another winter storm, dubbed Virgil by the Weather Channel, traveled into the mid-Atlantic after dumping heavy snow from Denver to Indianapolis over the weekend.
Along the I-95 corridor, slushy accumulations glazed roads from Washington, D.C., to Philadelphia. Most states from Kentucky to New York can expect a mix of snow, slush and rain to linger through Tuesday morning.
Though Virgil has been tame compared to its predecessors this season, it has caused numerous delays and cancellations to mount at U.S. airports.
Nationwide, there were more than 750 cancellations and 6,400 delays Monday as of 7 p.m. EDT, according to FlightStats.
New York City-area airports alone accounted for more than 400 cancellations Monday. Officials axed another 200 into and out of busy mid-Atlantic airports in Philadelphia and Washington, as well as a few dozen at both Chicago O'Hare and Indianapolis.
Combined with roughly 400 flight cancellations Saturday in the Rockies and 500 Sunday in the Midwest, officials scrapped more than 1,650 flights in the past three days thanks to late-season winter storms.
As has become common practice in the industry, most major carriers issued flexible rebooking policies for affected passengers. The majority allow customers to make one fee-free change within a specified rebooking window, though the fine print varies airline-to-airline.
An almost weekly barrage of winter storms have traveled across the U.S. since the beginning of February, leaving many states white well into the traditional beginning of spring.
The forecast for the rest of the week remains decidedly chilly: Temperatures are expected to remain at least 8 degrees Fahrenheit below normal for the eastern half of the U.S. from the Great Plains to Florida.
As for Virgil, Alex Sosnowski, senior meteorologist at Accuweather, said, "Precipitation will shut down from west to east from the western suburbs of the I-95 cities to the coast [Monday night]. However, pockets of flurries and intermittent snow will remain behind over the Appalachians and the Ohio Valley."
"It is possible that some roads over the Midwest and central Appalachians that became wet during the day Monday can become slippery again overnight," he added. "Some folks whose cars were cleaned off when they got home Monday evening may be covered with snow again by Tuesday morning."
As always, anyone traveling by air is encouraged to check the status of their flight before heading to the airport, and those traveling by car should monitor the progress of the storm and check with local authorities to stay up to date on road conditions.
© Copyright IBTimes 2023. All rights reserved.
FOLLOW MORE IBT NEWS ON THE BELOW CHANNELS