Wisconsin Labor Group To Sue Gov. Walker To Raise Minimum Wage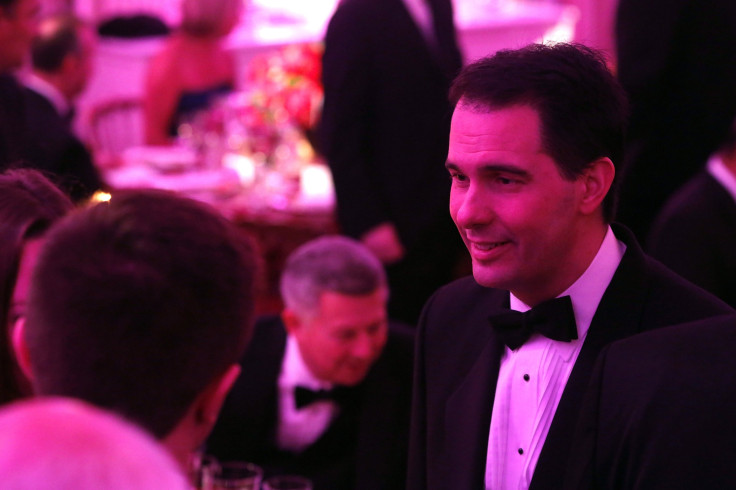 A labor group in Wisconsin on Monday plans to file a lawsuit to force Gov. Scott Walker to raise the state's minimum wage from its current $7.25 an hour. The lawsuit follows a Friday report from the International Business Times that disclosed that Walker relied upon a study prepared by the fast-food industry in dismissing calls for an increase to the minimum wage.
Under Wisconsin law, the state's minimum wage must amount to a so-called living wage, meaning a level at which a person can finance basic needs. Last month, a labor group, Wisconsin Jobs Now, filed a formal complaint with the governor demanding that the minimum wage be increased, arguing that the current level amounts to poverty wages.
Walker's administration was statutorily required to conduct an investigation into the labor group's complaint. Twelve days after the complaint was filed, the administration issued a ruling concluding there was "no reasonable cause to believe" the state's minimum wage was not a living wage.
In response to a public records request from the labor group seeking documents used as a basis for that claim, Walker's administration released a single economic study published by the Wisconsin Restaurant Association, a trade group that counts fast-food chains among its members. According to the association's website, it opposes higher minimum wages and boasts of having successfully "outlawed local government minimum wage ordinances." The study from the WRA said a higher minimum wage could harm the state.
Walker, a Republican, accepted more than $200,000 in campaign contributions from restaurant industry donors before his administration issued the ruling against a higher minimum wage.
Wisconsin Jobs Now, which is pushing a minimum wage increase, will file the lawsuit against Walker's administration in Dane County Circuit Court on Monday, said the group's campaign director, Peter Rickman. He told IBTimes that his group's complaint, which included testimony from scores of low-wage workers, should have prompted a much more thorough review than the one Walker's administration conducted.
"Scott Walker should have recognized what hundreds of thousands of workers in Wisconsin already know: you can't support a family on $7.25 an hour, $8.25 an hour or even $10.25 an hour," Rickman said. "The Walker administration should have simply raised the minimum wage to something closer to a real living wage."
Short of immediately raising the minimum wage, Rickman says Walker could have created a minimum wage advisory council with business and labor, and the public at large, to evaluate what constitutes a living wage in Wisconsin.
Walker, who has been rumored to be a 2016 presidential candidate, is currently in a closely contested battle for re-election. The latest poll from Marquette University showed him tied among likely voters with his Democratic rival, Mary Burke.
News of the lawsuit was first reported Sunday night by the Milwaukee Journal Sentinel.
© Copyright IBTimes 2022. All rights reserved.
FOLLOW MORE IBT NEWS ON THE BELOW CHANNELS