Witness May Challenge Michael Cohen Claims In Trump Case - Source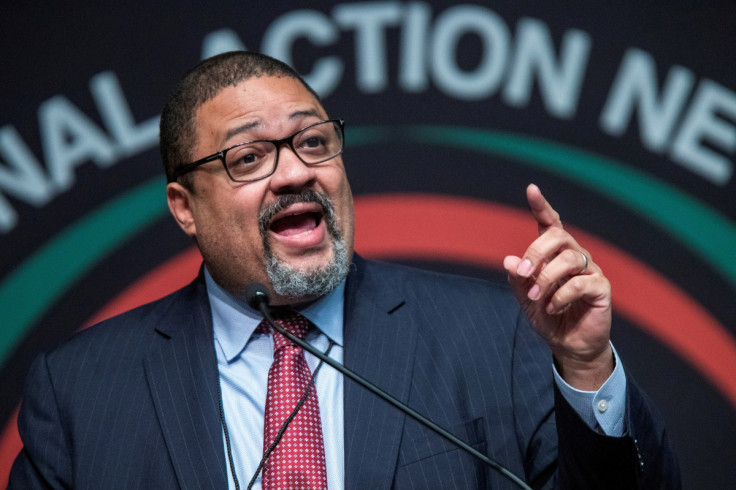 A lawyer called to testify behind closed-doors in New York on Monday may challenge the claims of a key witness before a grand jury decides whether to charge former President Donald Trump over hush money paid to a porn star, a source familiar with the matter told Reuters on Sunday.
Robert Costello has been asked to appear before the grand jury at the request of Trump's lawyers because he may have information that calls into question events as described by Michael Cohen, Trump's former lawyer, the source said.
The Manhattan District Attorney's office has asked Cohen to be available on Monday as a rebuttal witness, if needed, according to a second source, who did not want to be named. Cohen testified before the grand jury twice last week.
Trump, whose supporters stormed the U.S. Capitol on Jan. 6, 2021 to overturn his 2020 election defeat, said Saturday that he expects to be arrested on Tuesday and called for protests. He said "illegal leaks" indicated an arrest on Tuesday, but provided no evidence, and his spokesman said Trump had not been notified of any impending arrest.
The Manhattan District Attorney's office earlier this month invited Trump to testify before the grand jury probing the payment, which legal experts said was a sign that an indictment could be close. Trump declined the offer, a person familiar with the matter said.
No U.S. president, while in office or afterward, has faced criminal charges. Trump, who is seeking the 2024 Republican presidential nomination, has said he would continue campaigning even if charged with a crime.
Manhattan District Attorney Alvin Bragg's office has been investigating a $130,000 hush payment made by Cohen, Trump's estranged former fixer, to porn star Stormy Daniels during the 2016 presidential campaign.
Sources have said Bragg's office has been presenting evidence to a grand jury about the payment that was made to Daniels in return for her silence about an affair she said she had with Trump a decade earlier.
The grand jury will determine whether there is sufficient evidence to formally charge Trump with a crime. The proceedings are not public.
Costello's testimony is expected to focus on the payment to Stormy Daniels and how that came about, the first source said. Costello is better known for his representation of former Trump lawyer Rudy Giuliani.
Cohen consulted with Costello years ago, and was given a retainer agreement but never signed it, the first source said. Cohen also waived attorney-client privilege in 2019, the source added.
'WITCH HUNT'
Cohen was sentenced to prison in 2018 after pleading guilty in federal court to campaign finance violations tied to hush money payments to Daniels and another woman during Trump's 2016 presidential campaign, among other crimes.
Trump has denied the affair with Daniels happened and called the investigation by Bragg a political persecution.
"THE WITCH HUNT NEVER ENDS, BUT WE WILL MAKE AMERICA GREAT AGAIN!!!" Trump posted on social media on Sunday.
Talk of a Trump arrest could be boosting his support, New Hampshire Governor Chris Sununu, a fellow Republican, told CNN's "State of the Union" on Sunday.
"It's building a lot of sympathy for the former president," said Sununu, a relative moderate, who is considering his own presidential run and appeared to be trying to avoid alienating Trump supporters.
Asked if Trump had special responsibility to ensure protests did not turn violent, Sununu said "well, sure" but quickly added this was a broader societal responsibility, saying "you can't just put it on the former president."
Trump's former national security adviser H.R. McMaster and former economic adviser Gary Cohn on Sunday both urged Trump supporters to respond peacefully to any developments this week.
Prominent Republicans, such as Trump's former Vice President Mike Pence and House of Representatives Speaker Kevin McCarthy, suggested a possible prosecution by Manhattan District Attorney Alvin Bragg, a Democrat, would be politically motivated.
Trump also took to social media on Sunday to accuse President Joe Biden of playing a role in the Manhattan probe but offered no evidence. The White House did not immediately respond to a request for comment.
A spokesperson for Bragg declined to comment on Sunday.
Legal experts have said if Trump were indicted that any trial could still be more than a year away, possibly coinciding with the final months of the 2024 presidential campaign.
© Copyright Thomson Reuters 2023. All rights reserved.