Woman Bitten By Highly Venomous Snake Stranded For Hours Before Being Rescued
A 27-year-old woman, who was bitten by a deadly snake Sunday while hiking in a remote area in Australia, was stranded for hours before rescuers could get to her.
The woman and her friends were in the Dales Gorge in the isolated Fortescue Falls area of the Karijini National Park when a Mulga snake, one of Australia's deadliest reptiles, bit her on her leg. With patchy mobile phone reception in the area, the woman and her friends struggled to reach for help. According to 7News, the nearest town was more than 60 miles away.
Tom Price Police received the emergency call and dispatched officers along with DFES State Emergency Services, St John Ambulance paramedics and Karijini National Park rangers to locate the woman. The rescue operation took several hours, following which the unidentified woman was airlifted to a hospital.
The woman was first taken to Tom Price District Hospital for initial treatment and later flown to South Hedland Health Campus for further treatment, Perth Now reported.
The woman was treated at the facility, and was said to be in a stable condition.
Mulga snake is one of Australia's deadliest reptiles. Its highly toxic venom destroys blood cells and affects the muscles and nerves.
A video of the rescue operation shared by 7News showed the woman with a heavily bandaged leg being given first aid. Emergency workers were then seen pulling the woman out of the gorge and bringing her to the ambulance.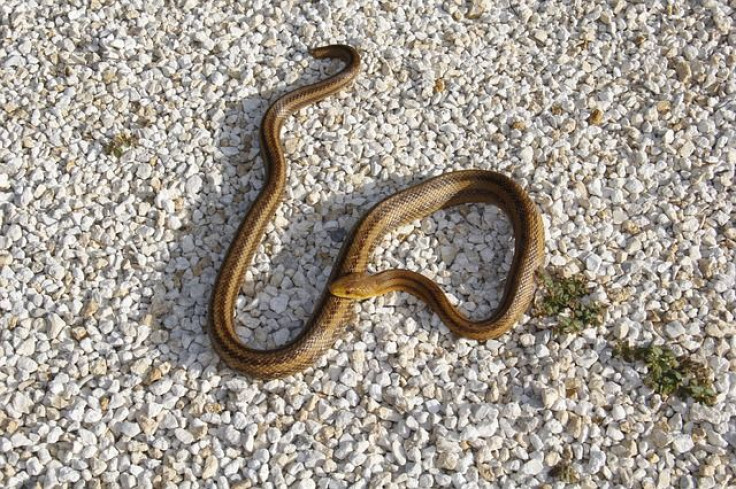 In January, a deadly snake bit a pet dog in the backyard of a home in Australia, but was saved due to the owner's quick action. Emily Usherwood's dog was seen breathing in an uncomfortable way and was also salivating. Usherwood, who earlier worked with the Royal Society for the Prevention of Cruelty to Animals, gave the animal first aid as she suspected the canine was bitten by a snake. "I knew the symptoms he was showing, it was some kind of snakebite or possibly he was poisoned, either way I knew I had to get him to a vet," she said at the time.