Women Are Still Sidelined In TV, And Only Other Women Can Help Them: Study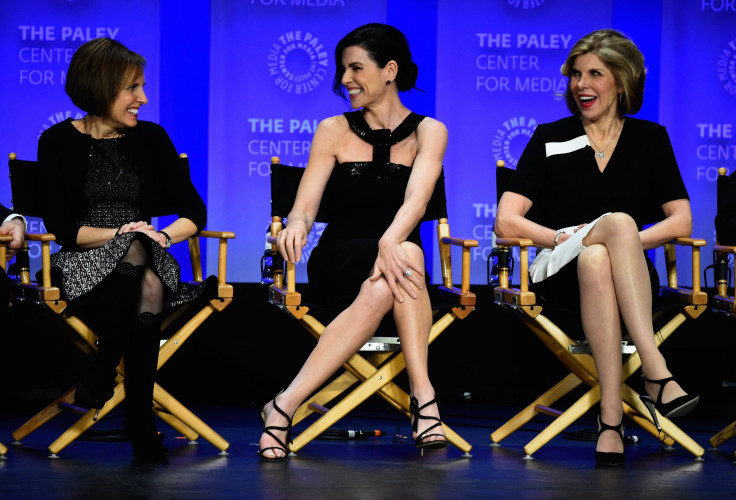 Television is a notoriously tough business to break into, but a new study shows that over the past 18 years, women in particular have seen little progress getting more jobs in the industry. The report, conducted by the Center for the Study of Women in Television and Film at San Diego State University in California, found that the business of TV is at least as insular and male-dominated as that of filmmaking.
"[T]hese percentages reveal that women's forward progress in television has stalled," the center said in a news release. "There is a perception gap between how people think women are faring in television, both on-screen and behind the scenes, and their actual employment. We are no longer experiencing the incremental growth we saw in the late 1990s and 2000s."
The study found that 42 percent of all speaking characters and 42 percent of major characters this past year were women -- an increase of only 3 percent over the women's share in 1997-98. There was no increase at all from last year.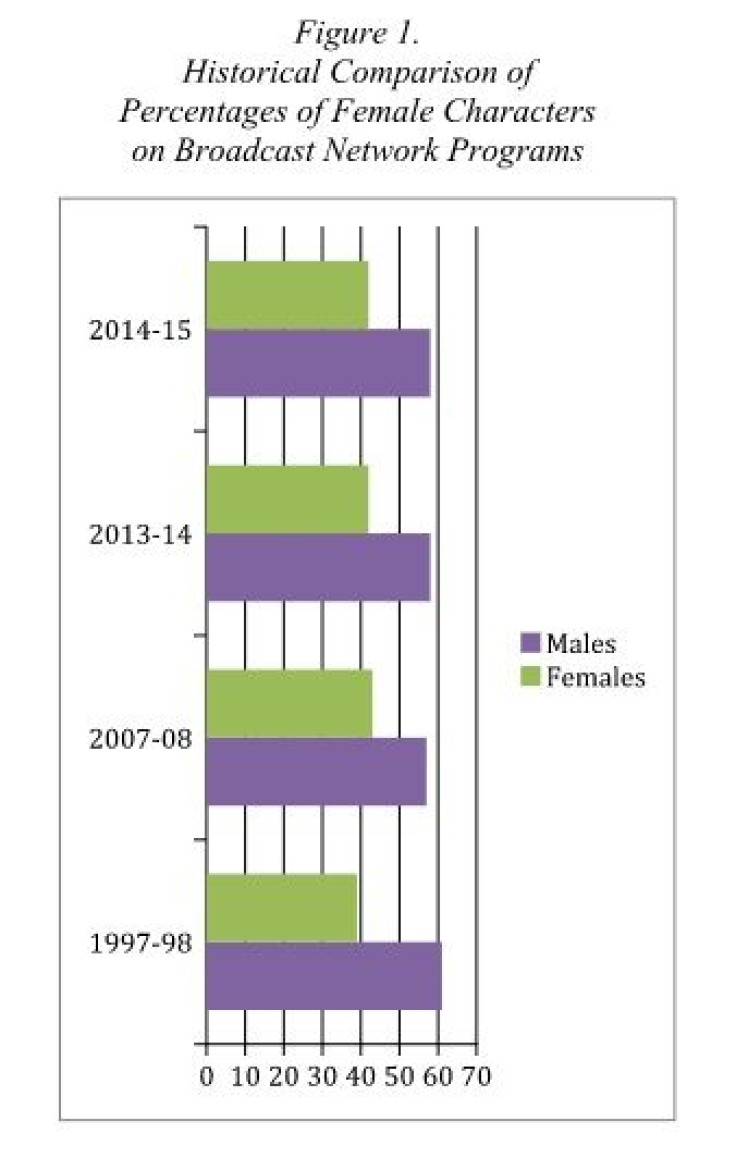 Behind the scenes, women this year made up 27 percent of the creators, directors, writers, producers, executive producers, editors, and directors of photography in the business. That's a 6 percent increase from 18 years ago and, again, no change from last year.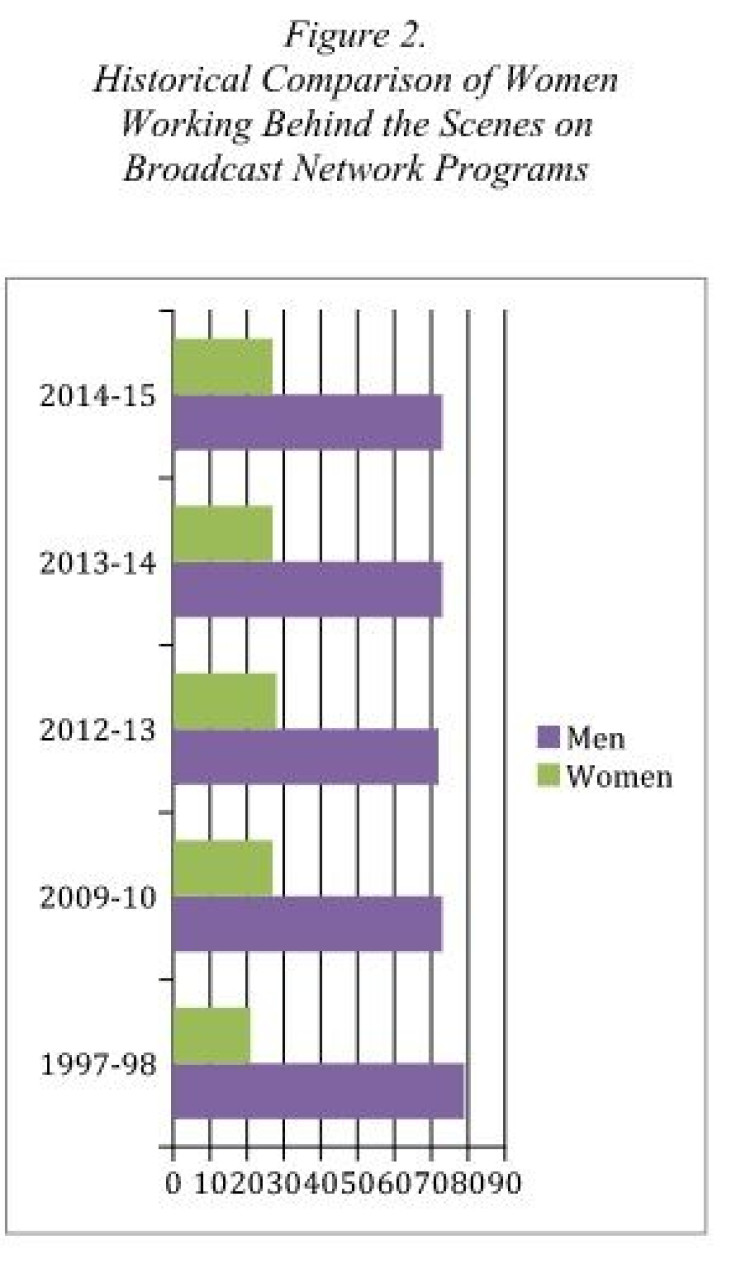 The data show that the best shot women have at getting on a show as writers or crew members is if women are already involved at high levels of production.
"The findings suggest that creators and executive producers play an instrumental role in shifting the gender dynamics for both on-screen characters and other individuals working in powerful behind-the-scenes roles," said Dr. Martha Lauzen, executive director of the center.
The numbers are stark: "On broadcast programs with at least one female creator, women comprised 50 percent of writers. On programs with no female creators, women comprised 15 percent of writers."
When men occupy all the executive producer slots, women account for a mere 6 percent of writers. Throw in at least one woman executive producer and that number shoots up to 32 percent. Also, the percentage of women playing major characters increases by 6 percent.
Terence Gray, founder and executive director of the New York Television Festival (NYTVF), is familiar with the problems posed by an industry with an efficient but exclusionary networking system. He created the festival 10 years ago to help cultivate and promote independent artists who lacked access to the industry's movers and shakers.
"It is imperative to have systems in place that provide a platform for talent discovery -- not only in fostering and promoting diversity among creatives and decision makers, but also in just simply finding the very best people and ideas," Gray told International Business Times on Tuesday. "The idea of a 'slush pile' is essentially nonexistent today -- you can't submit a project for consideration without an agent, and you can't get an agent without already being a working professional."
He says that "democratizing opportunities" like the NYTVF, can help level the playing field.
For example, Gray notes, of the 50 selections named in the festival's flagship Independent Pilot Competition this year, 23 projects were created, executive-produced, written and directed by women -- nearly half of the crop. What's more, in a script initiative NYTVF hosted with A+E Networks and Lifetime, 10 of the 14 semifinalists selected were women.
"The talent is out there and they're creating -- it's our job to find it," he said.
Of the networks surveyed, ABC can claim the highest percentage of female characters in its lineup at 45 percent, trailed by NBC and Fox at 40 percent and CBS at 39 percent.
The survey found 38 percent of women find jobs as producers, 26 percent work as writers, 26 percent as executive producers, 23 percent as creators, 21 percent as editors, and 14 percent as directors.
The genre with the most gender diversity turns out to be reality TV: "Females comprised 47 percent of characters on reality programs, 41 percent of characters on situation comedies, and 40 percent of characters on dramas," the study said.
As for racial diversity, an overwhelming 77 percent of female characters were white, 15 percent were black, 3 percent Latina, and 4 percent were Asian.
© Copyright IBTimes 2023. All rights reserved.
FOLLOW MORE IBT NEWS ON THE BELOW CHANNELS