Women Who Undergo Plastic Surgery In Korea Denied Access To Their Home Countries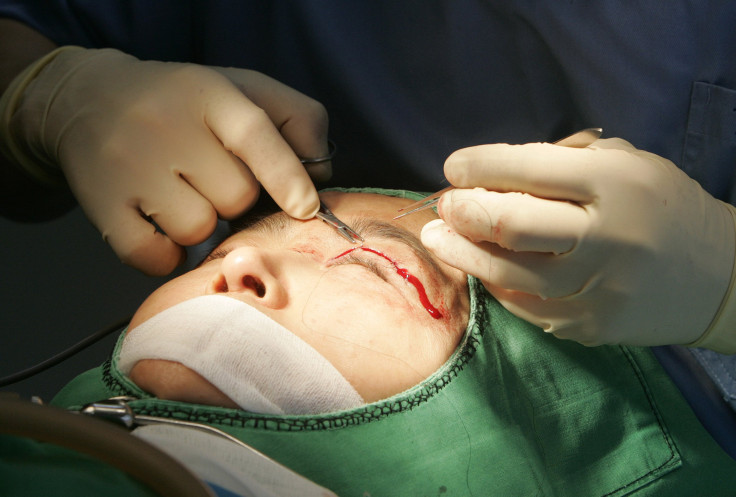 Women who travel to South Korea for the country's infamous—and rampant—plastic surgery are facing a new hurdle post-op: They are being denied entry to their home countries because their new faces don't resemble their passport photos.
According to Kotaku, which sourced articles from Korean websites Onboa and Munhwa, some Chinese and Japanese women who visit South Korea to go under the knife are refused re-entry by border agents unable to recognize them from their passport photos.
The sites reported that some South Korean hospitals are issuing "plastic-surgery certificates" for overseas patients to circumvent issues when traveling back home. The hospitals claim having the certificate will help customs officials verify faces with photos and bypass calling hospitals to confirm the procedures. The certificates include the patient's passport number, information about the hospital and the length of their stay, along with the hospital's official seal.
The report said these certificates have been in existence for three years but are more common now that plastic-surgery operations have become more prevalent. Onbao reported that visits to South Korea on medical tourism visas have increased tenfold, with 25,176 tourists in 2013 up from just 2,545 in 2011.
According to International Society of Aesthetic Plastic Surgery data, South Korea has the seventh-highest total number of procedures, with 258,250 performed in 2011. The United States, though, is the leader in number of plastic surgeries with more than 1 million performed in 2011.
Jenny Burke, public affairs officer at the U.S. Customs and Border Protection, said she'd never heard of plastic-surgery certificates, nor has the issue ever been brought to her attention.
"I don't think we've ever had that question," Burke said. The CBP did not offer any additional information about the matter, and Burke declined to provide information about training CBP officers receive or the criteria they evaluate when inspecting passport photos.
Dr. Foad Nahai, a former ISAPS president and professor of plastic surgery at Emory University in Atlanta, also said he has never heard of plastic-surgery certificates to prove an individual has had cosmetic surgery, likely because of the nature of the work conducted in the U.S.
"In the U.S., we do not routinely undertake procedures that drastically change someone's appearance," Dr. Nahai said. "[It's] a different case in Asia; [they do] much more bone work than we do for purely cosmetic reasons."
A plastic surgeon in Beverly Hills, Calif., Brent Moelleken, said he did have one patient who had had a 360 Facelift and reported a similar predicament when traveling to Mexico.
"Passport officials on the Mexican side were convinced it was the patient's daughter and the patient was trying to deceive them," Dr. Moelleken said. Moelleken, who is also an associate clinical professor of surgery at UCLA, added: "Finally she asked them what they were worried about; she was leaving the country anyway."
Moelleken said the woman was eventually let through and did not have any difficulties at the U.S. border control. He also added that his practice, Moelleken Plastic Surgery, is happy to provide an official letter post-op, but since it's not a government-approved document, a "certificate won't satisfy a government passport check."
Other doctors, however, have never heard of people having problems while traveling after plastic surgery. Dr. Arthur Perry of Perry Plastic Surgery and an adjunct associate professor at Columbia University, said he has "not encountered anything like that" in his 27 years practicing.
"It's pretty hard to get that far that a person is unrecognizable," Dr. Perry said. "It would require extensive surgery. To have just a facelift? No. Just a rhinoplasty? No. The best we're really going to do is take 10 years off your appearance."
Perry also added that since a passport photo is good for 10 years, most procedures would be similar to the natural "incremental changes over the decades" anyway. Plus, his goal as a plastic surgeon is to "simply make you look better and not have enormous, giant changes."
"The best plastic surgery is undetectable," he said. "When it gets to the point where it's overdone and not so good, we don't want that and people don't do well with giant changes. It has to be much more subtle … as opposed to some of these celebrities who have been deformed."
© Copyright IBTimes 2022. All rights reserved.
FOLLOW MORE IBT NEWS ON THE BELOW CHANNELS