Women's Representation In Tech Has Increased, But Growth Is Beginning To Slow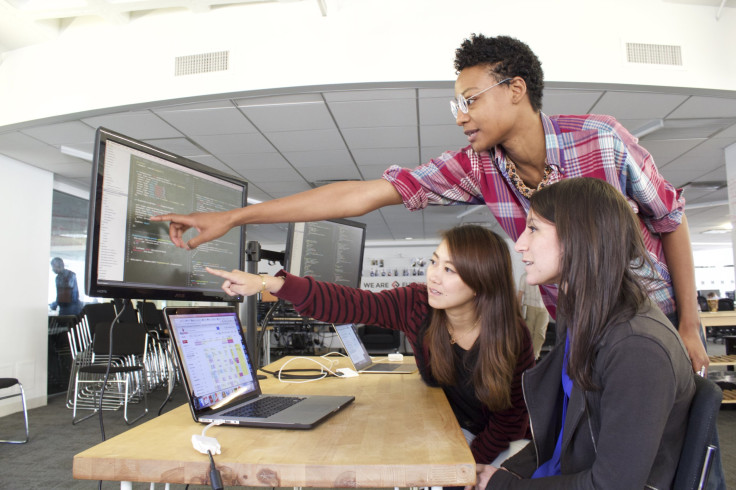 SAN FRANCISCO — A recent diversity push has bolstered the ranks of women working in traditionally male-dominated Silicon Valley, but those gains are at risk as new data indicates that growth in female representation in the tech sector is beginning to slow.
An analysis conducted by 500 Miles, a data-driven startup, shows that the representation of women in tech has increased from 30.5 percent in 2011 to 33.5 percent in 2016 among startups and tech unicorns, which are private companies valued at more than $1 billion. But while progress has been made, the analysis found that year-to-year growth for women at these companies has already peaked, topping out in 2013 and slowing down ever since.
500 Miles' data analysis looked at the diversity of more than 1,000 companies in tech with workforces of at least 50 people and as many as 8,000. That means that while major tech companies like Apple, Google and Microsoft are not a part of this analysis, smaller noteworthy firms like Uber, Twitter and Dropbox are included.
The examination covered more than 2 million employees in tech and is the first analysis to offer a comprehensive look at the gender breakdowns within small and private tech companies, which have been under less pressure to divulge their diversity figures than their higher-profile peers.
From January 2011 to December 2013, the representation of women grew by 5.4 percent, but since January 2014, that growth has slowed to just 4 percent. As more women enter the tech industry, achieving a higher growth rate becomes more difficult, but the data analysis' findings are noteworthy considering the tech industry did not begin its big, public push for hiring more women until five months into 2014 when Google released its first diversity report, inspiring many other top tech companies to follow suit.
There are many theories as to why startups and unicorns are already beginning to see this slow down for women, but one explanation experts have offered is that tech companies have simply already tapped out all of the "easy fixes" to hiring women. That means that the tech industry has already exhausted the female talent pools from which it already recruits, said Jessica Kirkpatrick, product data scientist at Hired, a startup that specializes in helping professionals find jobs.
"Some of the easy fixes have been done, and the other fixes are a little bit more complex and involve institutional changes," Kirkpatrick said. For example, Kirkpatrick said she has seen some of the bigger tech companies start to develop and implement benefits and policies that are more welcoming of women, such as flexible schedules for mothers. "Some of the smaller tech companies don't have the resources to provide that type of benefit."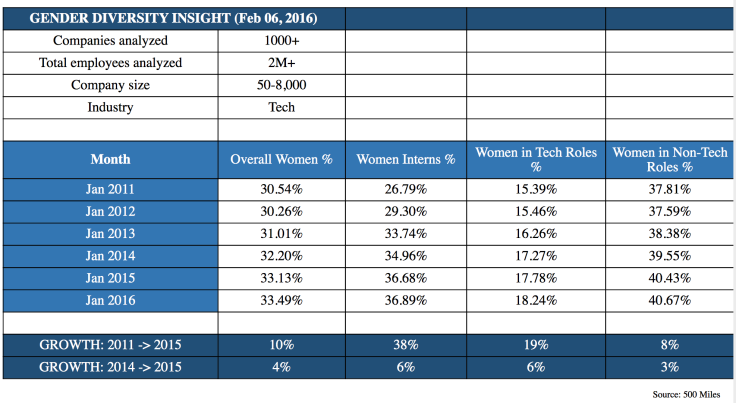 This slowdown in women's representation shows that diversity efforts must be constantly reinforced after initial successes, and that gains can be fleeting in an industry that still retains considerable institutional bias in favor of white and Asian males. "Small improvements are better than no improvements, but even if the growth rate is slowing down, that's an important signal to us that we need to try even more new things to address it," said Aubrey Blanche, the global head of diversity and inclusion at Atlassian, a business software firm.
To produce its report, 500 Miles used proprietary software to scour the internet and collect massive amounts of data from sources like the Department of Labor. The company uses this same type of technology to power its recently launched app, which helps recent job seeking college graduates make informed decisions about where to work while also helping companies find quality talent.
Growth is slowing across the board, but there are some tech industry areas showing signs of progress. The representation of women in tech roles (as opposed to administrative or other positions), for example, has grown from 15.4 percent in 2011 to 18.2 percent in 2016, a 19 percent gain. Women as interns, meanwhile, has increased from 26.8 percent in 2011 to 36.9 percent in 2016 — a 38 percent increase.
"On an ongoing basis, internships could be an innovative way for companies to bring in diversity from the bottom up," said Viral Kadakia, 500 Miles' co-founder and CEO.
However, 500 Miles' data analysis is missing a few critical statistics. This includes data showing how the representation of minority women has changed over the past five years. "Data collection efforts like these are a great first step," said Y-Vonne Hutchinson, executive director of ReadySet, a firm that helps tech companies hire diverse talent. "But ultimately they paint an incomplete picture."
"For diversity efforts to be successful, we need a more complete understanding of who is getting hired and who is getting left behind," Hutchinson said. "That can only happen with disaggregated data — data which accounts not just for gender, but also things like ethnic background, age and veteran status."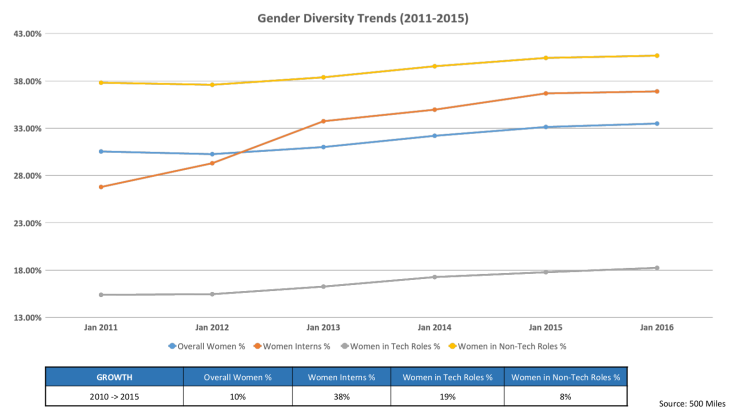 Another important missing element is the representation of women in leadership roles. Historically, the tech industry has had a tough time retaining women, who often choose to leave the industry for a variety of factors, ranging from inflexible work hours or lack of career advancement opportunities. The leadership statistic is important because it can help diversity experts track whether the tech industry has gotten better or worse at being inclusive with women, Blanche said.
"That kind of data is always useful when thinking about designing programs that are responsive to the specific needs of different types of people," Blanche said.
Kadakia of 500 Miles said his team has not had the chance to analyze the data pertaining to women in leadership and women of color, but the job-finding startup is hoping to include those figures the next time it delivers a similar report, expected to be available later this year.
"We're actually hoping to be able to do this on a semiannual basis just to make sure that [the tech industry's representation of women] is trending in the right direction," Kadakia said.
But things may get worse for women before they start to get better. As the industry faces for the prospect of a bubble burst, many in tech are beginning to brace for the blow. Venture capital firms have begun to reduce their investments while some tech companies have begun rounds of layoffs. That activity will likely impact the hiring of women, said Sophy Lee, vice president of engineering at Shuddle, a ride-sharing company.
"That kind of investing behavior in turn slows down recruitment, slows down hiring at companies," Lee said. "Without extra money you can't recruit, and if you can't recruit, you're definitely not going to recruit for an underrepresented segment of the population."
© Copyright IBTimes 2023. All rights reserved.