World Cup 2014: Mexico Preview, Prediction, Schedule And Key Players Going To Brazil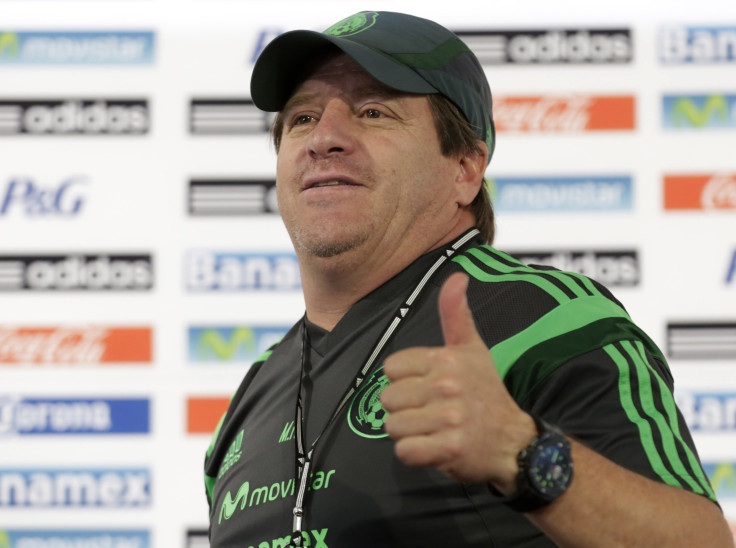 How They Made It: Intercontinental Playoff
Mexico endured a struggle of epic and hugely surprising proportions to make it to Brazil. On the back of taking Olympic gold in 2012 as well as winning the Gold Cup and Under-17 World Cup the previous year, there was talk of a "golden generation" of Mexican talent. Qualifying for the World Cup was thought a mere formality. But they got off to a horrible start in CONCACAF's final round, with a series of goalless draws at the Azteca under the stifling conservatism of Jose Manuel "Chepo" de la Torre. Having waited too long to dispense with him, Mexico then went through a further two coaches -- Luis Fernando Tena and Victor Manuel Vucetich -- in the space of three games.
Despite the chaos, a dramatic overhead kick from Raul Jimenez claimed a vital win over Panama in their penultimate game of the Hexagonal before famously, despite losing to Costa Rica in the final round of games, the United States' come-from-behind win in Panama pushed Mexico into a playoff. Having already blown so many second chances, Mexico made no mistake in their two-legged tie with Oceania winners New Zealand. New coach Miguel Herrera's squad, derived entirely form Liga-MX, won 9-3 on aggregate.
Schedule: Group A
Vs. Cameroon (June 13, 12.00 ET, Natal)
Vs. Brazil (June 17, 15.00, Fortaleza)
Vs. Croatia (June 23, 16.00, Recife)
Key Player: Giovani dos Santos
With Carlos Vela continuing his self-imposed exile from the national team and Javier "Chicharito" Hernandez struggling for club and country, there will be much responsibility on Dos Santos's shoulders in the country of his father, Zizinho. He also has much to prove. Superb in the Gold Cup final of 2011, Dos Santos failed to replicate that form through qualifying and has yet to appear under Herrera, having pulled out of the recent friendly with Nigeria.
One to Watch: Carlos Pena
The Leon midfielder made an immediate and all-too noticeable difference to the Mexico side when he came into the team for their final two matches in the Hexagonal. Suddenly a team that had been so predictable had a player who was willing and able to break forward from midfield and provide an extra attacking outlet. Having scored once and contributed three assists in the two legs against New Zealand, Pena again made an impact after coming on in the recent friendly with Nigeria. Pena is certainly one of the domestic-based players who has earned a chance to start in Brazil.
Possible Lineup
G: Corona
D: Reyes, Marquez, Moreno
M: Layun, Herrera, Medina, Pena, Guardado
F: Dos Santos, Peralta
Formation: Mexico may well be one of the few countries in the World Cup to deploy a 3-5-2 formation. Herrera is a firm advocate of the system and it allows him to play the one man whose place has been guaranteed in the team, Rafa Marquez. Yet even in a sweeper role that allows him to get on the ball and utilize his range of passing, the 35-year-old's lack of pace has still been worryingly exposed since returning to the international fold. Deploying wing-backs also aids Andres Guardado, with the former winger having been deployed as a left-back at Valencia and now on loan at Bayer Leverkusen. Up front, Oribe Peralta has done more than enough to get the nod over the misfiring Hernandez, while Dos Santos is capable of providing flair in behind.
Prediction: Fortunate just to be at the World Cup, Mexico's fortune has continued into Brazil where they have been handed a favorable group. The opening game against arguably the weakest nation from Africa, Cameroon, gives them an ideal chance to get three points on the board. While the meeting with the hosts may well be a write off, El Tri have been something of a bogey team for Brazil in recent years. Likely, though, Mexico's progress will come down to their final match, against Croatia. If they can find the right balance in their team to keep Mario Mandzukic and Luka Modric quiet then they could well reach the second round. It is there where, for the sixth straight World Cup, their run is likely to end, when they likely come up against either Spain, Chile or the Netherlands.
© Copyright IBTimes 2023. All rights reserved.