World Market Overview 30/03/2011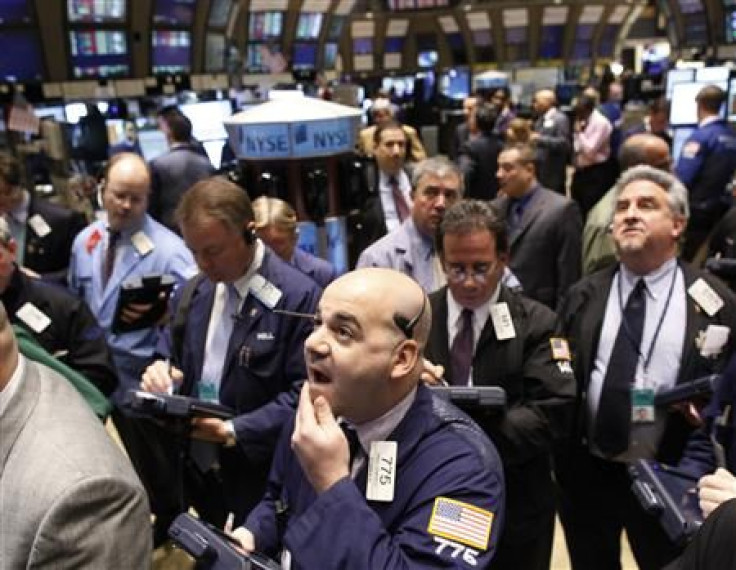 U.S. Markets
US stocks edged modestly higher in Tuesday's session as traders eyed Friday's non-farm payrolls (NFP) report.
The S&P 500 Index rose 9.25 points, or 0.71 percent, to close at 1,319.44. The Dow Jones Industrial Average climbed 81.13 points, 0.67 percent, to end at 12,279.01. The Nasdaq Composite rallied 0.96 percent.
Basic materials and energy stocks led the way. AT&T (NYSE:T) jumped 2.35 percent as its plan to acquire T-Mobile continues to be well-perceived by the market.
On Tuesday, economic data was slightly negative as consumer confidence fell more than expected and housing prices continued to decline. The rest of the week is heavy on economic data, culminating in Fridays' NFP report.
On the corporate front, shares of General Electric Co. (NYSE:GE) advanced 0.56 percent after the company said it agreed to acquire 90 percent of Converteam, a maker of automation systems used in the oil and gas sector, for about $3.2 billion.
Lennar Corp. (NYSE:LEN) shares declined 3.44 percent to $19.07. The company reported first-quarter net income of $27.41 million or $0.14 per share compared to net loss of $6.52 million or $0.04 per share in the same quarter a year-ago.
U.S. Futures
Futures on major U.S. indices point to modestly lower opening on Wednesday as investors eye economic data including ADP national employment report.
Futures on the S&P 500 are up 0.36 percent, futures on the Dow Jones Industrial Average are up 0.29 percent and Nasdaq100 futures are up 0.52 percent.
The ADP report, which is a measure of the monthly change of nonfarm private employment, is due to be released at 8:15 am EDT. Economists are estimating private payrolls may rise by 210,000 in March after increasing 217,000 in February.
Other economic data including MBA Mortgage Applications, Challenger Job Cuts and crude oil inventories are due during the day.
The euro declined 0.44 percent to 1.4079 against the dollar and the yen declined 0.72 percent. Crude oil futures declined 0.44 percent to $104.33 a barrel and gold futures gained 0.13 percent.
European Markets
European stock markets gained in early trade on Wednesday, tracking positive cues from Asian stocks and Wall Street overnight.
The Stoxx Europe 600 Index gained 0.77 percent to 278.63. DAX30 advanced 101.38 points or 1.46 percent to 7,035.82 and FTSE 100 gained 23.57 points or 0.40 percent to 5,955.74, while CAC 40 advanced 30.37 points or 0.76 percent 4,018.17.
African Barrick Gold AG surged 5.8 percent to 6.23 euros after Societe Generale initiated coverage of the stock with a buy rating.
Sonova Holding AG plunged 7.75 percent to 66.64 euros after its chief executive and chief financial officer tendered their resignations.
Among mining stocks, BHP Billiton gained 2.7 percent and Vedanta Resources Plc. surged 4.55 percent.
Stora Enso Oyj gained 1.19 percent to 8.5 euros after the company stock was upgraded to "overweight" rating from "equal weight" rating at Morgan Stanley.
Asian Markets
Asian stock markets ended higher on Wednesday, following gains in the Wall Street overnight as growing confidence in the strength of the US economy fueled expectations for global growth.
Japanese stocks rallied, led by gains from exporter companies' shares on back of weaker yen. Benchmark Nikkei advanced 2.64 percent or 249.71 points to 9,708.79. The yen fell to 83.1055 against dollar on Wednesday on growing expectations of rate increases in Europe and the United States.
Among the exporters, Canon Inc. advanced 1.68 percent to 3,630 yen and Sony Corp. gained 1.68 percent to 2,657 yen, while Fujitsu Ltd. surged 3.07 percent to 470 yen.
Among automakers, Honda Motor gained 2.12 percent to 3,130 yen and Nissan Motor advanced 3.85 percent to 731 yen, while Toyota Motor gained 2.3 percent to 3,330 yen.
Hitachi Ltd. surged 8.7 percent to 437 yen after the Nikkei reported that the company expects to have its main plant at full output next month.
Shares of Tokyo Electric Power, Japan's biggest utility and operator of the Fukushima nuclear-power plant, plunged 20.47 percent to 474 yen on the news that Japanese government was considering temporarily nationalizing Tepco to facilitate its reconstruction.
Hong Kong's Hang Seng index gained 391.07 points or 1.7 percent to 23,451.43, while Chinese Shanghai composite fell 0.07 percent or 2.17 points to 2,955.91.
Hutchison Whampoa Ltd. gained 5.12 percent to HK$93.35 after the company said it annual net income rose 47 percent to HK$20 billion, while analysts estimated net income of HK$16.4 billion.
Agricultural Bank of China advanced 2.66 percent to HK$4.24 after the company said its full-year net income rose 46 percent to 94.87 billion yuan, while analysts estimated a net income of 91.1 billion yuan.
South Korean shares ended higher on Wednesday, led by gains from technology and banking sector stocks. Seoul composite advanced 19.25 points or 0.93 percent to 2,091.38. Samsung Electronics advanced 1.09 percent and Shinhan Financial Group gained 1.88 percent.
© Copyright IBTimes 2023. All rights reserved.