World stocks claw back ground on Fed rates pledge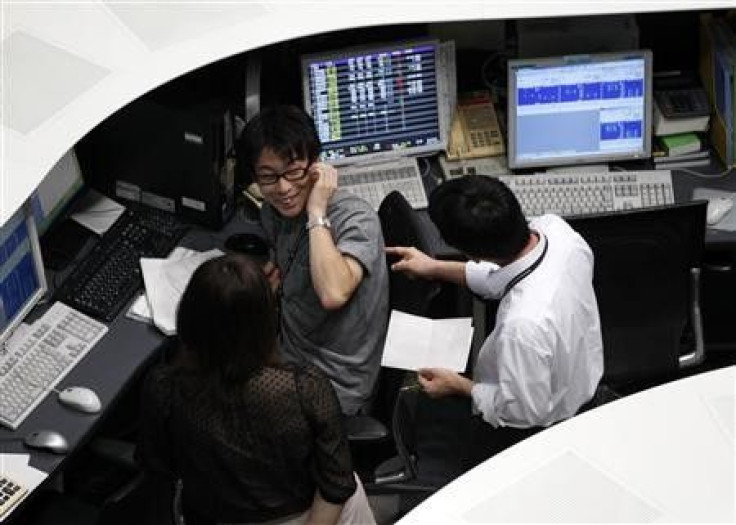 World shares clawed back more ground on Wednesday as investors rattled by a run of heavy losses took comfort from the Federal Reserve's pledge to keep interest rates near zero for two more years.
They also welcomed data showing China's export growth accelerating in July, calming fears that weak demand from Europe and the United States would hit the world's second biggest economy.
The MSCI all-country world index, which has fallen as much as 20 percent from a May high, rose 1 percent. Emerging market shares were up more than 2 percent.
European equities gained around half a percent in choppy trade, adding to their 1.2 percent rise on Tuesday.
Investor sentiment was boosted by the Fed's unprecedented announcement that it was likely to keep interest rates at extraordinary low levels through to mid-2013.
The move was double-edged, however. It gives a message to markets that the Fed is willing to keep things afloat, but it also acknowledges how much the U.S. economy has weakened.
"Low interest rates support equity markets, but it is just a relief rally. There are too many uncertainties out there," Louise Cooper, markets analyst at BGC Partners, said.
"Markets are so badly beaten up any piece of good news is an excuse to rally. Yes, markets do look cheap, however, we could have years and years of low growth to pay back our debts."
Goldman Sachs said a third round of asset-buying quantitative easing from the Federal Reserve was likely following Tuesday's statement.
"We now see a greater-than-even chance that (it) will resume quantitative easing later this year or in early 2012. We have changed our call because (the) statement suggests that the committee's reaction function to incoming economic news is more dovish than we had previously thought," Jan Hatzius, chief economist at the firm, said in a note.
DOLLAR FALLS, EURO VULNERABLE
The dollar fell three-quarters of a percent against major currencies as prospects for minimal dollar-interest rates sent buyers elsewhere.
The euro was off its recent lows but remained vulnerable to concerns about the euro zone's now broad-based debt crisis, despite the European Central Bank's move to ease some of the pressure by buying peripheral debt.
"The outlook is rangebound for euro/dollar, with both currencies struggling with debt problems," said Ankita Dudani, currency strategist at RBS.
Switzerland's central bank, meanwhile, said it was expanding measures to fight against the Swiss franc's strength. Investors have been pouring into the currency as a safe haven during recent market and economic weakness.
German government bonds jumped, tracking moves in U.S. Treasuries overnight after the Fed's move.
"There's a fear that the outlook is very bad if they're committing until 2013," a bond trader said.
© Copyright Thomson Reuters 2023. All rights reserved.