World's Oldest Woman: 114-Year-Old Misao Okawa Honored By Guinness, Shares Longevity Secrets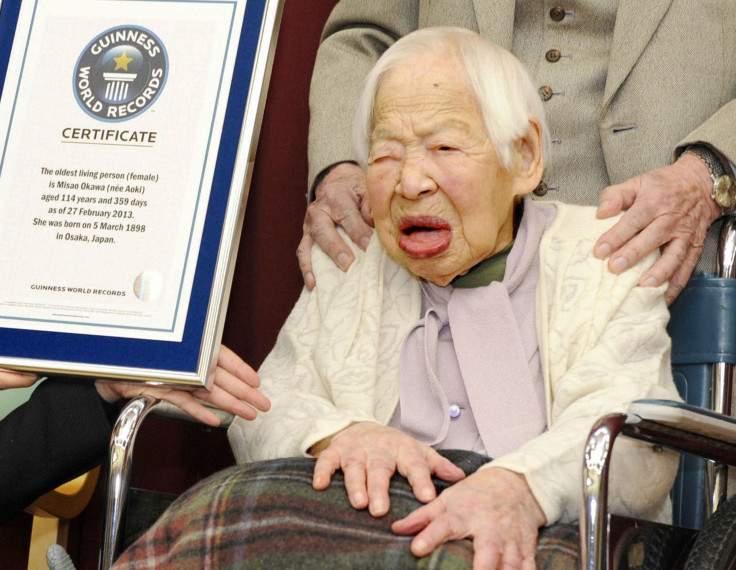 Misao Okawa got an early birthday present on Tuesday when the 114-year-old Japanese woman was named the "World's Oldest Woman" by the Guinness Book of World Records.
Okawa, who was born in 1898 and will turn 115-years-old on March 5, was honored by Guinness and presented the title of "World's Oldest Woman" alongside her three-month-old grandson on Tuesday.
"Given everything, it's pretty good," she said during the ceremony at her nursing home, The Guardian reported.
Okawa took the title from Koto Okubo, who died in January at 115-years-old. She married her husband in 1919 to a clothing merchant and has had three children, four grandchildren and six great-grandchildren .
According to The Associated Press, Okawa dined on her favorite meal, mackerel sushi, and took a brief nap in her wheelchair to celebrate her honor. The Osaka resident even shared her secrets to longevity with the crowd, which she claims is all about diet.
"Watch out for one's health," she told a reporter. Yahoo reported Okawa only eats food made in Japan, perhaps because there are more than 50,000 living centenarians in Japan who swear by a healthy diet of vegetables, fish, rice and soy. Also, the world's oldest man is Jiroemon Kimura, a 115-year-old Japanese man living in Kyoto.
"The Japanese diet is the iPod of food," co-author of "Japanese Women Don't Get Old or Fat" Naomi Moriyama told Web MD. "It concentrates the magnificent energy of food into a compact and pleasurable size."
© Copyright IBTimes 2023. All rights reserved.