WTO Trade Agreement Falls Through As India Toughens Stand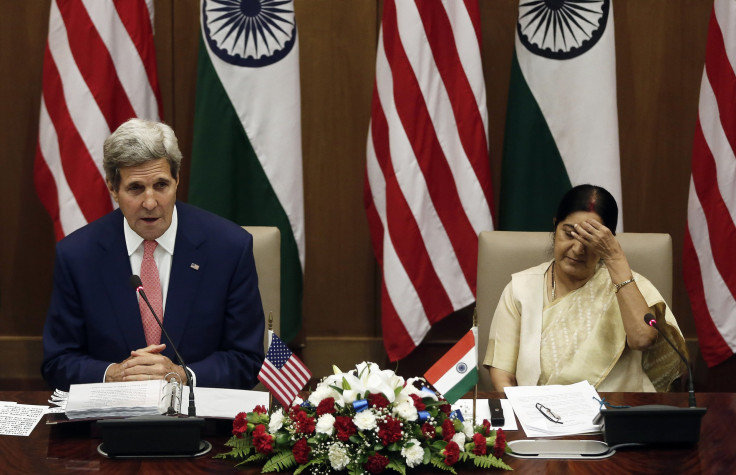 The World Trade Organization, or WTO, failed to ratify its first landmark deal since its inception in 1995 as the deadline for signing the Trade Facilitation Agreement ended on Thursday.
India, backed by Cuba, Venezuela and Bolivia, declined to sign the agreement even as U.S. officials, including U.S. Secretary of State John Kerry -- who is currently in India for the fifth U.S.-India strategic dialogue -- failed to reach a compromise that would have secured the deal before the WTO-imposed deadline of July 31, the Wall Street Journal reported. The deal would have been the first such multi-party agreement involving all 160 members of the WTO.
At an informal meeting of the Trade Negotiations Committee of the WTO in Geneva, Director-General Roberto Azevedo said that the July 31 deadline was more than "just another minor procedural landmark," warning that the failure to reach a deal would have "significant consequences."
"I said that if we missed the 31 July deadline for the adoption of the protocol on the Trade Facilitation Agreement, it would be likely to have an impact on all areas of our work," Azevedo said.
What Is The Trade Facilitation Agreement?
The Trade Facilitation Agreement, or TFA, part of a broader reform to boost world trade, was formulated in December 2013 during the ninth ministerial conference of the WTO in Bali, Indonesia. The TFA, through a worldwide reform of duties and tariffs, and a reduction in red tape at international borders, aims to ease trade relations between countries.
According to some estimates, the TFA could add $1 trillion in new trade globally and create 20 million new jobs worldwide.
The WTO-imposed deadline to sign the protocol by the 160 member countries was July 31, following which it was meant to come into effect from July 2015.
Why Is India Opposing It?
India's food security act, which was passed by its parliament last year, involves providing subsidized food grains to a large chunk of the country's population, most of which lives below the poverty line. To achieve this, the Indian government buys rice and wheat from farmers in enormous quantities at above-market prices.
However, the TFA caps yearly subsidies in developing countries at 10 percent of the value of agricultural production. This has put India at risk of violating the WTO rules.
India, both during and since the Bali round of negotiations, has opposed this limit and demanded a parallel pact, which would allow developing countries to continue subsidizing and stockpiling food.
While a temporary truce was reached in Bali last year -- WTO members agreed to not file complaints against India's food-subsidy program until a permanent solution is worked out by December 2017 -- the new government in India, led by Narendra Modi, has demanded a more immediate solution, preferably by the end of 2014, in exchange for signing the TFA.
What Comes Next?
WTO's failure to ensure a consensus on TFA has now cast doubt over its ability to act as an international mediator working to liberalize global trade.
Reuters reported Thursday that many of the member nations of WTO were already contemplating moving ahead on a deal without India. However, doubts are also being raised about the viability of such a deal, as the agreement in its current state requires an amendment to the existing WTO treaty, which would need India's involvement.
The Economic Times, meanwhile, reported Friday that India had sent a new proposal to the WTO.
"We want something concrete; hence have sent a counter proposal, which has substance," an unnamed Indian commerce department official told the business daily, without disclosing any details.
However, as of Thursday night, Azevedo said that there was "no workable solution on the table."
© Copyright IBTimes 2023. All rights reserved.