WWDC 2014: Apple Announces New iOS 8 Messaging Features, Do Not Disturb, Self-Destruct And Quick MMS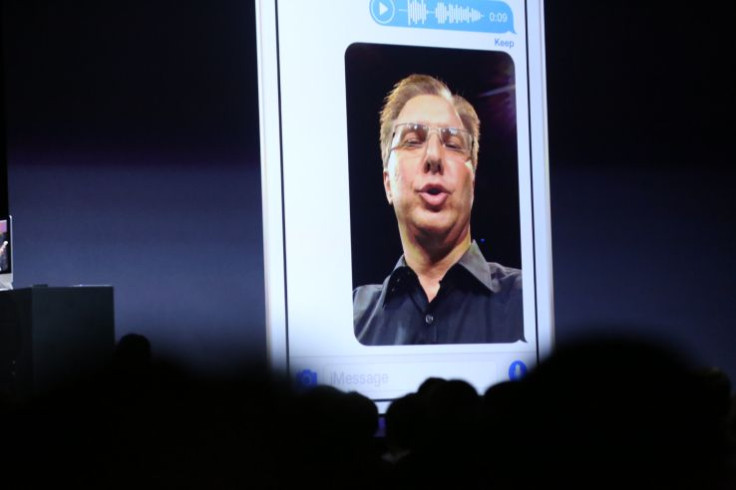 Apple unleashed iOS 8 and OSX Monday at WWDC 2014, the World Wide Developers Conference, including possibly the biggest addition to messaging so far: the ability to leave group messages.
Apple's Messages app got a pretty huge overhaul at the conference. Apple VP of iPad, iPhone and iPod Marketing Greg Joswiak jumped up on stage and started off his portion of the presentation with new group messaging features. Now users can name group messages, add or remove people from conversations, mute the thread with "Do Not Disturb" or leave the conversation themselves. This puts Apple's proprietary messaging app in direct competition with third-party apps like WhatsApp and Facebook Messenger.
No more constant notifications from friends about a party that you can't attend. No more pestering people to start a new group chat. While users may have been happy with those improvements alone, Joswiak announced two new features for messaging: first, the ability to quickly send photos, video and audio messages via a Snapchat-type camera button. The quick and easy multimedia messages will sit on your friend's phone, but only for a few minutes, as the second feature, called "self-destruct," will make the images or audio files expire after several minutes.
Joswiak took a duck-face selfie and sent it to Craig Federighi, Apple's senior vp of software engineering, who presented pretty much every new feature Apple offered at WWDC. No doubt he's glad that the photo expired within minutes.
Messaging apps have become a huge area for growth. WhatsApp, the world's most popular third-party messaging app, was acquired earlier this year by Facebook for an astounding $19 billion. This focus has some people criticizing Apple for "borrowing" features from other apps.
WhatsApp cofounder Jan Koum tweeted during the live stream about how flattering it is for Apple to copy his product's features.
But while Koum may be upset, users of Apple's standard messaging app are likely to rejoice.
iOS 8 will debut this fall, most likely alongside the new iPhone 6. However, a public beta version of the new mobile operating system is available today on Apple's developer portal.
© Copyright IBTimes 2023. All rights reserved.