WWE 2018 WrestleMania 34: Results, Videos For Entire Card, Ronda Rousey's Debut Match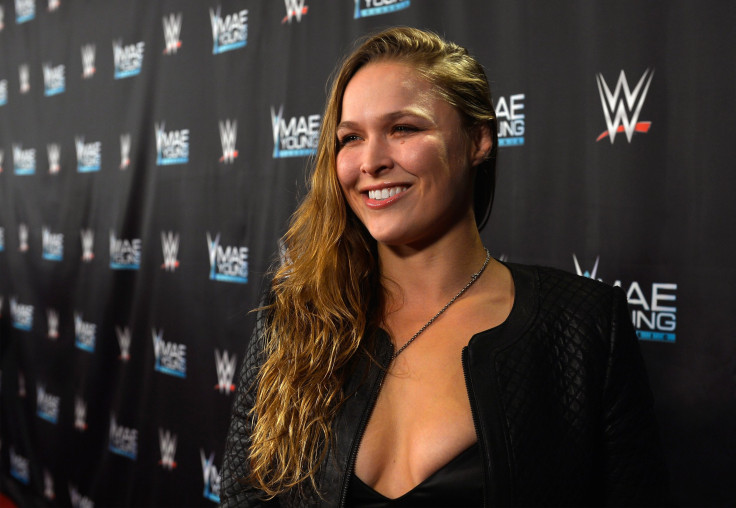 WrestleMania 34 featured 14 matches and lasted close to seven hours Sunday night at the Superdome in New Orleans. Five title changes, Ronda Rousey's in-ring debut and several surprises made WWE's biggest event of 2018 one of the best WrestleManias in history.
With superstars like John Cena and Roman Reigns suffering big losses, it will be interesting to see where WWE goes in the upcoming episodes of "Monday Night Raw" and "SmackDown Live." The future of Brock Lesnar is also in question amid rumors that he's returning to MMA.
Below are the complete results for WrestleMania 34, as well as a recap of each match.
WWE Universal Champion Brock Lesnar Defeats Roman Reigns
So much for the idea that Reigns was a lock to win because Lesnar would be leaving WWE Sunday and heading back to the UFC. It took six German suplexes and five F-5's, but Lesnar pinned a bloodied Reigns clean and retained his title in the main event. Maybe Lesnar will drop the belt to Braun Strowman or someone else on "Monday Night Raw," but this could just mean that Lesnar's year-long championship reign is far from being finished.
Braun Strowman & Nicholas Defeats Sheamus & Cesaro for Raw Tag Team Championships
Wrestlers like Big Show, Elias and James Ellsworth were among the most popular guesses for who might be Strowman's surprise tag team partner at WrestleMania. Instead, Strowman plucked a young fan from the crowd to stand on the apron as he made quick work of The Bar to win his first championship in WWE. Does this mean that Strowman will defend the tag team titles by himself from now on?
WWE Champion AJ Styles Defeats Shinsuke Nakamura
The match itself didn't exactly live up to the hype of a "dream match," but it looks like the two wrestlers will have at least one more chance to get it right. Styles avoided a Kinshasa by the challenger and hit a Styles Clash to retain his belt. Nakamura turned heel after the final bell when he delivered a low blow to the champion, followed by a knee to the face that should set up a rematch at Backlash.
The Undertaker Defeats John Cena
After starting the show watching from the stands and getting interrupted by Elias when he entered the ring, Cena finally got his wish. But the match that fans have been waiting to see for years didn't even last for three minutes as The Undertaker squashed the 16-time world champion. Don't be surprised if this sets up a rematch between the two legends at WrestleMania 35.
Ronda Rousey and Kurt Angle Defeat Stephanie McMahon and Triple H
It's not hyperbole to say that Rousey might have had the greatest in-ring debut of anyone in WWE history. The former UFC champion was part of arguably the most entertaining match on an all-time great card, and she looked nothing like a novice while going toe-to-toe with both Stephanie and Triple H. Rousey eventually forced Stephanie to tap out to an armbar after multiple attempts, giving her what should be one of many wins to come.
SmackDown Women's Champion Defeats Asuka
This might have been the most surprising result of the night. After going undefeated for 2.5 years in NXT and on WWE's main roster, Asuka submitted to Charlotte's Figure-Eight Leglock. It was one of the night's best matches with both women trading some stiff shots over the course of 13 minutes, and it could just be the beginning of this rivalry.
The Bludgeon Brothers Defeat The Usos And The New Day for SmackDown Tag Team Championships
The Usos and The New Day didn't have much time to showcase why they've had one of the best feuds over the past year. Luke Harper and Erick Rowan remain undefeated as a tag team after needing little time to pin Kofi Kingston with a double Powerbomb and win their first title on the main roster.
Daniel Bryan & Shane McMahon Defeat Kevin Owens & Sami Zayn
It took about 10 minutes longer than expected for Bryan to make his in-ring return because Owens and Zayn attacked the "SmackDown Live" general manager before the match officially began. But once he took that hot tag from Shane, Bryan looked like the same guy that fans were begging WWE to make champion four years ago. He kicked out of finishers from both Zayn and Owens, eventually hitting a running knee on Zayn and forcing him to submit to the Yes! Lock. This means that Owens and Zayn are fired from "SmackDown Live," and they could show up on "Monday Night Raw" just 24 hours after WrestleMania 34.
Nia Jax Defeats Alexa Bliss for Raw Women's Championship
The match lasted longer than most people expected, but Jax became the new champion a little more than 10 minutes after the bell rang, delivering a Samoan Drop off the second rope to defeat her former friend.
Jinder Mahal Defeats Randy Orton, Bobby Roode and Rusev for United States Champion
In the 12 months since appearing in last year's Andre the Giant Memorial Battle Royal, Mahal has won the top two titles on "SmackDown Live" from Orton. He pinned Rusev, one of the most popular wrestlers in WWE, making the new champ even more hated than he was before WrestleMania began.
Seth Rollins Defeats The Miz And Finn Balor for Intercontinental Championship
This proved to be the perfect opening match for the pay-per-view. Balor connected with a Coup de Grace to The Miz that looked like it might be enough to get him the title, but Rollins delivered a Curb Stomp to both men, pinning the champ to win the belt. It might make sense for The Miz to head to "SmackDown Live," leaving Rollins and Balor to feud over the next couple of months.
Cedric Alexander Defeats Mustafa Ali for Cruiserweight Championship
It took longer than many people expected, but Alexander is finally the top wrestler on "205 Live." He hit his Lumbar Check for the win to conclude a solid 12-minute match.
"Woken" Matt Hardy Wins the Andre The Giant Memorial Battle Royal
A few weeks after losing "The Ultimate Deletion" to Hardy, Bray Wyatt returned to help his former foe. Bray's distraction allowed Hardy to toss Baron Corbin over the top rope and win the fifth annual WrestleMania battle royal, possibly starting a new alliance between two of the strangest characters in WWE.
Naomi Wins the WrestleMania Women's Battle Royal
It appeared that Bayley had won the battle royal when she broke her alliance with Sasha Banks and tossed her former best friend over the top rope. Naomi, however, had yet to be eliminated, and the woman that won the SmackDown Women's Championship at last year's WrestleMania had herself another WrestleMania moment by eliminating Bayley.
© Copyright IBTimes 2023. All rights reserved.