WWE Royal Rumble 2017: Predictions, Match Card, Preview For Start Of Road To WrestleMania 33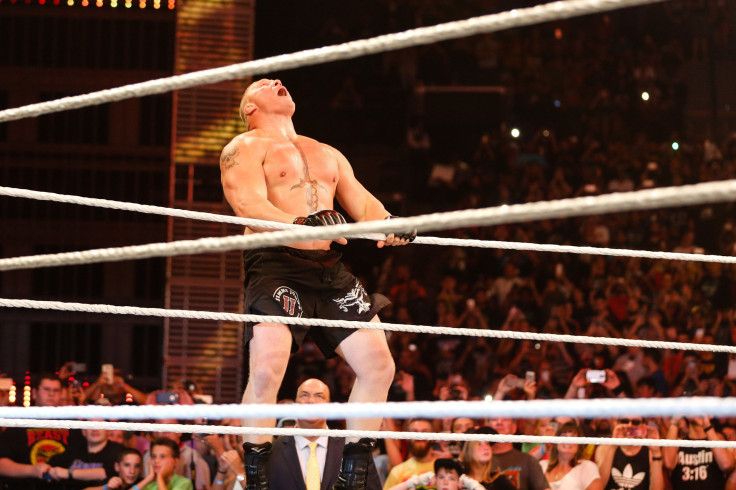 The road to WrestleMania 33 begins Sunday night with the 2017 Royal Rumble. The event will help establish a few of the top matches at the year's biggest WWE pay-per-view.
The Royal Rumble match will be the show's main event, and the winner of the 30-man battle royal will go on to compete for a world title at WrestleMania 33 on April 2 in Orlando. The Undertaker, Brock Lesnar and Goldberg will all compete in the match, making it one of the biggest Royal Rumbles in recent memory.
Sunday's PPV could also feature multiple title changes, as two of the company's top babyfaces will be fighting for world championships. The winner of those matches should help give a better idea regarding what wrestler will win the Royal Rumble.
Eight matches are on the Royal Rumble 2017 card, including the pre-show, and four titles will be on the line.
Royal Rumble Match
Several wrestlers have a chance to win the battle royal and go on to a title match at WrestleMania 33. Samoa Joe or Finn Balor could win after making a surprise appearance. Chris Jericho will become one of the favorites if Kevin Owens retains the WWE Universal Championship earlier in the night. The Undertaker is one of the favorites with a potential WrestleMania title match against Roman Reigns, John Cena or AJ Styles in his future. But Braun Strowman might be the most likely winner, having never been pinned or submitted in WWE and in line for a big push.
Prediction: Braun Strowman
WWE Champion AJ Styles vs. John Cena
Cena has already lost to Styles at three PPVs in the last year, so don't expect him to suffer another defeat to the current champion. It's only a matter of time before he ties Ric Flair's record of 16 world title reigns, and he might be headed for another title match in the main event of WrestleMania.
Prediction: John Cena
WWE Universal Champion Kevin Owens vs. Roman Reigns (No Disqualification Match, with Chris Jericho suspended above the ring in a shark cage)
All indications are that Reigns is beating Owens. He recently lost the United States Championship, and Owens hasn't been able to beat him without outside interference. With Jericho locked in the cage, it's hard to believe Reigns won't come out on top.
Prediction: Roman Reigns
Raw Women's Champion Charlotte Flair vs. Bayley
Bayley is going to eventually take the title from Charlotte, but that probably won't come until WrestleMania 33. Charlotte is likely to win by cheating in order to keep the feud going.
Prediction: Charlotte
WWE Cruiserweight Champion Rich Swann vs. Neville
There's a chance Neville won't become the WWE Cruiserweight Champion just yet, though it's only a matter of time. He's been the most interesting part of the division since his heel turn, and he has a long title reign ahead of him.
Prediction: Neville
Becky Lynch, Nikki Bella & Naomi vs. Alexa Bliss, Mickie James and Natalya
Becky has lost two straight title matches, and WWE could look to give her the pinfall to keep her looking strong. It's also possible that Naomi will pin Alexa, earning her a title shot in the near future.
Prediction: Becky Lynch, Nikki Bella & Naomi
Raw Tag Team Champions Cesaro & Sheamus vs. Luke Gallows & Karl Anderson (Kickoff Match)
It's pretty surprising that Gallows and Anderson haven't won the tag team titles since making their WWE debut last year, and the company has passed on multiple opportunities to make them champions. Sunday might not be any different.
Prediction: Cesaro & Sheamus
Sasha Banks vs. Nia Jax (Kickoff Match)
Sasha is already a star in the women's division, and WWE should give Nia her first major PPV win to help elevate her.
Prediction: Nia Jax
© Copyright IBTimes 2023. All rights reserved.