WWE Survivor Series 2016: Match Card, Predictions For Goldberg vs. Brock Lesnar & More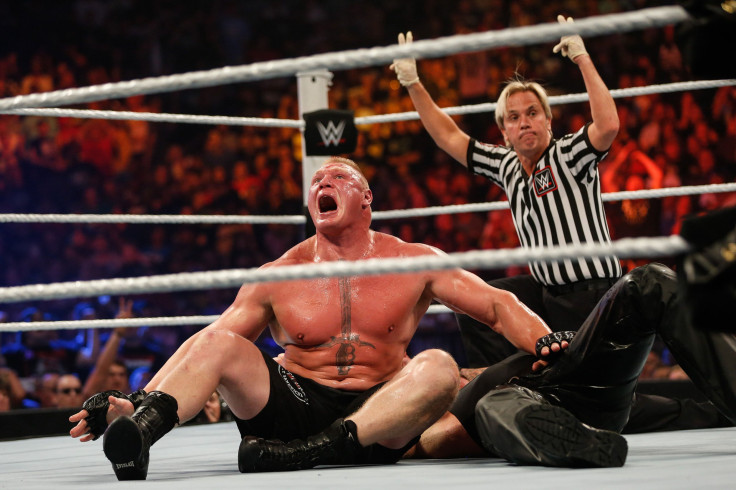 WWE Survivor Series has lost some of its importance in recent years, but there is renewed interest in the pay-per-view in 2016. Sunday's event features the return match of one of the biggest names from the Attitude Era, and the brand split has added a new wrinkle to the "Big Four" PPV.
After months of speculation, Goldberg and Brock Lesnar will finally face off in a rematch of their fight from WrestleMania 20. Goldberg has insisted that it will be his final match in WWE, though Sunday's result could open the door for him to make more appearances in the future.
All of the scheduled matches, other than the main event, will pit members of "Monday Night Raw" against wrestlers on the "SmackDown" roster. That's the case with both title matches, and the winner of each match will bring the championship back to their respective shows.
Six matches are on the card for Survivor Series 2016, though more could be added before the event begins. The WWE Universal Championship and the WWE World Championship won't be defended.
Brock Lesnar vs. Goldberg
No one in WWE is protected like Lesnar, and there's little chance he's going to lose to a returning Goldberg. Lesnar hasn't been defeated clean since WrestleMania 29 on April 7, 2013, and he won't be beaten by a 49-year-old that hasn't wrestled in 12 years. Goldberg will look better than most of Lesnar's opponents, hitting a Spear and coming close to winning. But in the end, Lesnar will stand tall.
Prediction: Brock Lesnar
Team Raw vs. Team SmackDown in a 5-on-5 Traditional Survivor Series Men's Elimination Match
"Monday Night Raw" is still WWE's flagship show, and the team will likely get the win, as a result. The Undertaker's return to "SmackDown" also indicates that Team Raw will win, since the Deadman indicated that he could have matches against members of Team SmackDown if they lose. Braun Strowman could be the lone survivor since he likely won't be pinned or submitted, but Roman Reigns has the best chance to finish the match.
Prediction: Team Raw
Team Raw vs. Team SmackDown in a 5-on-5 Traditional Survivor Series Women's Elimination Match
If Team Raw is going to win the men's match, that means Team SmackDown has the edge in the women's match. Charlotte and Sasha Banks have arguably the most heated rivalry in all of WWE, and their feud could end up costing Team Raw the match. Nikki Bella, Becky Lynch and possibly Alexa Bliss could be in line to get the final pin.
Prediction: Team SmackDown
Team Raw vs. Team SmackDown in a 10-on-10 Traditional Survivor Series Tag Team Elimination Match
This could be a mess with 20 total wrestlers competing, and with nothing on the line, both teams have an equal chance of winning. With teams like The New Day, Sheamus and Cesaro, and Gallows and Anderson, Team Raw might come out on top. But if Team Smackdown pulls off the upset, look for American Alpha to potentially stand tall at the end of the match.
Prediction: Team Raw
WWE Cruiserweight Champion The Brian Kendrick vs. Kalisto
It only makes sense that Kalisto will bring the Cruiserweight Championship to Tuesday nights, considering a new WWE Network show featuring only cruiserweights now airs immediately following "SmackDown." A Kalisto victory would make things even more interesting for the division, putting Kendrick, T.J Perkins and Rich Swann in line for title matches.
Prediction: Kalisto
Intercontinental Champion The Miz vs. Sami Zayn
If "Monday Night Raw" loses the Cruiserweight Championship, it's going to gain the IC Title. WWE likely had The Miz win the belt from Dolph Ziggler on Tuesday just so he could drop it to Zayn on Sunday. Don't be surprised if Ziggler gets involved and costs The Miz the championship, the same way Maryse interfered and cost him the title on "SmackDown."
Prediction: Sami Zayn
© Copyright IBTimes 2023. All rights reserved.