Xbox One Updates 2016: New Features Highlight Microsoft's Push To Create A Social Console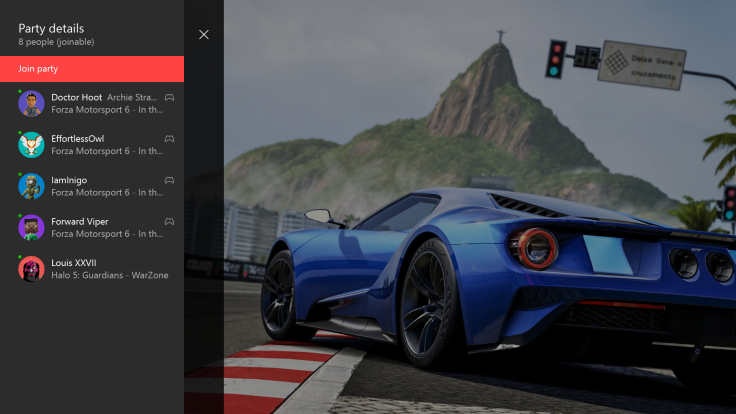 Microsoft is launching a system update for Xbox One in January to further redefine the console as a social-friendly option for gamers. Xbox One Preview members will have hands-on access to the update beginning January 19. New features include a Party preview mode, the return of the Gamerscore Leaderboard and further improvements to Xbox One Home.
Most of January's Xbox One system updates further refine the ability for gamers to connect with their friends. The Party preview mode shows who your friend is playing with before you decide to join.
Even the friendliest gaming session can turn into a competition, which is why many people will enjoy the return of the Gamerscore Leaderboard found in the Achievement section of one's profile. For bragging rights, players can see where they rank among friends. There's also a 30-day tracking feature that reveals which players have made the most improvements during that period.
The system update makes it easier for users to switch to a Twitch broadcast. If a friend is streaming their game sessions, the broadcast will appear in the Game Hubs section or the game tile itself. For those seeking more Xbox One friends, there's a new Friend Suggestions section in the Community area.
The activity feed is getting an overhaul in January. Xbox News will be integrated in the feed. A notification system will alert users when there are new items in the activity feed.
A cluttered homepage may be a thing of the past with upcoming features. Xbox One Preview and Xbox Beta members will soon have the ability to easily move Pins around on their homepage. The Pins will also be available for offline use. The "ready-to-install" list is usually full of downloaded, but forgotten, items. Whether they were betas that ended, timed trials, or a recommended app that seemed like a good idea at the time, all these items can be hidden from view.
With the release of the "Baba Yaga: The Temple of the Witch" DLC for "Rise of the Tomb Raider," next week for Xbox One, chances are a few friends will use the new features to share their experiences with the latest Lara Croft chapter.
© Copyright IBTimes 2023. All rights reserved.