Yoga Day 2016 Facts: 10 Things To Know About The Internationally Loved Spiritual Exercise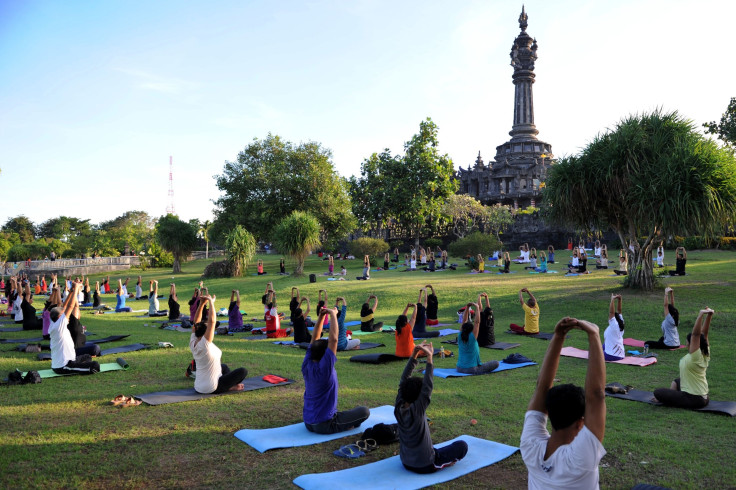 Tuesday is the International Day of Yoga, a United Nations-approved celebration of the mental, physical and spiritual exercise that started in India more than 5,000 years ago but remains popular today. Millions of people in Asia and beyond were expected to observe the holiday, which Twitter simply shortened to #YogaDay, in studios and parks around the world.
"[Yoga] embodies unity of mind and body, thought and action, restraint and fulfillment, harmony between man and nature, and a holistic approach to health and well-being," Indian Prime Minister Narendra Modi said in 2014. "Yoga is not about exercise but to discover the sense of oneness with ourselves, the world and nature."
Whether you're a fan of the downward-facing dog or lotus position, Yoga Day is the perfect opportunity to brush up on your knowledge of the practice. Here are 10 facts about yoga to share Tuesday, collected from Yoga Journal, MSN and the Seattle Yoga News:
Norwegian scientists have found that yoga may boost people's immune systems, while Australian researchers found it may curb binge eating.
Americans pay about $2.5 billion annually in yoga instruction.
More than a quarter of Americans have attempted to do yoga at one point in their lives.
About 90 percent of all Americans have at least heard of yoga. This is an increase from about 70 percent four years ago.
More than half of yoga teachers have taken "yoga selfies" — which are exactly what they sound like.
Canadian Prime Minister Justin Trudeau has proclaimed he's a fan of yoga. This year, a picture of Trudeau executing the peacock pose on a desk went viral on social media. It makes sense: Trudeau's wife, Sophie, is a yoga teacher.
The vast majority, about 82 percent, of Americans who practice yoga are female. Most of them are under 44.
More than 1.7 million kids have tried yoga.
The word "yoga" is said to come from the Sanskrit root "yuj," meaning "to join."
The biggest yoga lesson ever took place last Yoga Day in New Delhi. Nearly 36,000 people participated.
© Copyright IBTimes 2023. All rights reserved.