'Young And The Restless' Spoilers: Cane And Lily Receive Devastating News
They were all set to sign the papers that would finalize their divorce, but an alarming change in Juliet's condition could change everything for Cane and Lily on the Thursday, Nov. 9 episode of "The Young and the Restless."
Cane (Daniel Goddard) and Lily (Christel Khalil) were about to sign the papers declaring their divorce on the CBS soap, even though Cane truly wanted to give their marriage another shot. However, before things could be finalized, their son, Charlie (Noah Alexander Gerry) burst in to the courtroom to warn that Juliet (Laur Allen), who is pregnant with Cane's baby, had passed out outside and was bleeding. She was then rushed to the hospital, with Cane by her side.
Now, he is waiting at the hospital and the divorce proceedings with Lily are on hold. And as he continues waiting for word on Juliet, he may fall asleep, only to be woken up by Lily, who will inform him that the heavily pregnant woman has gone in for an emergency C-section.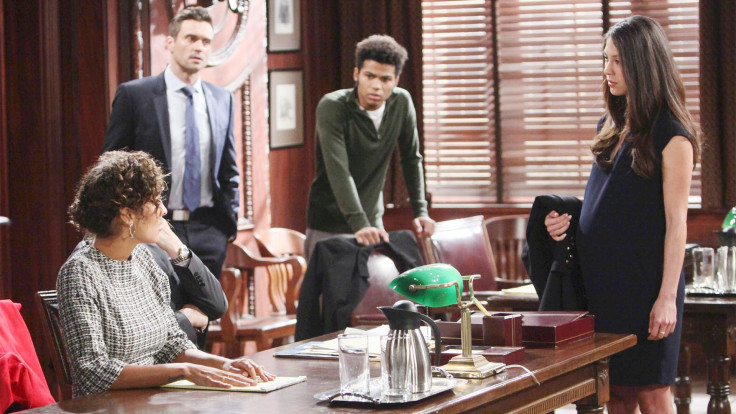 "What happened?" Cane asks in a preview clip.
"They rushed her into surgery," Lily says as she sits with him.
As they wait, Lily will offer to keep the divorce on hold until they have news about her, and Cane will express his guilt over previously wishing the baby didn't exist, since it was the reason and driving factor behind Lily's decision to leave him in the first place. However, Lily will remain unmoved from her feelings that a divorce is the right call.
However, that could change, as things with Juliet's surgery don't seem to be going well, as the surgeon working on her screams to her staff that they need to act now if they're going to save her life.
"She's losing too much blood! Either we get this baby out now, or we lose them both!" She shouts in the clip.
However, no matter what the efforts, things could still end badly for everyone involved, as the doctor will likely go to Cane and Lily to inform them of how things went—and the news may be devastating for Cane in regards to his impending fatherhood.
"The Young and the Restless" airs weekdays at 12:30 p.m. EST on CBS.
© Copyright IBTimes 2023. All rights reserved.