'Young And The Restless' Spoilers: Phyllis Seeks To Make A New Alliance
It's been looking more and more like JT may actually be alive after all, causing the women who were there the night he was allegedly murdered to panic. Now, after an attempt to find out the truth goes wrong, Phyllis will seek out a new alliance with one of her co-conspirators on the Tuesday, July 3 episode of "The Young and the Restless."
Phyllis (Gina Tognoni), Sharon (Sharon Case), Nikki (Melody Thomas Scott) and Victoria (Amelia Heinle) now all know that a man who looks like JT (Thad Luckinbill) was seen on security footage in the latest attack on a Newman project. Previously on the CBS soap, they were positive he was dead after his last attempt to attack Victoria ended with Nikki clobbering him on the head with a fireplace poker. They decided the only way they could know for sure was by going back to the grave they dug for him in Chancellor Park and seeing if his body was still in there.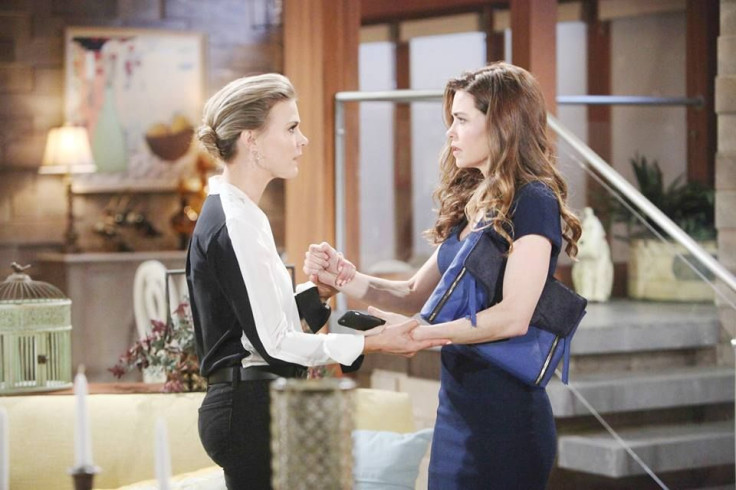 However, when they go to the park to do so, they will run into an obstacle that keeps their plan from being put into motion, as it will be impossible to access the grave and finally get the confirmation they need. After hitting that dead end, the women, Victoria specifically, will decide they need to be prepared for a worst-case scenario, and until they have proof which suggests otherwise, they will assume he is in fact alive. While his current target appears to be Victor (Eric Braden), they all know he could come for them next out of revenge.
The fact that he could seek revenge will get Phyllis thinking back on that night, and she will realize that both she and Sharon may not have to go down if JT is back and does eventually seek revenge. She will seek Sharon out to try and form a new alliance together that protects them both because she's sure JT didn't even know they were at Victoria's house that night, which would allow them to feign ignorance over what happened.
However, Sharon will refuse to accept the new deal, stating that they had just as much of a hand in covering up what happened afterward, and she refuses to let Victoria and Nikki be the only ones who pay for everything that happened. Now, with the initial alliance between the women stronger than ever, they will be left waiting as they try to determine if an appearance by JT is in their immediate futures.
"The Young and the Restless" airs weekdays at 12:30 p.m. EDT on CBS.
© Copyright IBTimes 2023. All rights reserved.