'Young And The Restless' Spoilers: Victoria Makes A Power Move Against Ashley
She has wanted to get her enemy out of her family's company so she has no threats that could keep her from one day becoming her father's successor. In order to get what she wants, Victoria will make another power move against Ashley on the Monday, March 5 episode of "The Young and the Restless."
Ever since Victor (Eric Braden) hired Ashley (Eileen Davidson) to work at Newman, Victoria (Amelia Heinle) has been trying to find a way to get her out, because Ashley indicated that she could one day take over as CEO when Victor was ready to leave—even though Victoria is technically next in line as his daughter. Knowing that her future could be in jeopardy on the CBS soap, Victoria hatched a plan with Jack (Peter Bergman) in order to get Ashley out of Newman and back at Jabot, where he wanted to have her return.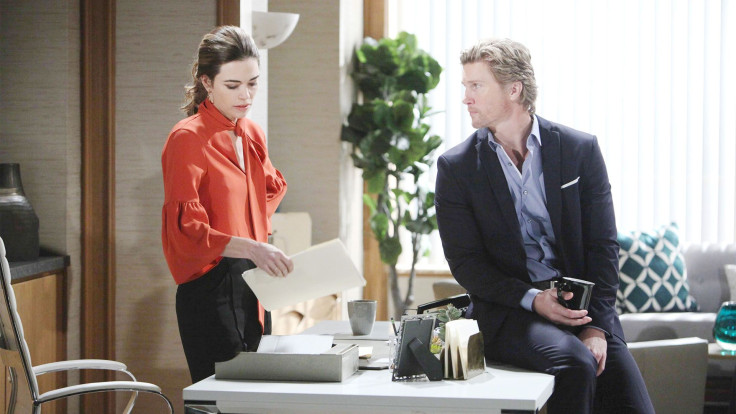 After passing on some confidential files with Ashley's watermark on them, Victoria waited for Jack to make a move, and he has, releasing an article with private info that damages a deal Ashley just struck for Newman. Now, Victoria has alerted Victor to the alleged betrayal, and he will ask JT (Thad Luckinbill) to investigate.
Victoria will quickly take action to make sure that the investigation also goes in her favor. She will make sure Jack does certain things which will make it easier for JT to find the passed files when he investigates Jack's office, but also imply that Ashley was the one who gave him the confidential information—not her.
Sure enough, when he gets there, JT will quickly uncover the file in Jack's desk, in a spot that seems like it was almost too easy to find. Nevertheless, he will realize that someone, likely Ashley, shared Newman info with their competitor. He will then report this information to Victoria, who will use it to her advantage. She will take it Victor and warn him that they can't trust Ashley—so they will need to take action and make sure she can never betray them again—by firing her.
"The Young and the Restless" airs weekdays at 12:30 p.m. EST on CBS.
© Copyright IBTimes 2023. All rights reserved.