Young Voters Prefer Bernie Sanders Over Hillary Clinton, Donald Trump Instead Of Other Republicans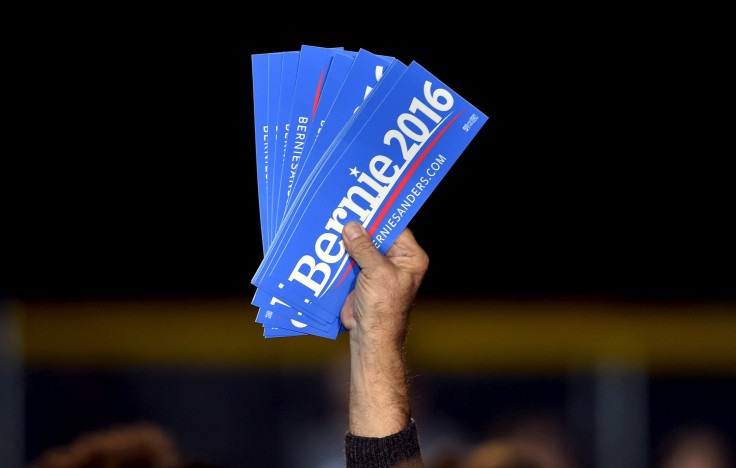 If it were up to millennial voters to decide the Democratic nomination, Bernie Sanders would be on his way to the general election. When young Democrats were asked, they favored the Vermont senator 46 percent to 35 percent over former Secretary of State Hillary Clinton, according to a new poll released Monday by youth voting advocacy group Rock the Vote.
The poll also shows that, while young Democrats may be "feelin' the Bern," their Republican counterparts have a soft spot for the GOP's front-runner, Donald Trump. As in other national polls, those GOP voters support Trump by a wide margin over his competitors, who include retired neurosurgeon Dr. Ben Carson, Florida Sen. Marco Rubio, Texas Sen. Ted Cruz and former Florida Gov. Jeb Bush. Trump receives 26 percent of that support; Carson, at 11 percent, is the only other Republican candidate who breaks double digits.
The majority of the surveyed millennials — a generation commonly defined as having been born in the 1980s or 1990s — indicated they plan to vote in the November general election. Sixty percent of young voters plan to vote, 9 percent above the 2008 millennial turnout rate.
Sanders leading Clinton is not a trend seen among all demographic groups. In averages of national polls of Democrats compiled by Real Clear Politics, Clinton leads Sanders by nearly 13 percentage points, 48.3 to 35.5. That represents a slight dip recently for Clinton. Early voting states are a little easier on Sanders, who maintains a 4.7 percent lead in New Hampshire. Clinton beats Sanders in Iowa by 10.6 points. The Iowa caucuses will be held on Feb. 1 and the New Hampshire primary is Feb. 9.
RCP Poll Average for Democratic Presidential Candidates | InsideGov
Trump leads national polling averages of Republicans, with 34 percent of the vote. That's 14 percent ahead of Cruz, who is the only other candidate with double digits in the GOP field. Cruz leads Trump 28 to 26 in Iowa, but Trump retains his edge in New Hampshire with 30.2 percent of the vote. Rubio is the closest competitor in the Granite State, with 13.2 percent of the state's primary vote.
RCP Poll Average for Republican Presidential Candidates | InsideGov
The poll contacted 1,141 U.S. adults under the age of 35 between Jan. 4 and 7. All of the surveys were conducted online and in English. No margin of error was provided.
© Copyright IBTimes 2022. All rights reserved.
FOLLOW MORE IBT NEWS ON THE BELOW CHANNELS