'Z Nation' Season 2 Spoilers: Episode 8 Synopsis Released; George R.R. Martin Guest Stars As Zombie That's Finished All 7 'Game Of Thrones' Books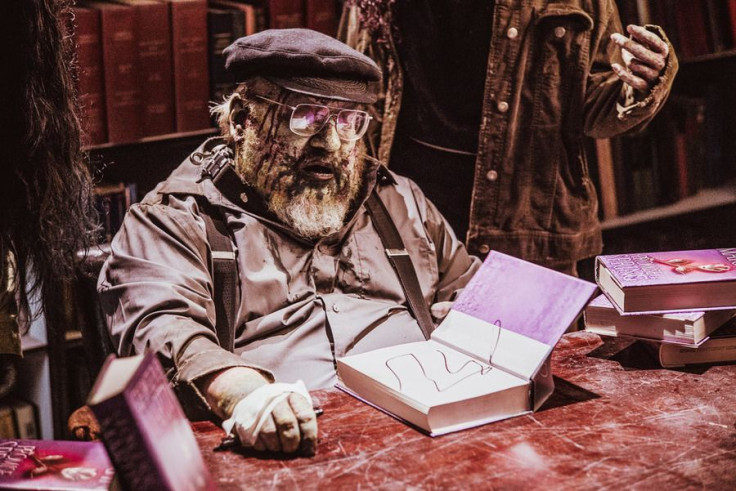 Operation Bite Mark continues its long cross-country trek to California in Season 2 of "Z Nation." The hit Syfy channel series will continue to give its characters the worst road trip luck imaginable in episode 8 when the group's most valuable member gets kidnapped by a madman with ambition.
After the last episode saw the group narrowly escape a horde of zombies that were bearing down on a backwards town run by the Zeros gang, it looked as though it would be smooth sailing for the survivors on their way to the lab on the West Coast. In case anyone forgot, they're hoping the scientists there can develop a cure using the blood of Murphy (Keith Allan). However, it seems that their troubles aren't over yet.
"Murphy is captured by an overly enthusiastic zombie fan who wants a new addition to his museum," reads the official plot synopsis for episode 8 (via TV Guide).
It appears that Murphy will, once again, be separated from the rest of his team and forced to inspect an odd collector's zombie-themed museum. It would seem like the kind of place that no one in their right mind would want to visit, unless you happen to be a pretty hardcore "Game of Thrones" fan. In the teaser clip for the episode, the mysterious collector has captured himself a pretty interesting exhibit in the form of a zombified George R.R. Martin, creator of the "A Song of Ice and Fire" book series that the hit HBO show it is based on. The 67-year-old author is making a guest appearance on the "Z Nation" to play himself as a flesh-eating maniac.
In the clip, the collector mentions that he happened to be at a Comic-Con when the zombie outbreak began. He managed to smuggle Martin out, but not before he got bit. Now he's chained up and forced to do perpetual book signings on his newest book "A Promise of Spring." According to Entertainment Weekly, the fake title is a wink to the expected title of Martin's seventh, and final, book in the franchise "A Dream of Spring," which will likely hit bookshelves after the notoriously slow writer finishes book 6.
"I just want to prove to my fans that even in the Zombie Apocalypse, the 'Song of Ice and Fire' books will still come out!" Martin said.
As for what this means for the intrepid group of heroes that make up Operation Bite Mark, only time will tell. After all, it's not likely they'll be particularly impressed with Martin since, within the mythos of "Z Nation," the world ended in 2011, meaning they barely had time to digest what happens to Ned Stark (Sean Bean) in Season 1 before they were blasting their way through the zombie horde. In other words: they know nothing of Jon Snow (Kit Harington).
Odds are good the heroes behind Operation Bite Mark will spend less time gushing over their hilarious guest star and more time trying to save the all-important Murphy from the clutches of the deranged collector. While having the only person known to have survived a zombie bite would be a great attraction to any museum, most people would agree that Murphy's time is best spent developing a cure in California. The only question that remains: what will Operation Bite Mark have to do in order to stay on their mission?
"Z Nation" airs episode 8 airs Friday at 10 p.m. EDT on Syfy, just in time for Halloween.
© Copyright IBTimes 2023. All rights reserved.