10 Best K-Pop Dance Breaks: BTS, TWICE, ITZY, Blackpink & More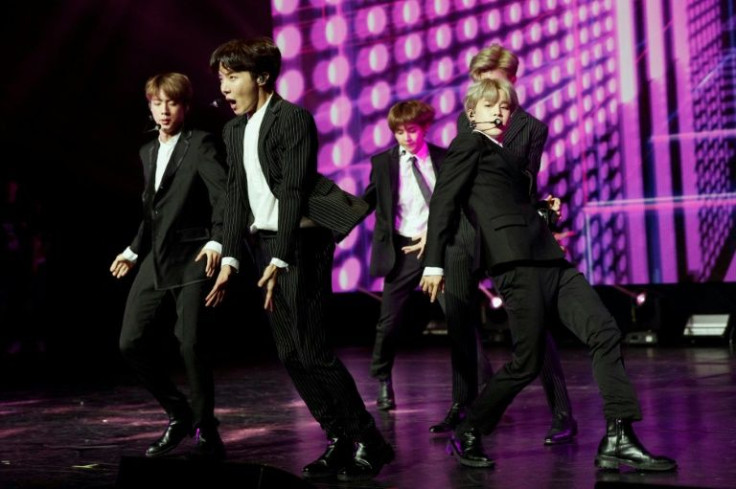 KEY POINTS
BTS wowed the crowd with their explosive performance of "Dionysus" in 2019
Fourth-generation groups with the best dance breaks include ITZY, Stray Kids and more
Third-generation acts with stunning dance breaks include Blackpink, TWICE and Red Velvet
Dance breaks are one of the most iconic moments in K-pop performances where artists showcase their impressive dance skills and add more flavor to their popular hits.
K-pop groups often debut these dance breaks during live performances on music awards shows, which often go viral on social media. But some have started to include them in their dance routines.
Below is the list of the 10 best K-pop dance breaks in K-pop history, according to a popular thread on TikTok.
1. "Dionysus" by BTS
RM, Jin, Suga, J-Hope, Jimin, Jungkook and V showed the K-pop industry what it's like to make a legendary dance break. Performing "Dionysus" in 2019, BTS turned the MMA Music Awards show into its concert, wowing the crowd with the members' explosive and energetic movements.
TikTok user @ a.k_pbe shared a clip of their performance and has since accumulated 883,700 likes and 4 million views.
2. "Dance The Night Away" by TWICE
"Dance The Night Away" is one of TWICE's most streamed songs, gaining popularity for its cute and bubbly concept. But Momo, Tzuyu, Nayeon, Sana, Jihyo, Chaeyoung, Jeongyeon, Mina and Dahyun gave a new twist to the track, adding a fierce dance concept during their performance in MBC's 2019 "Gayo Daejejeon."
Following the performance, TWICE earned the nickname "dance break queens" and were praised for their synchronization and oozing charisma.
3. "Dalla Dalla" by ITZY
ITZY has been slaying every dance break since the group first debuted in 2019, garnering the attention of K-pop enthusiasts for the members' captivating stage presence, smooth moves and clean pops. Its "Dalla Dalla" dance break remains one of the group's most iconic live performances.
4. "DDU-DU DDU-DU" by Blackpink
Blackpink members Jisoo, Rosé, Lisa, and Jennie proved that they're more than just pretty faces and amazing singers. The girls could also pull off any dance choreography, may it be a cute, fierce, or sexy concept.
In 2021, the internationally renowned group stunned its fans — known as Blinks — with a reimagined and powerful performance of "DDU-DU DDU-DU." During the song, the members were able to flawlessly execute the choreography, despite dancing in a pool of water.
5. "Tamed-Dash" by Enhypen
Garnering over 400,000 views on TikTok, Enhypen's "Tamed-Dash" dance break became one of the most iconic performances in K-pop history, despite it only being a year since the group officially debuted in 2020.
Heeseung, Jake, Jay, Sunghoon, Jungwon, Sunoo and Ni-Ki proved why they're considered rising stars in the industry, showcasing their professional dance skills and stage presence.
6. "Shoot Out" by Monsta X
Third-generation K-pop idols stood out among different eras when it comes to dancing, singing, and performing. Monsta X is one of the best examples, as it has consistently given jaw-dropping and exciting performances throughout its career.
During the 33rd Golden Disk Awards in 2020, the six-member K-pop group performed a medley of its hits such as "Myself," "Jealousy" and "Shoot Out." But what stood out was the dance break toward the end of the performance, flawlessly executing hard-hitting moves, despite wearing tight-fit jeans.
7. "Easy" by Stray Kids
Stay Kids has been slaying every comeback, introducing complex choreographies that include their signature styles. Released as part of the group's "Go Live" album in 2020, the "Easy" dance break proved the eight members' unmatched connection, dancing in sync throughout the performance.
8. "Up" by Kep1er
K-pop enthusiasts have acknowledged Kep1er for having one of the best and strongest dance lines among fourth-generation K-pop groups.
Hikaru, Bahiyyih, Yu-jin, Chaehyun, Xiaoting, Mashiro, Dayeon, Young-eun and Ye-seo proved that they could slay hard-hitting choreography, detailed steps, and complicated footwork with their "Up" dance break, despite being fairly new in the industry.
9. "Dumb Dumb" by Red Velvet
Aside from having powerful vocals, Red Velvet also knows how to bust some moves on stage. Accumulating 33,200 likes on TikTok, its performance of the 2015 track "Dumb Dumb" caught the attention of social media users as Joy, Irene, Wendy, Seulgi and Yeri "ate" and slayed their dance break.
10. "La Vie En Rose" by IZ*ONE
Survival show-formed groups go hard when it comes to live performances, as most members have become used to the limelight and performing on stage. And fans could expect IZ*ONE to give an all-out dance performance in every show, especially during the dance break for "La Vi En Rose."
The twelve-member group stunned the crowd with the members' powerful moves and jaw-dropping synchronization. Though the group disbanded in 2021, IZ*ONE will remain one of the standout fourth-generation groups when it comes to dance.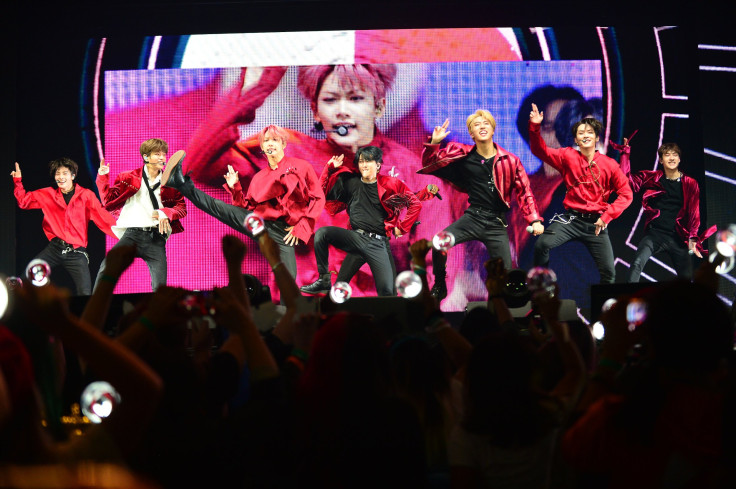 © Copyright IBTimes 2023. All rights reserved.