11 Signs Jed Wyatt Was Always Going To Be Hannah's 'The Bachelorette' Winner
If you pay close enough attention during each "The Bachelorette" season, you'll notice clues all along as to who will ultimately be named the lead's winner. Rumors suggest that Season 15 star Hannah Brown ends her run as ABC's "Bachelorette" by picking contestant Jed Wyatt. Ahead of the 2019 season finale, let's take a look at all of the signs that Jed was destined to be Hannah's pick.
His Introduction
Jed didn't receive a lot of screen time at the top of "The Bachelorette" Season 15 premiere, though he was one of the first three men to meet Hannah outside the Bachelor mansion, proving he was going to be an important contestant.
Low-Key
When Jed did finally meet Hannah, she remarked that she liked him almost immediately, calling him "so sweet" after he told her that he wanted to get to know her heart. Jed also wasn't one of the contestants who involved himself in the drama on the first night. At one point, Jed commented on the group of "characters" he was joined with while never becoming one of them.
A Total Crush
Jed may have not received Hannah's first impression rose, but he certainly made a big first impression. During their first extended one-on-one time, Jed showed off his musical abilities by singing Hannah a unique song that included her favorite phrase "roll tide" in it.
"That was sexy," Hannah told the cameras in a confessional of his performance. "I have a total crush on Jed. All these guys are so great. I'm so lucky."
Not Mr. Right... Now
Despite Jed appearing to be a front-runner to win the Mr. Right pageant in episode 2's group date following his musical act, it was ultimately Luke Parker, who confessed his love to Hannah onstage, who won. Despite this, he did manage to secure Hannah's date rose later in the episode, proving his winner status.
Big Confession
During Jed's first one-on-one date with Hannah in episode 4, he admitted that he initially only went on "The Bachelorette" to get exposure for his music career. Noting that Hannah had asked for nothing but honesty from the get-go, he said that he was "open to the idea" of love but that his first thought was "this is like a huge platform" and that he came in with that mindset. He added that his feelings for Hannah were genuine and that it was "beyond a show" for him. While his comments were somewhat well-received by fans, he ended up completely winning Hannah over and receiving a rose on their date.
"I Love You"
During episode 8's hometown dates, Hannah made it clear her time spent with Jed's family didn't go exactly as planned. Still, at that point, she had already made her feelings for him known. In a previous episode, she told Jed that she was in love with him, something she had yet to tell any of the other men.
A Successful Surprise
When "Bachelorette" contestants go to the lead for some unplanned one-on-one time, it can frequently result in almost immediate elimination. That wasn't the case when Jed surprised Hannah with a guitar solo outside her hotel room window during week seven. Not only did Hannah like his surprise, but he also received some alone time with her in her hotel room in return.
Luke Talk
When other contestants brought up the topic of Luke P. throughout her "Bachelorette" season, Hannah made it clear she wasn't interested in discussing him. This wasn't the case when Jed brought up his concerns about his competitor during his overnight date. Despite it making her upset to talk about Luke, Hannah discussed her feelings for him with Jed in detail during their fantasy suite date, something her other competitors hadn't been given the option to do.
Best Friend & Partner
Ahead of her final dates with Jed and Tyler in part one of the finale, Hannah declared her feelings for both of her final two. She first spoke about Jed, saying, "Jed has been such a stable guy in all of this for me. I feel like Jed is that forever, best friend of a partner that I want." But when it came time to share her thougths on Tyler, she only said, "Tyler is so supportive. It is sexy. It shows that he's a confident man."
Always Meant To Be
Ahead of Jed meeting her parents, Hannah seemingly hinted to her family that Jed had been her top pick from the start, saying, "Jed has been the one from the very beginning that I was just like, this person fits in my life."
Not About Anybody Else
After Hannah's parents made Jed, her mom made it clear that Jed's lifestyle as a musician may not be the right fit for her and expressed her belief that Tyler might be a better choice. "I knew this was freakin gonna happen," an upset Hannah said, seeming to side with Jed.
During a separate talk with her father, he expressed concerns he would not be able to provide for her and told his daughter not to settle.
Speaking to the cameras, Hannah said, "I appreciate my parents' opinion and their concern and their love and support for me but this is not about anybody else but me and what I feel in my heart."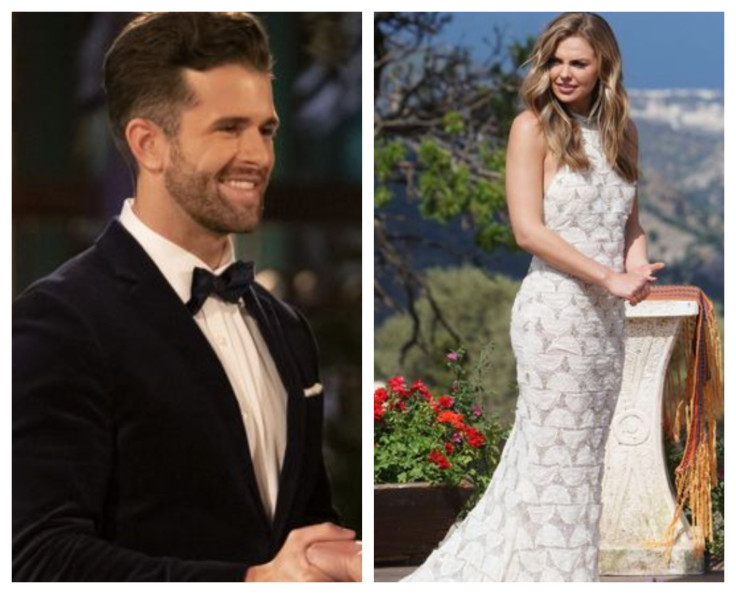 © Copyright IBTimes 2023. All rights reserved.