Sponsored Article
12 Best Fitness Smartwatches With Built-In Alexa Under $100
This article uses affiliate links, which means if you purchase products through these links, we may earn a commission. Click here to see our
T&C
. For licensing please click
here
.
Whether you want to lose weight and finally get fit or you just want to monitor your health, a new smartwatch makes for a great accessory! With so many features to be enjoyed with a fitness smartwatch, you'll surely get more motivated to exercise.
Even better -- with Alexa built-in, you can finally have a seamless fitness routine. Alexa is like a mini assistant that sits right on your wrist. It can tell you the weather, set alarms and even start a workout for you. With these awesome choices, you will surely have the perfect workout companion for under a hundred dollars.
1. Wyze Band Activity Tracker | $29.98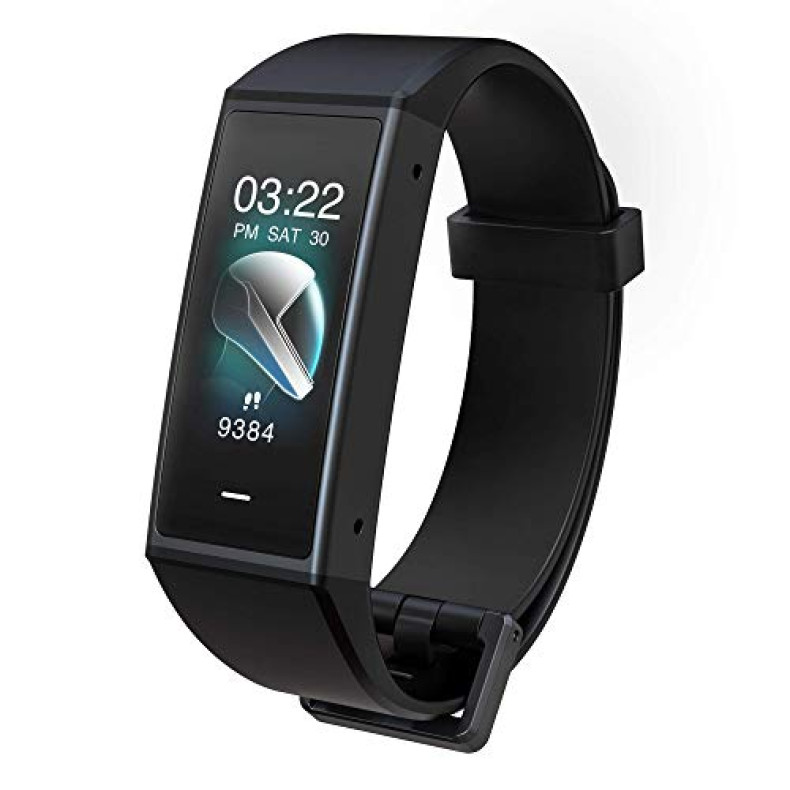 (photo from amazon.com)
Starting at only $29.98, the Wyze Band Activity Tracker will equip you with an activity, heart rate and sleep tracker. You can enjoy Alexa's assistance with its dual-microphone that allows better sound reception. Its 0.95" AMOLED screen is packed with important functions and can be personalized to suit your style.
2. EEFINITE Fitness Tracker | $34.99
(photo from amazon.com)
The EEFINITE Fitness Tracker has a 5ATM water-resistant rating, which means it can be submerged up to 50 meters deep for 10 minutes. Its screen is a bit larger at 1.05" for a crisp, touchscreen display, leaving enough room for its blood oxygen saturation monitoring function. The best part about this band is that it is covered by The EEFINITE Assurance, which offers a lifetime warranty for EEFINITE products.
3. LETSCOM Fitness Tracker | $34.99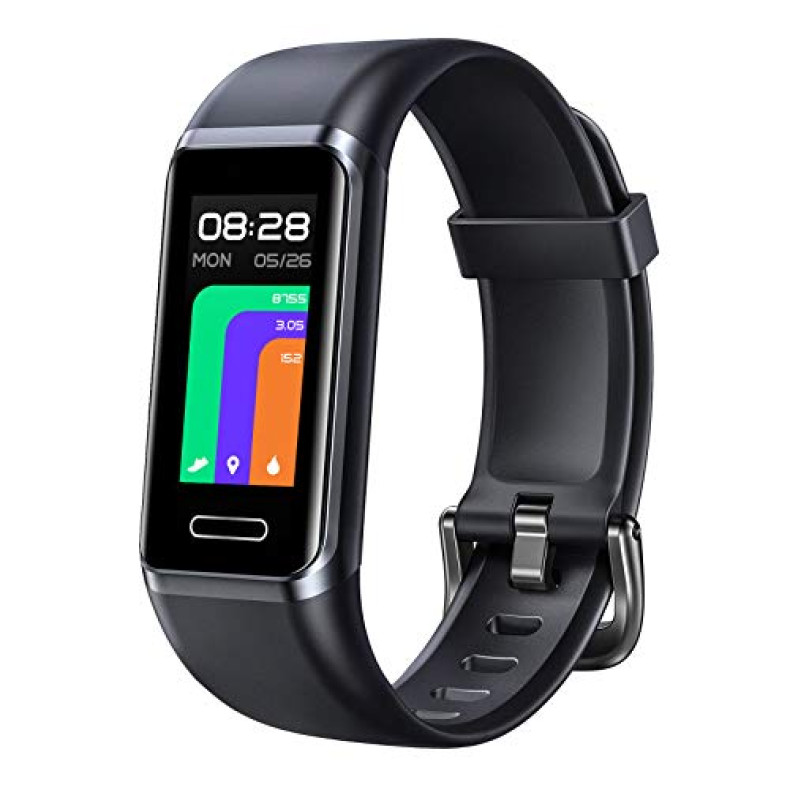 (photo from amazon.com)
The LETSCOM Fitness Tracker has a remarkable sports mode menu with 14 different sports modes to choose from. Workout without having to disconnect from the world and be able to receive message and call notifications right on your wrist. With eight different styles to choose from, you can even designate one design for each day of the week with one as backup!
4. YAMAY Fitness Tracker 2021 Version | $35.99
(photo from amazon.com)
What makes a good workout? Good music. With YAMAY Fitness Tracker, control your music without having to take your phone out from your pocket. It goes beyond the usual pause/play/skip functions and allows easy volume control as well. Another important aspect of health is regulating stress levels which you can monitor with this fitness tracker's stress level monitoring function that comes with breath training.
This smartwatch goes well with the VeryFit app that maximizes its built-in Alexa functions. It's not just a fitness tracker, it can also be a handy device that can control your Alexa-paired electronics like smart lighting.
5. Donerton Smart Watch | $37.99
(photo from amazon.com)
One of the first steps in trying to live a healthier lifestyle is to get moving! The Donerton Smart Watch has a sedentary reminder, which tells you when you need to be burning more calories. Another nifty feature is its wrist sense, giving it the ability to control your camera. Just shake your wrist to take a photo! When your battery runs out after seven days of normal use or 30 days on standby, just connect it to its magnetic fast charger.
6. Motast Smartwatch | $39.99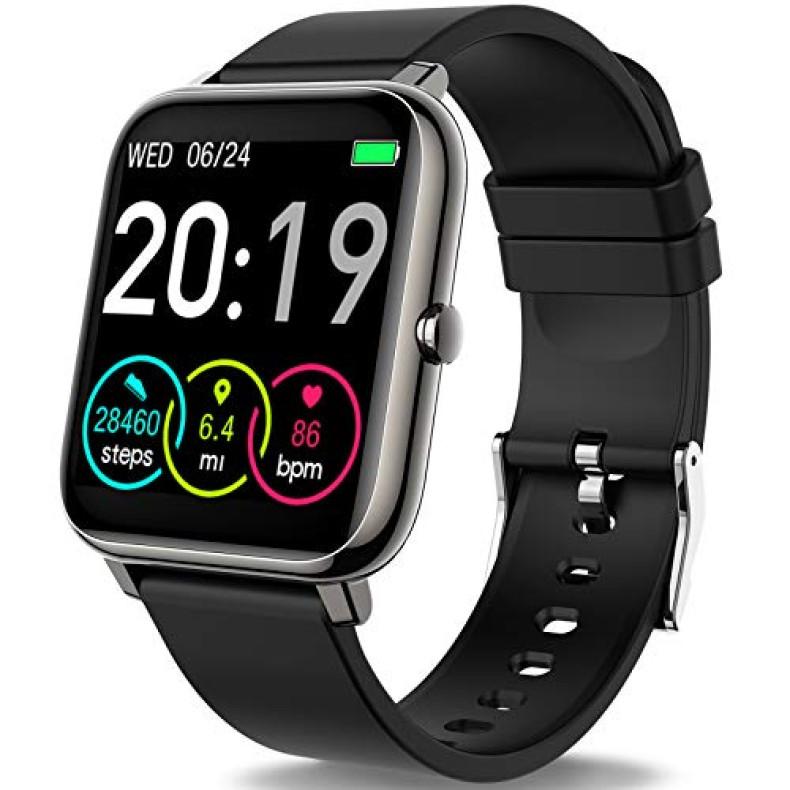 (photo from amazon.com)
This smartwatch is manufactured by Motast and has a 240x240 resolution screen and an interface that can be operated smoothly. It supports multiple timezones and languages. With its IP67 rating, you can wash your hands without removing your watch, worry-free. If you catch it at the right time, you might be able to get it at its discounted price of $35.99!
7. Amazfit Band 5 Fitness Tracker | $39.99

Forgetting your smartwatch charger for a two-week vacation is no longer a problem. Amazfit Band 5 boasts an extensive battery life which can last up to 15 days. Although it has a unisex design, women will love this one especially. It has a woman's health tracking feature that can monitor their menstrual cycle.
8. LETSCOM Smart Watch | $49.99
(photo from amazon.com)
What we love about the LETSCOM Smart Watch is that it really goes in-depth into your health. It will never let you get dehydrated with its water reminder. It is little things like staying hydrated that we often forget but can contribute greatly to our overall health. It also has a night mode function to be easier on the eyes during lights out.
9. JIKKO Smart Watch | $56.99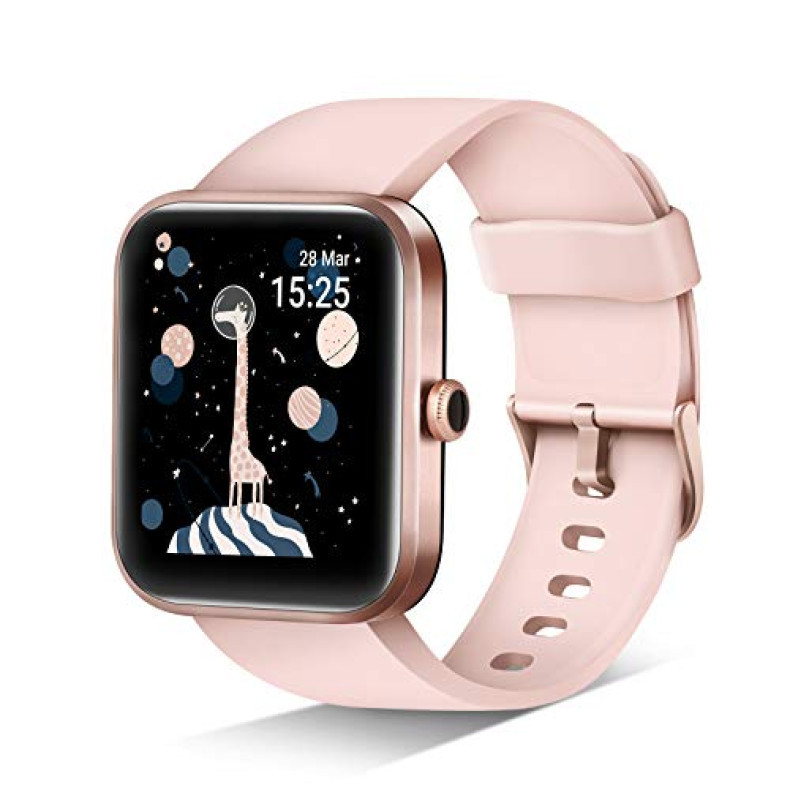 (photo from amazon.com)
Talking to your wrist used to feel silly but the JIKKO Smart Watch makes talking to Alexa look a bit more fashionable. Its design looks very premium along with the clock faces that come with it. This fashionable smartwatch is just as functional with 14 different sports modes to choose from that all work very well with its GPS tracking feature.
10. YSNJG Smart Watch | $67.99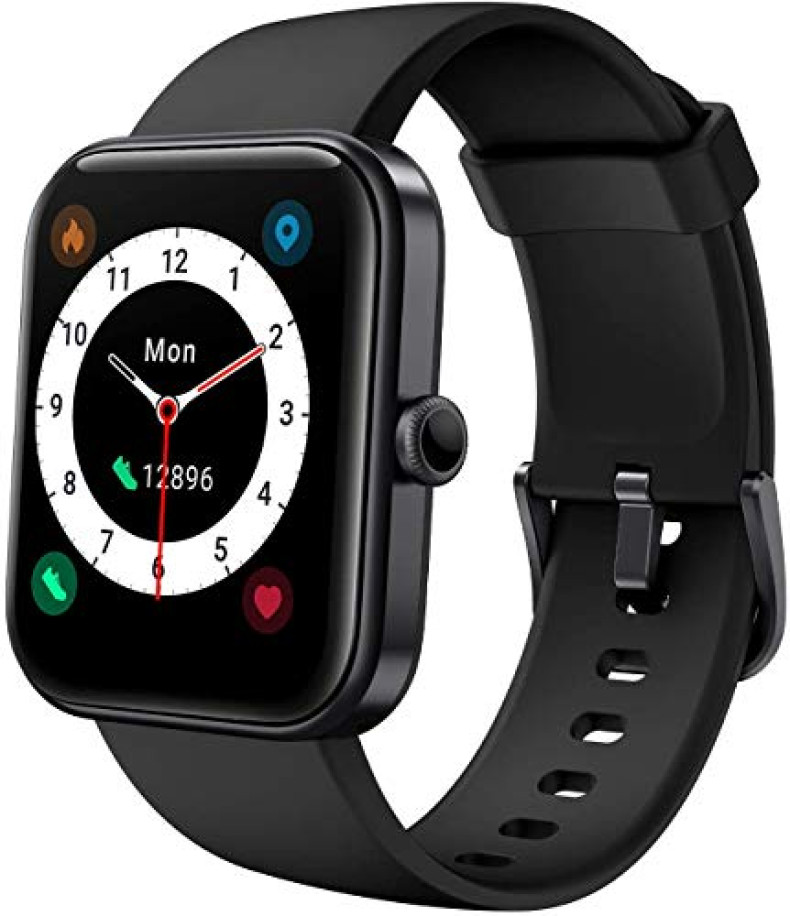 (photo from amazon.com)
The YSNJG Smart Watch is fully customizable, enabling you to upload your own photos to be used as a dial interface. Its highly-intelligent sports modes set it apart. Packed with 14 different sports modes, automatic sports recognition, running courses, virtual running opponent and a bunch of other features, this smartwatch truly stands out.
11. Amazfit GTS 2 Mini Fitness Smart Watch | $99.99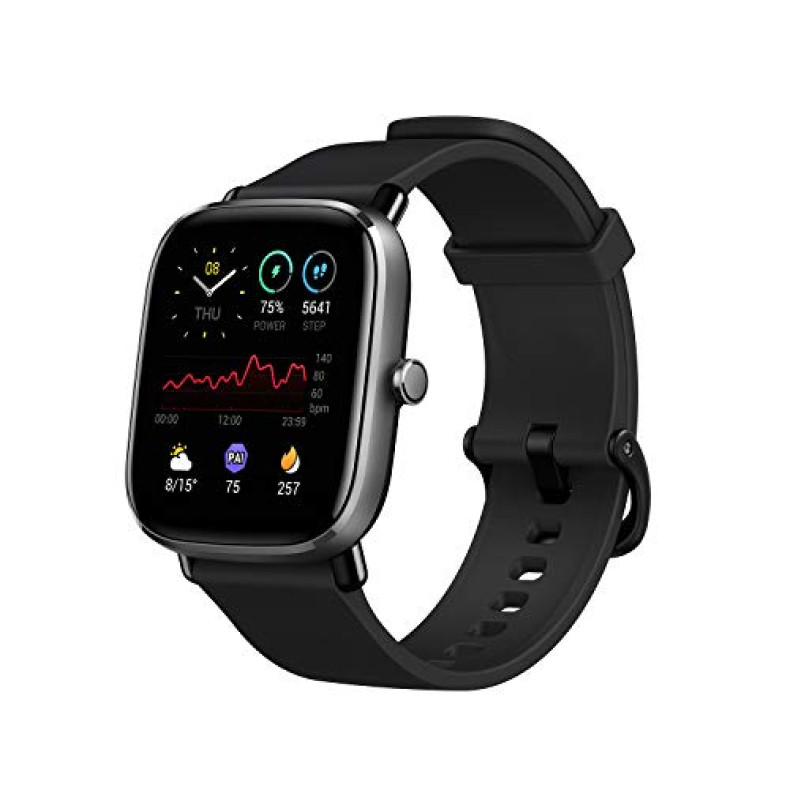 (photo from amazon.com)
The Amazfit GTS 2 Mini Fitness Smart Watch is so light, it's like you aren't wearing anything! It has a super light and thin design which is a welcome plus when exercising. It has a borderless design, adding to its sleek seamless look. Alexa is fully functional in this device. Create shopping lists, control smart home devices, ask questions, ask for translations and a whole lot more. It also has over 70 built-in sports modes. How they were able to fit all those features into one small device, we don't know, but we sure are happy about having unlimited options! With the PAI Health Assessment System 8, a PAI score is calculated and creates a personalized health evaluation, 14-day battery life and 3 strap colors to choose from, what else can we ask for?
12. Amazon Halo | $99.99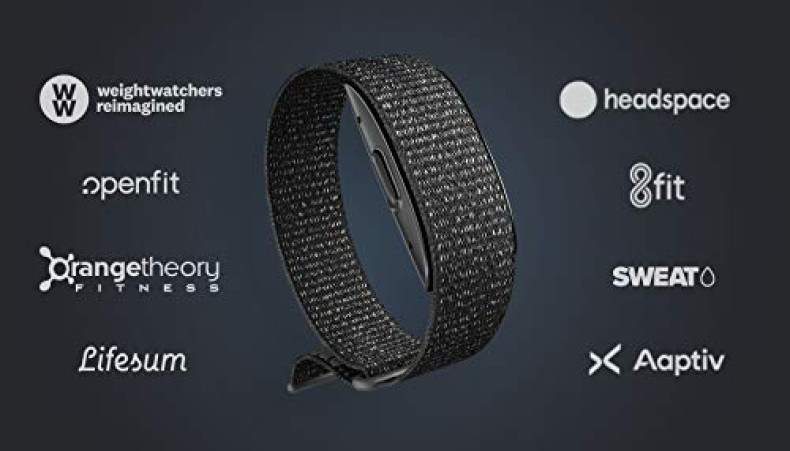 (photo from amazon.com)
Amazon Halo, even with its screenless design, is a powerful device that can really help you with your health and fitness journey. Be part of an exclusive community and become a member for only $3.99 a month to get insights on your body composition, sleep, activity tracking, etc. Maintaining a healthy relationship with others is also a vital part of your wellbeing. With the tone of voice analysis, be aware of how you sound like and how you can improve your tone to strengthen communication with others. Experts from Lifesum, SWEAT and Headspace will be joining your journey into achieving holistic health. You can also ask Alexa to give you a fitness report. What Halo promises is greater impact in lesser time.