13 Arrests, Several Schools On Alert After Florida Shooting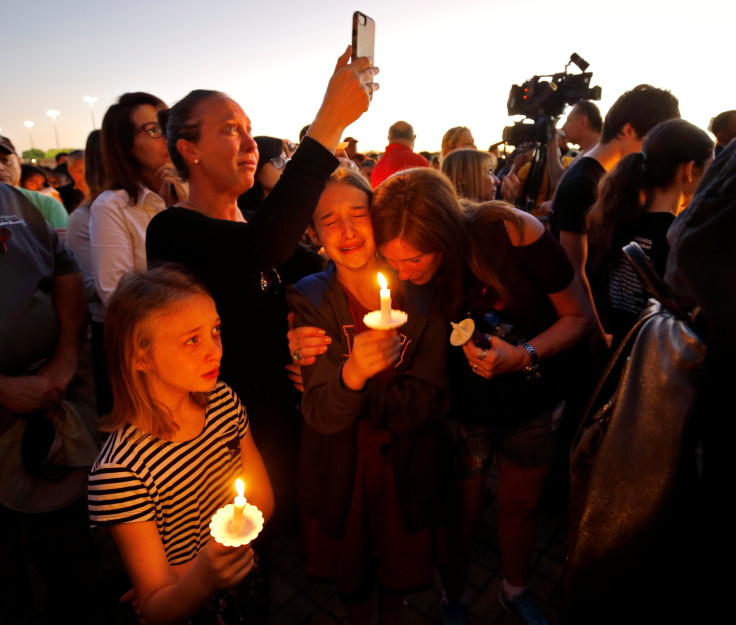 When Nikolas Cruz entered Marjory Stoneman Douglas High School with his AR-15 rifle Wednesday and opened fire on students and staff, he killed 17 people and injured 14. This was not the first, neither the second, but the 17th shooting to take place in a school in the United States this year. Since 1989, 97 children have died in school shootings and 126 have been injured.
Apart from anger and frustration on the repeated occurrences of such instances, there is also widespread panic across the country as schools take precautionary measures to keep their students and staff as safe as possible.
Here are some of the educational organizations that have either received a threat or have discovered plots of shooting since Wednesday.
Gilchrist County School District, Florida
North Florida's school district declared public schools will be closed Friday to ensure the safety of students and staff, after they received an email threat. The district said they received the email late Thursday and were not able to verify "how legitimate the threat" was. Gilchrist County Sheriff's Office and other law enforcement agencies said they were trying to determine the threat's validity.
Seymour High School, Connecticut
Police said a student was suspended Thursday at the Seymour High School, but added it did not involve any weapons or threats. Superintendent Michael Wilson said the school authorities informed them about a "student issue," which they are investigating now. But, he told NBC-affiliated channel News 8, there was no reason to believe there is any threat to the school or the students.
North Medford High School, Massachusetts
The Medford Police Department said Thursday they arrested a student after they were informed of a potential threat scrawled on a bathroom stall in North Medford High School. The message on the stall mentioned a date when the threat would be carried out — Feb. 21. Surveillance cameras were employed to identify and interview students, after which the teenager was arrested. He is currently detained at the Juvenile Detention facility.
Nova Middle School, Florida
A sixth grader was arrested Thursday after authorities discovered a threating note written by the 11-year-old girl, which she stuck under the assistant principal's office door. It read: "I will bring a gun to school to kill all of you ugly a** kids and teachers b****. I will bring the gun Feb. 16, 18. BE prepared b****!" When questioned, she said she was asked by another girl to write the note. The girl was detained at the Broward Juvenile Assessment Center.
Durfee High School, Massachusetts
An anonymous threat to the school was posted Thursday, following which the security at Durfee High School was increased, according to a statement by the institution's principal Matt Desmarais. In the statement, Desmarais said, "…Out of an abundance of caution, we will have an elevated police presence on campus tomorrow. We will be conducting bag checks on everyone entering the building," the statement read. School Superintendent Matt Malone said, "Durfee High School is open tomorrow [Friday] and we are addressing safety concerns."
Carrollton Middle School, Georgia
There was panic in Carrollton Middle School on Thursday when a student reported to the staff they heard a group of students saying someone had a gun during a school dance. The staff of Carrollton Middle School informed the police immediately and the school was placed on lockdown as a precaution. Later, the police conducted a controlled release of the students and no gun was found in the premise.
North Broward Prep School, Florida
Police were informed of gun shots being heard in North Broward Prep School, and the school was put on a lockdown for a while Thursday. The Coconut Creek Police Department said it was a false alarm and all the students were allowed to go home. They added there was no intruder in the campus, but during the search an officer accidently discharged his weapon, injuring himself.
CA Frost School, Michigan
Three Molotov cocktails were found in the locker of a student, which prompted the school authorities to inform the Grand Rapids police officials Thursday. Around 300 students were evacuated to a nearby church for safety. Fortunately, the Molotov cocktails were part of a World War I project and not dangerous. The panic occurred because the teacher and the students who were part of the project were out sick.
Broome High School, South Carolina
A student from Broome High School was arrested after he made a threat of violence via Snapchat. An anonymous source informed the authorities of the threat, Spartanburg School District Three spokesperson Sherri Horton said. The suspect was charged with disturbing schools and was detained at the Department of Juvenile Justice facility in Greenville.
Dallas-area Schools, Texas
Five Texas students from schools in and around Dallas were arrested for either reportedly taking guns to their campuses or for making threats to the school on social media, Dallas News reported. One student from Marcus High in Flower Mound, another from Plano West and one from South Garland were arrested for carrying guns to their schools. A student from Nichols Junior High was arrested for making threats to inflict violence on the school and another from Weatherford High School was held for claiming on social media that he would shoot at the school.
Maryland high schools
A student each from Clarksburg High School and Loch Raven High School were arrested after they were found in possession of weapons on school grounds. Alwin Chen, 18, had a loaded 9mm handgun with him Thursday afternoon. He was placed under arrest. A 14-year-old student in Loch Raven High School had a pellet gun in his backpack. Police said charges against the student was pending.
Talladega High School, Alabama
An 18-year-old student was arrested Thursday after he brought a loaded gun inside Talladega High School. He was charged with carrying a concealed weapon with a permit. Talladega police said no other weapons were found in the school's premises.
Lanier High School, Georgia
A 15-year-old was arrested Thursday after it was found he was in possession of a gun. The school authorities said they got a tip from an anonymous source. The police said the teen faces a weapon charge and also school disciplinary action.
Lee's Summit School, Missouri
Two students were taken into custody as part of an investigation after one of them brought a gun to Lee's Summit School. Authorities said the gun was unloaded and was handed over by the student on questioning. They added the student did not seem to have any intention of hurting anyone.
Houston Can Academy, Texas
A student was found to be in possession of a gun in his backpack Thursday and is currently facing a charge of carrying a weapon. School officials discovered the gun during a screening process done when students enter the school.
FOR FREE to continue reading
✔️ Unlock the full content of International Business Times UK for free
offer available for a limited time only
✔️ Easily manage your Newsletters subscriptions and save your favourite articles
✔️ No payment method required
Already have an account? Log in
© Copyright IBTimes 2023. All rights reserved.