15% Of American Adults Don't Use Internet: Pew Research Center Study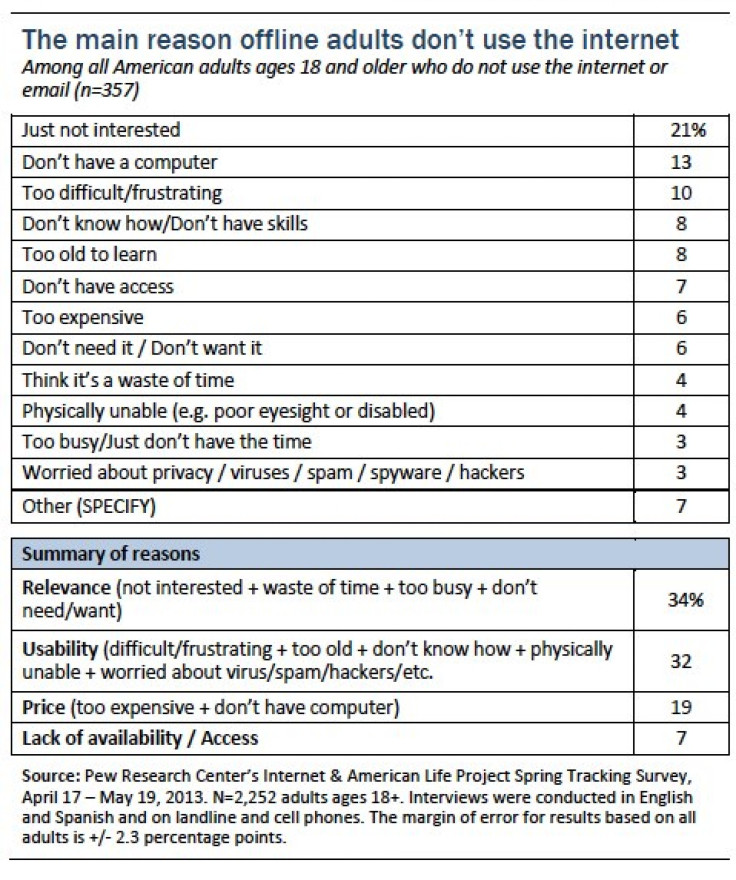 The Internet has permeated virtually every aspect of everyday life around the world, yet more people than you might imagine continue to hold out. According to a new study released by the Pew Research Center's Internet and American Life Project, 15 percent of American adults do not use the Internet, and another 9 percent go online only outside the home.
In the study released on Wednesday, 34 percent of nonusers feel "the Internet is just not relevant to them, saying they are not interested, do not want to use it, or have no need for it."
Additionally, 32 percent of non-Internet users cited difficulty with using the Internet, saying "it is difficult or frustrating to go online, they are physically unable, or they are worried about other issues such as spam, spyware and hackers." Meanwhile, 19 percent of non-Internet users said owning a computer or getting an Internet connection was too expensive, while 7 percent of non-Internet users "cited a physical lack of availability or access to the internet."
The study also found that blacks and Hispanics, as well as "adults at lower levels of income and education," are more likely to access the Internet outside the home.
As the Pew Research Center study points out, there is a strong correlation between Internet use and age, education and household income. Forty-four percent of Americans aged 65 and older do not use the Internet, and that age bracket comprised 49 percent of non-Internet users overall.
The study notes that not all non-Internet users are completely cut off. Forty-four percent said they have "asked a friend or family member to look something up or complete a task on the Internet for them," while 23 percent of "offline adults" live in a house where somebody else uses the Internet. Fourteen percent said they have used the Internet in the past, "but have since stopped for some reason."
It is unlikely that most non-Internet users will start using it now. According to the study, only 8 percent of adults who don't use the Internet said they would like to start, while 92 percent said they have no desire to do so. Seventeen percent of non-Internet users said they could get online on their own if they chose to, while 63 percent said they would need help getting started.
The study said it based its findings on data collected by Princeton Survey Research Associates International from April 17 to May 19. The group surveyed 2,252 adults ages 18 and older.
© Copyright IBTimes 2023. All rights reserved.