16,000 Floating Pigs Update: Are Dead Animals A Harbinger Of The Apocalypse?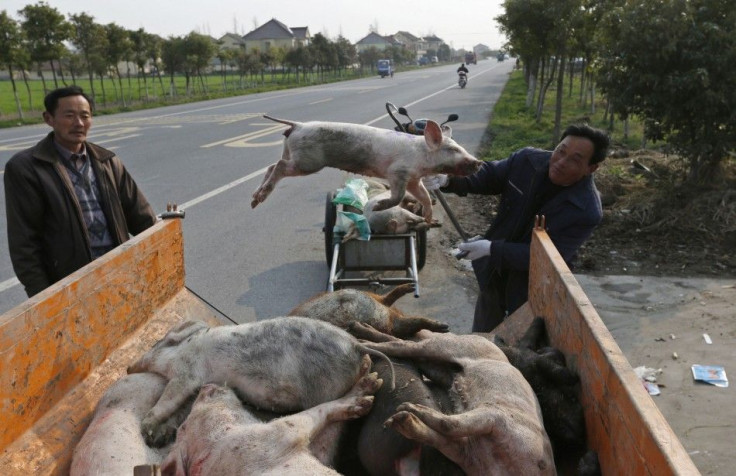 After 16,000 pigs were found floating in a Chinese river, nearly 1,000 dead ducks appeared in the Nanhe river in southwestern Sichuan Province.
The carcasses have been removed from the river as of Monday, according to the official Xinhua news agency.
The ducks have since been buried 10 feet under in a "designated area" in 50 plastic bags, the news agency said.
Authorities still aren't sure what caused the demise of the birds and are currently investigating. The Nanhe river is not a source of drinking water.
Pollution is the obvious suspect, as a recent Chinese report notes.
"The document warned that the country faces a 'grave' situation from chemical pollution, and that there has been 'a string of chemical pollution accidents, leading to polluted drinking water and higher rates of cancer in some areas'," reports Al Jazeera, which published a detailed explication of the pollution problem in China.
In Shanghai in eastern China, the government said Thursday that 10,570 carcasses were removed from the Huangpu river in addition to the 5,528 pigs taken out of the Jiaxing area of Zhejiang province, the Huffington Post reported.
Unlike the Nanhe, the Huangpu supplies 22 percent of the huge city's drinking water. Another 93 pigs were removed on Sunday, according to AFP.
"The city's water territory has already basically finished the work of fishing out the floating dead pigs," Shanghai officials said late Sunday, according to the news agency.
According to The Epoch Times, Shanghai authorities are embarrassed by the dead pig scandal, especially since it's the commercial capital of China. The floating carcasses highlight the country's rampant problems with food safety and environmental protection.
The number of dead carcasses being dumped has risen, hog farmers told state media, as authorities crack down on the illegal sale of pork products from diseased or dead pigs.
When masses of dead animals suddenly turn up for seemingly no reason, some see a sign of the apocalypse, for example when tens of thousands of dead fish and birds appeared in Arkansas and Norway. As reported in the Huffington Post, it was believed the fireworks were to blame for the carcasses in Arkansas and a severe storm in Norway resulted in the dead animals.
© Copyright IBTimes 2023. All rights reserved.