'19 Kids And Counting' Recap: Cousin Amy Duggar Makes A Rare Appearance In 'Amy's Nashville Dreams'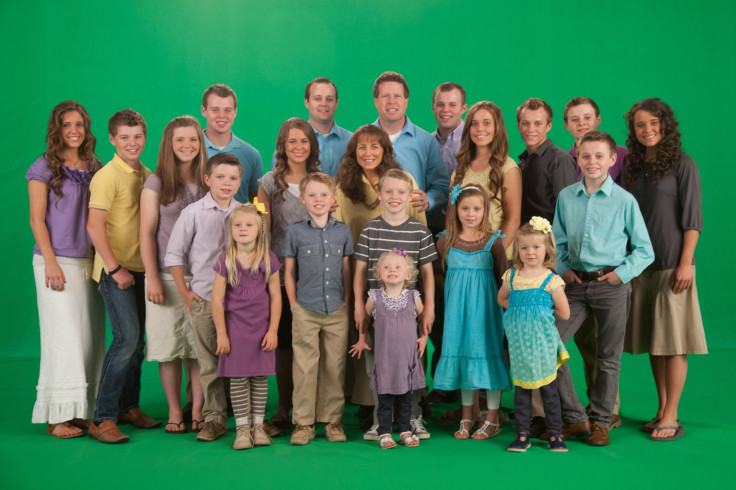 She's back! After having seemingly disappeared from the TLC reality series, Amy Duggar, 28, made a rare appearance on the Season 8 finale of "19 Kids and Counting" Tuesday night. In the episode "Amy's Nashville Dreams," Jim Bob and Michelle Duggar's niece Amy continued to pursue her love of music in hopes of making it big in the entrainment industry, performing on a show boat and even creating her first music video. Along the way, she even made time to celebrate her birthday with the Duggar clan.
When viewers last saw Amy she was in Nashville, Tennessee, attempting to score a professional music career. Following a few failed performances, Amy returned to her home state of Arkansas. With little opportunities available to her other than singing at church events and her cousin
Jill Duggar's wedding
, Amy decided to continue working towards her country music dreams. Her first stop: performing onstage at the Branson Belle show boat in Branson, Missouri. Her mom Deanna Jordan, and her grandmother, known by viewers as Grandma Duggar, also went along for the ride.
Despite being scared to perform in front of paying customers, Amy successfully sang her own rendition of "You Are Always On My Mind." Her performance, however, did not go off without a hitch. Just moments after walking on stage, her music failed to turn on, resulting in an awkward moment for the aspiring singer. "The Branson Belle has 700 seats. That's 1,400 eyes starring straight at me," she said. In true Amy Duggar fashion, she didn't let the hiccup hinder her performance. After solving the technical issue she went on to rock the house and evem brought her mom to tears.
"I'm proud of myself. I never thought I was so strong. I think I'm clearly growing as an artist," Amy said. "If I can handle a song not coming on with that many people staring at me, whatever could happen, bring it on!"
Following her successful show, Amy took a moment out of her busy schedule to spend her 28th birthday with her aunt Michelle, uncle Jim Bob and their 19 kids. The large brood spent their time together bonding over a campfire and making a unique donut tower birthday cake.
"We aways enjoy having Amy over for any kind of a party," Michelle said. "She is so much fun. My kids love her. Honestly, Amy is like a party waiting to happen."
After her birthday party, it was back to business. Under the guidance of her music producer Jamie Slocum, Amy performed in front of several music label executives at Sesac in Nashville. Despite calling the meeting a stressor, claiming it could make or break her career, Amy was a success. The executives not only complimented her on her singing abilities, they also paid notice to her spunky personality and stunning stage presence.
"I gave my heart and soul into that performance. I wanted to sell myself as an artist and not just some random cousin from a big family," Amy said. "I am so humbled right now. I could kiss the floor!"
Her performance the following day at her music video shoot did not go as smoothly. After arriving on set and announcing she did not know the lyrics to her single "Beautiful Weather," Jamie slammed her for her lack of professionalism and compared the shoot to a "Godzilla" movie. Luckily for Amy, she was able to relearn her song just in the nick of time to finish the shoot. "Music videos are not easy to make I've realized," Amy said. "I found that out real quick."
After her whirlwind trip to Nashville, Amy returned to Arkansas to debut her music video which was deemed a success by her family and friends. With her first professional music video under her belt, Amy said she was seriously considering relocating to the south. "What I really think about, what I really want and what I truly desire, it has to do with music," she said.
As for her other goals in life, Amy said marriage and babies will have to wait. "I do want to get married. I do want to have kids. I want to adopt someday. Those things are just not available at the moment. God's timing is perfect and it's just not always up to me."
The season concluded with a sneak peek of Jessa Duggar's wedding episode. (See the clip here.) "19 Kids and Counting" will reportedly return to TLC in 2015.
© Copyright IBTimes 2023. All rights reserved.