Michelle Duggar Reveals Jessa And Jill's Thanksgiving Plans, How Many Turkeys It Takes To Feed Her '19 Kids And Counting' Family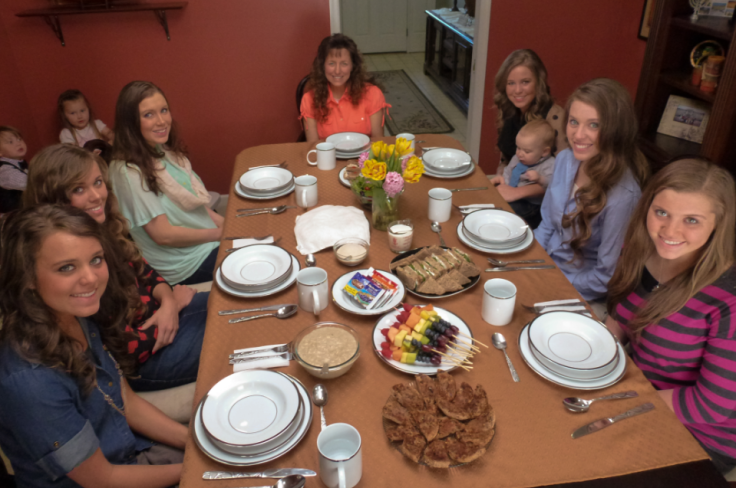 Following their big year of blessings, the "19 Kids and Counting" Duggar family is marking this Thursday with an even bigger Thanksgiving Day celebration. Michelle Duggar, matriarch of the reality-TV TLC family, took time out of her busy schedule raising her large brood to tell IBTimes about her plans for turkey day, who's on the guest list, and just what goes into feeding her family of 19 kids.
The Guests
With 19 offspring, you might think the Duggar family's table would be too full for additional guests on Thanksgiving, but the family of 21, including dad Jim Bob, has a "the more, the merrier" approach to the holidays. Michelle told us via a TLC network rep that she is expecting some special visitors this Thanksgiving, including her sister, some friends, and other immediate family members, which means anywhere from 30 to 40 guests could be visiting their Tontitown, Arkansas, home.
Alas, some of the Duggar brood will not be attending the family's festivities this year. Michelle tells us that her oldest son, Josh, 26, and his three kids, Mackynzie, 5, Michael, 3, and Marcus, 1, will be spending Thanksgiving with his wife Anna's family. Michelle and Jim Bob's most recently wed daughter, Jessa, 22, will also be separating from her family for the holidays. She will reportedly spend the day with her new husband Ben Seewald, 19, and his large family.
While Jessa won't make an appearance, the Duggars' other newlywed daughter, Jill, 23, will. According to Michelle, Jill, who is currently five months pregnant with her first child, a boy, with her husband Derick Dillard, 25, will split their time between the Dillard household and the Duggar homestead on Thanksgiving Day.
The Turkey
Despite a few immediate family members missing out on the Duggars' celebration, Michelle said she is still planning to make her usual feast. So just how many turkeys does it take to feed the Duggar family? You might be surprised by the answer.
According to Michelle, just two "giant" birds will do the trick. One will be cooked in water with a whole peeled onion inside. The other will be smoked. To be on the safe side, the family will also make four smaller turkey breasts.
The Menu
Turkey isn't the only thing the Duggars will be dishing up this Thursday. Joy, 17, will help mom in the kitchen by using her cooking "expertise" to whip up a traditional Green Bean Casserole. Michelle's boys will also chip in by making the stuffing, while the younger children will assist in peeling potatoes for a mashed potatoes dish. Corn, cranberry sauce and a traditional family dish, started by Michelle's mom, of noodles with turkey broth and gravy, will also be available to their guests.
Some dessert delicacies on the menu will include 15 of Jim Bob's favorite homemade pumpkin pies. (He also asks for this on his birthday every year in July.) Additional homemade pecan and apple pies, as well as a native Ohio treat, peanut butter and chocolate Buckeye candies, will be served.
Catch up with Michelle and the rest of the Duggar clan on "19 Kids and Counting." The Season 8 finale airs Tuesday at 9 p.m. EST on TLC.
© Copyright IBTimes 2023. All rights reserved.